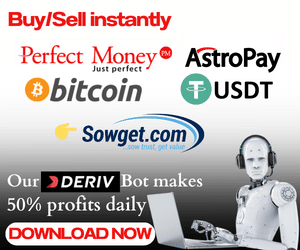 EasyCredit has become one of the most popular loan app in Nigeria. The application has garnered over a million downloads from the Google Play Store.
Many people are attracted to this app due to its flexible loan services, including the provision of instant loans without the need for collateral.
Surprisingly, you can acquire a loan without requiring a guarantor or legal documentation, and the funds will be credited to your account within minutes.
However, if you are unfamiliar with online loans or considering downloading the EasyCredit loan app for the first time, it is crucial to read comprehensive and unbiased reviews to ensure you don't take any unnecessary risks.
We have created this post specifically addressing the EasyCredit loan app review. So, let's begin without any further delay!
About EasyCredit
EasyCredit is a loan platform that has introduced a downloadable mobile application. This application enables users to obtain hassle-free loans at a low-interest rate.
What sets this loan app apart is its convenience – it allows individuals to apply for and receive loans directly into their bank accounts within minutes, without requiring collateral or a guarantor.
EasyCredit adopts a flexible approach to loans, offering reasonable interest rates and providing various repayment methods to suit different needs.
Now, let's address the question of Easy Credit's legitimacy.
Considering its impressive track record of over a million downloads from the Google Play Store, a 4.0-star review rating, and a plethora of positive feedback online, it can be confidently stated that EasyCredit is a legitimate service.
Furthermore, the company has obtained full certification from the Central Bank of Nigeria (CBN), adding an extra layer of trust and reliability.
Detailed Review of EasyCredit Loan App
The EasyCredit Loan App is a groundbreaking financial tool that has revolutionized the way we manage our personal finances.
With its user-friendly interface, comprehensive features, and exceptional customer service, EasyCredit has undoubtedly become my go-to loan app. Here's why I believe it deserves a perfect five-star rating.

First and foremost, the EasyCredit Loan App offers an effortless and seamless user experience. Navigating through the app is a breeze, thanks to its intuitive design and well-organized sections.
Whether you're a tech-savvy individual or someone less experienced with financial apps, you'll find it easy to understand and use.
One of the standout features of EasyCredit is its swift and hassle-free loan application process. Gone are the days of filling out lengthy paperwork and enduring a labyrinth of approval procedures.
With EasyCredit, you can apply for a loan in just a few minutes directly from your mobile device. The app utilizes advanced algorithms to assess your creditworthiness and provides instant approval or rejection notifications.
This quick response time is a game-changer for individuals in need of urgent funds. What sets EasyCredit apart from its competitors is its flexibility when it comes to loan options.
Whether you require a short-term loan, personal loan, or business loan, EasyCredit offers a wide range of loan products to cater to diverse financial needs.
Additionally, the app provides clear and transparent terms, including interest rates and repayment plans, allowing you to make informed decisions.
The customer service provided by EasyCredit is exceptional. The support team is responsive, knowledgeable, and genuinely concerned about addressing any queries or concerns.
They go above and beyond to ensure that their customers are satisfied and guided throughout the loan process. This level of service sets EasyCredit apart from other loan apps in the market.
Furthermore, EasyCredit prioritizes the security and privacy of its users. The app employs robust encryption and data protection measures, ensuring that your personal and financial information remains safe and confidential.
This commitment to security gives users peace of mind when utilizing the app's services.
Summing up, the EasyCredit Loan App is a game-changer in the world of personal finance. Its user-friendly interface, effortless loan application process, flexible loan options, excellent customer service, and commitment to security make it a standout choice.
Whether you need funds for personal or business purposes, EasyCredit is a reliable and trustworthy app that delivers on its promises. I highly recommend it to anyone seeking a hassle-free and efficient loan application experience in Nigeria.

Disclaimer:
The review above is based on the personal experience and opinion of some users of the EasyCredit Loan App. Individual experiences may vary.
How to Apply for a Loan on EasyCredit App
A lot of people have been asking the question of how to apply for EasyCredit loan. Let's walk you through the process.
Applying for a loan on the EasyCredit app is a straightforward process. Follow these steps to apply for a loan:
1. Download and Install the EasyCredit App: Visit your app store (such as the Google Play Store or Apple App Store) and search for "EasyCredit Loan App." Download and install the app on your mobile device.
2. Sign Up or Log In: Open the EasyCredit app and create a new account if you don't have one already. Provide the required information, including your name, contact details, and email address. If you already have an account, simply log in using your credentials.
3. Provide Personal and Financial Information: Here, you'll be prompted to provide personal information such as your date of birth, employment details, income, and expenses.
4. Select Loan Type and Amount: EasyCredit offers a variety of loan options. Choose the loan type that suits your needs. Specify the loan amount you require based on your financial requirements and repayment capacity.
5. Review Terms and Conditions: Before proceeding, carefully read and understand the terms and conditions associated with the loan. This includes the interest rate, repayment period, fees, and any other relevant information.
6. Submit Application and Wait for Approval: Once you've entered all the necessary information and reviewed the terms and conditions, submit your loan application.
The approval process is usually quick, and you'll receive instant notification regarding the status of your application.
7. Receive Loan: If your loan application is approved, the funds will be disbursed to your designated bank account.
Depending on your bank's processing time, you may receive the funds within a few hours.
EasyCredit Loan Requirements
Before your loan can be successfully, you must meet up the following
Means of ID
You must be above 18 years
A reliable source of income
BVN
Bank account
Android Phone. (Easycredit is not available for iOS)
Valid phone number
Loan duration ranges from a month up to 18 months
Read Also: NiceNaira Loan Requirements
EasyCredit Interest Rate
The interest rate for Easycredit loan ranges from 3% to 10% (₦1,256 to ₦6,000) depending on the credit score of your loan. You will also have to pay a one-time processing fee.
let's assume Tunde obtains a loan of ₦3,000 for 3 months. EasyCredit will charge an interest rate of 3.1% and a processing fee of 9.1%.
In total, you will pay
₦3,000 (the principal amount)
₦273 (one-time processing fee)
₦93 (interest)
EasyCredit Loan Repayment
Below is a simple guide to paying back your borrowed money
Open EasyCredit App on your Android device
Select "My Loan"
Pick the loan you want to repay at that moment
Press the "Repay In Advance" button
Cross-check the details on the screen and tap on "Repay now"
Choose your preferred repayment method and click "Repay now"
Complete the repayment process
EasyCredit Contact
Head Office: No. 20, Opebi Road, Ikeja, Lagos, Nigeria.
WhatsApp: +2349121807745
Phone number: 09087614188
Email Address: help.easycredit@gmail.com
Read Also:
Final Thoughts
The EasyCredit Loan App is a user-friendly and convenient financial application that provides a seamless borrowing experience.
With its simple application process, quick approval times, and competitive interest rates, it offers a reliable solution for people in need of immediate funds.
Whether you require funds for emergencies or personal expenses, EasyCredit proves to be a reliable and efficient loan app worth considering.

If you encounter any difficulties or have specific questions during the loan application process, reach out to EasyCredit's customer support for assistance.
SEO Content Writer with over 4 years of experience in On-Page SEO which gained me an award for excellence.
This is my web space where I share helpful guides to help you earn money legitimately.
I register brands with CAC, create websites and offer Business Consultancy services. For business deals, contact me