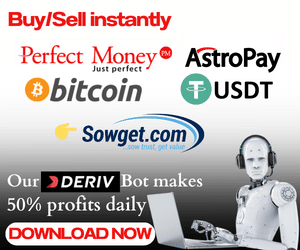 EaseMoni is one of the fastest-rising loan apps in Nigeria. In this article, I will show you how to apply for Easemoni instant loan, the interest rate and the procedure for repayment.
Borrowing money in Nigeria now has become very easy nowadays. Unlike the olden traditional way where you have to go to the bank, get a guarantor and even a collateral before you can be given a loan.
The inception of these fintech loan apps has given a seamless way of lending money in just a few munites. Just in the comfort of your home, you can be credited even without a collateral
While we can't deny that there are some fake loan apps in Nigeria, it's not arguable that Easemoni tops the carts for the best loan company.
It's one thing to apply for a loan and another thing to repay. In this guide, we will be exploring the theEasemoni company
About EaseMoni
Easemoni is an instant personal cash loan app in Nigeria with a microfinance banking license from the Central Bank of Nigeria.
You can get small loans without needing any form of collateral or even going physically to their office. All you have to do is just download their mobile app to your phone and apply for a loan. Within 10 minutes, you will receive the loan you applied for.
In the last 6 months, millions of customers have patronized Easmoni loan services hence the numerous video testimonies flaunting the internet
According to research, Easemoni has been saving lives with over $200 million disbursed to Nigerian borrowers with mild loan conditions.
Easemoney Instant Loan Application
There are basically 2 ways to borrow money
Below is a simple step to register and apply for a loan using the App
1. Download the mobile app from Google Playstore and install it.
2. Next, launch the app and enter your basic details.
3. Lastly, apply for your loan and wait for the verification and approval. Once the platform approves your loan request, you'll receive the money immediately.
Using USSD Code
If you do not want to use the mobile app, you can use the USSD code to apply for your loan
Maybe you don't have a smartphone. Or perhaps, you just ran out of data. You can still borrow money without an internet connection
Simply daily *347*334# and then send
Follow the instructions on your screen and your loan application will be a success
You must dial the code using the phone number linked to your BVN and your bank account. Otherwise, your loan application may be declined
Requirements For Easemoni Loan
Even though there is no collateral when applying for an Easmoni loan, you will be asked to provide the following
Your full name
Residential address
Occupation
BVN
Phone number
Passport
NIN
You must be 18 years and above
Cancellation of EaseMoni Loan
EaseMoni allows a maximum period of 24 hours from the moment of disbursement within which the loan can be cancelled.
If you have applied for the loan by mistake, please repay the principal within 24 hours, then contact their customer service at your earliest convenience to clear the loan.
How Much Can You Borrow from EaseMoni?
EasiMoney offers flexible loan amounts. You borrow as much as One million (N1,000,000) on the platform without collateral
EaseMoni Interest Rate
On a general note, the interest rate for Easemoni loan ranges between 5% to 10% monthly. (APR 60% to 120).
It also depends on your credit evaluation. For instance, 91-day loan payment terms have an interest fee of 5% per month.
For the loan which was processed with a principal amount of ₦3,000, your interest would be ₦273. Basically, this means that the total amount outstanding would be ₦3,273.
EaseMoni Loan Repayment
Getting back borrowed money not only gives you peace of mind but also set you up for another chance of getting another loan.
The process of repaying the Easemoni loan is not friendly due to the stress involved and alot of borrowers struggle with this.
However, You won't have to worry as I a going to show you how you can repay your borrowed money
There are 4 ways you can repay your Easemoni Loan
AutoPay
Opay
Bank Card
Bank Transfer
USSD
EaseMoni Loan Repayment With AutoPay
You can repay your loan by setting up AutoPay with your Ease moni account.
The company offers AutoPay as one of the repayment methods.
Once your payment date is due, the system will automatically deduct money from your bank account into your Easemoni wallet and the loan will be repaid automatically.
EaseMoni Loan Repayment With Opay
Opay is one of the most used banking apps in Nigeria at the moment. Getting your loan repayment with Opay should be one of the easiest options.
Just sign into your Opay App
Go to wallet
Navigate to Loan or Finance
Click to select EaseMoni
Select repay
Input the amount you wish to pay
Read Also: How To Repay EasyCredit Loan
EaseMoni Loan Repayment With Debit Card
Still with your Opay account, you can make payments using the bank card linked to your wallet
Open your Opay app
Check for your linked bank card
You can also add a new card if there is a need
Click on payment and your loan amount will be automatically deducted from the debit card account
Once that is done, your Easemoni account will be updated and your loan repayment
EaseMoni Loan Repayment With Bank Transfer
You can seamlessly repay your borrowed money from Easemoni by using your bank mobile app
On your Easemoni account, select the bank transfer option
Copy your Easemoi account number given to you
Open your Mobile app and select make the transfer
Transfer the money to the Ease Moni account
Once your loan account has been funded, use the money to repay
EaseMoni Loan Repayment With USSD
Copy your Easemoni account number from the app
Dail the USSD code *347*334#
Select to send money
Transfer funds to your Eamoni wallet (using the account you copied)
Open your Easemoni account and repay your loan
Is EaseMoni Legit?
Yes. Easemoni is a legit loan company which is also a property of BlueRidge Microfinance Limited.
EaseMoney is duly licensed and approved by the Central Bank of Nigeria as a Fintech company
Read Also: Is Renmoney Loan Legit?
EaseMoni Custumer Care Contact
Address: 60 Adeniyi Jones Ave, Ikeja, Lagos, Nigeria
Customer Service Email: info.easemoni@gmail.com
Customer Service Hotline: +234 9087614150
WhatsApp +234 8073634739
Read Also:
Conclusion:
Conclusively, EaeMoni is one of the best loan service companies in Nigeria. Getting a loan with them is always very easy and seamless but the repayment procedure is sometimes confusing to do.
I hope this guide has been insightful in helping you repay your Easemoni loan
SEO Content Writer with over 4 years of experience in On-Page SEO which gained me an award for excellence.
This is my web space where I share helpful guides to help you earn money legitimately.
I register brands with CAC, create websites and offer Business Consultancy services. For business deals, contact me