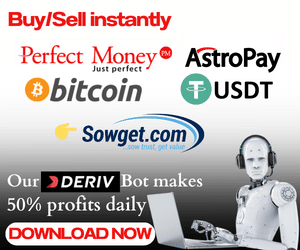 Are you a business owner intending to get legal documentation very soon? In this article, you will discover some of the most trusted CAC accredited agents in Lagos, Abuja and Nigeria at large for your corporate needs.
The Corporate Affairs Commision is constantly making efforts to serve business owners with a legal structure and business certification for the benefit of both companies and SMEs.
As a business owner, one of the most painful things that could ever happen to you is to build on another person's brand and later realise the name has been taken.
Just imagine having run your unregistered enterprise for several years and even invested alot into branding; such as website creation and business cards and then realising the name is not legally available for your use. How would you feel?
Is your business legally registered?
If you have understood the importance of CAC registration, getting an agent to get it done should be your next line of action.
There are thousands of CAC experts out there but you wouldn't want to entrust your CAC registration to a quack newbie who portrays himself as an expert.
If you dwell in Lagos, you might want to meet someone that can effectively carry out your CAC registration and even request to see the person physically if there is a need.
Hence, In this article, you will discover the list of CAC accredited agents in Lagos, what they do and their contact lines
Trusted CAC Accredited Agents in Lagos & Abuja

Mr, CEO
contracts are coming.
Business support schemes are coming.
Business deals are coming.
There is no need to wait until you are denied a huge contract or a great business deal before you start looking for a CAC expect to get it done
If you need a trusted CAC agent, below is who you should consider
1. Legacy Benjamin Consult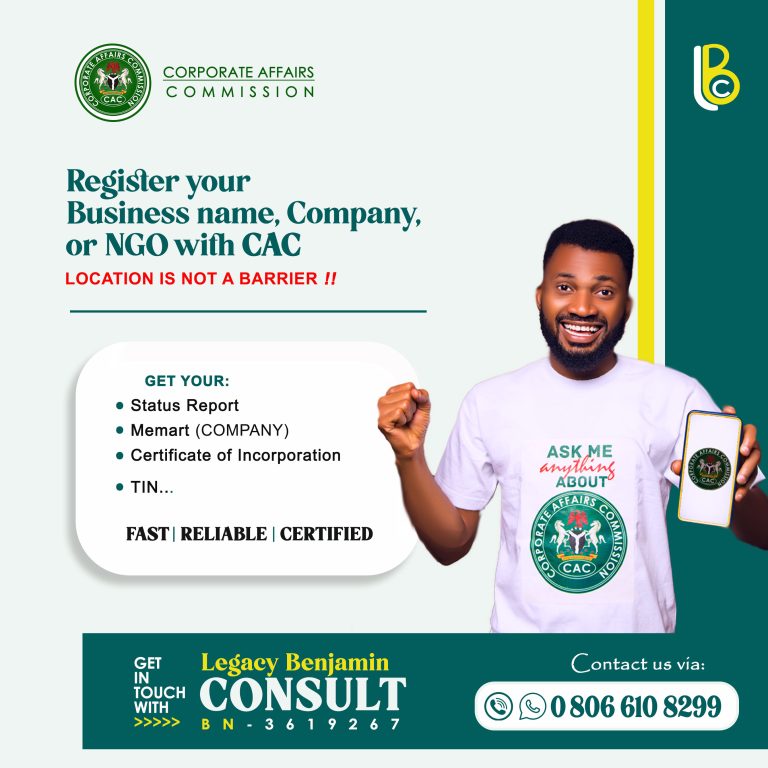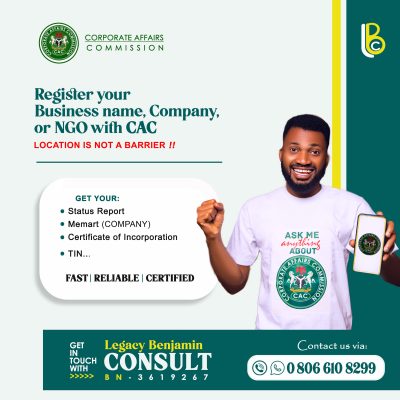 Legacy Benjamin Consult is a consulting agency in Nigeria helping business owners to legally protect, structure and position their brands for growth via the Corporate Affairs Commision.
If you are looking for the most reliable CAC expert in Lagos, then Legacy Benjamin Consult should be your sure plug
Services Offered By Legacy Benjamin Consult
We offer the following professional services
1. Business Name Registration
We help you come up with catchy and unique business names that will leave clients hooked and addicted to your brand. We go a step further by doing a proper name search to ensure CAC accepts the chosen business name.
At the end of the registration process, you will get the following
Original CAC certificate
Status report
TIN
2. Company Registration
Our team of experts and dedicated staff are committed to ensuring your Company registration is done excellently.
Company registration has alot more technicalities hence the need to entrust your company registration to our capable and highly sought-after team of experts.
You will get the following,
Original CAC Certificate
Status Report
Memorandum of Association (MEMART)
TIN
3. Non-Governmental Organizations
NGOs fall under the Incorporated Trustee category of CAC. We register NGOs like churches, mosques, associations, Clubs, Foundations, Student unions and many others.
After registration with us, you will get the following
CAC Original Certificate

Status Report

Two Newspaper Publications

Trustee Declaration

Constitution
4. Upgrade From Business Name To Company
We also do upgrades from Busines Name to Company (Post Incorporation). This upgrade is required when your small brand becomes a company.
Small business owners can upgrade to a company so as to enjoy benefits; one of them is the continuity of the business.
You will get the following from us;
CAC Certificate
Status Report
Memart
TIN
5. Annual Returns
Unfortunately, over 50% of registered business owners have no idea of what it means to file annual returns with CAC.
Annual returns are a yearly financial statement that accounts for the financial activities of a business entity. t is a mandatory requirement for Business Names, Companies and even NGOs
Our team of experts are dedicated to helping you pay your returns yearly.
Upon filing, you will get the following
Acknowledgement Letter or Notice from CAC
6. SCUML
7. NAFDAC
8. TRADEMARK
Legacy Benjamin Consult CAC Fees
Below is how much we charge for our CAC corporate services
Business Name ₦25,000
Company ₦55,000
Upgrade from Business Name to Company ₦55,000
NGO ₦130,000
SCUML ₦60,000

Trademark ₦60,000

NAFDAC ₦60,000

Contact Us Below For Your CAC Registrations

Legacy Benjamin Consult FAQs
Where is your office?
Our Head office is located at No. 5, Tiwalade Close, Allen Avenue, Ikeja, Lagos, Nigeria
We also have a branch office at No. 22, Owerri Street, High Level, Makurdi, Benue State
Your contact?
Call or WhatsApp 08066108299
Is Legacy Benjamin Consult registered?
Yes, as an agent, we are also duly registered with CAC with Business Name (BN) 3619267
How can I get my documents?
Upon registration, ORIGINAL documents are sent electronically to your email and also on WhatsApp. Physical delivery is also done upon the client's request
I'm not in Lagos or Abuja, Can I still contact you?

Distance is not a barrier, your documents will be always delivered to you even if you are within or outside Lagos or Abuja.
Can I register CAC without an agent?
Embarking on a CAC registration without the services of an expert or agent is highly risky and could be very expensive in making corrections to errors. It is advised you contact the services of a skilled expert
Conclusion: CAC Accredited Agents in Lagos
Conclusively, If you are looking for the best and most reliable CAC registration agent in Lagos, Legacy Benjamin Consult is right here at your fingertips
SEO Content Writer with over 4 years of experience in On-Page SEO which gained me an award for excellence.
This is my web space where I share helpful guides to help you earn money legitimately.
I register brands with CAC, create websites and offer Business Consultancy services. For business deals, contact me