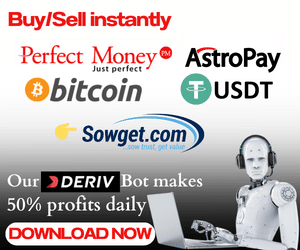 In the fast-paced world of forex trading, finding a reliable broker is like discovering a hidden gem. FBS Nigeria emerges as a shining star in this realm, offering a wealth of opportunities for traders to achieve their financial aspirations.
With a client-centric approach and a commitment to excellence, FBS Nigeria has positioned itself as a trusted partner for traders of all levels. In this review, we'll delve into the myriad reasons why FBS Nigeria is making waves in the forex industry.
Why FBS Nigeria?
With more than 150 countries of presence, 23,000,000 traders and 410,000 partners who have already chosen FBS as their preferred Forex company, below is why you should also consider FBS Nigeria
1. A Commitment to Nigerian Traders
FBS stands out by tailoring its services to meet the specific needs of Nigerian traders. With a deep understanding of the local market, FBS has crafted solutions that resonate with the aspirations and challenges faced by traders in Nigeria. This broker doesn't just offer services; it offers a gateway to financial empowerment.
2. Regulation and Security
A broker's credibility is paramount, and FBS Nigeria excels in this aspect. Fully regulated by CySEC and IFSC, FBS ensures a secure and transparent trading environment. Traders can rest assured that their funds are in safe hands, adhering to the highest standards of financial security.
3. User-Friendly Trading Platforms
Navigating the world of forex should be smooth and accessible, especially for those new to the game. FBS Naija provides the universally acclaimed MetaTrader 4 and MetaTrader 5 platforms, ensuring that traders have a familiar and user-friendly interface at their disposal.
These platforms are available across devices, empowering traders to seize opportunities anytime, anywhere.
4. Diverse Account Types
Recognizing the unique preferences of individual traders, FBS Nigeria offers a range of account types. From Cent and Micro accounts for beginners to Zero Spread and ECN accounts for experienced traders, there's an option for everyone. This diversity ensures that traders can choose an account that aligns with their trading style and risk tolerance.
5. Leverage and Margin
FBS Nigeria understands that leverage can be a powerful tool for amplifying potential profits. With leverage options up to 1:3000, traders can optimize their strategies and capitalize on market movements.
However, it's essential to exercise caution and fully understand the risks associated with high-leverage trading.
6. Educational Resources
Education is at the heart of success in forex trading. FBS Nigeria goes above and beyond by providing an array of educational resources that empower traders to enhance their knowledge.
From insightful articles to comprehensive video tutorials, FBS ensures that traders are equipped with the tools they need to make informed decisions.
7. Local Support
Navigating the forex landscape can be daunting, especially for those new to trading. FBS Nigeria offers dedicated local support, ensuring that traders in Nigeria can access assistance in their time zone and native language. This commitment to personalized support sets FBS apart from the crowd.
8. Innovative Research and Analysis
Staying ahead in forex requires staying informed. FBS Naija offers a plethora of research and analysis tools that enable traders to stay updated on market trends. From real-time charts to economic calendars, traders can make decisions based on data-driven insights.
9. Effortless Deposits and Withdrawals
FBS Nigeria understands that convenience matters. With a wide range of payment methods available, including local options popular in Nigeria, funding your account and withdrawing profits has never been easier. This seamless process ensures that traders can focus on what truly matters – trading.
10. Promotions and Bonuses
FBS's commitment to its traders extends to exciting promotions and bonuses. From the FBS Loyalty Program to generous deposit bonuses, traders have the opportunity to maximize their trading potential and enjoy added benefits.
Conclusion: A Gateway to Financial Success
In the vast landscape of forex brokers, FBS Nigeria shines as a beacon of excellence, catering to the unique needs of Nigerian traders.
With a steadfast commitment to regulation, security, education, and local support, FBS Nigeria is a partner that traders can rely on.
Whether you're taking your first steps into the world of trading or you're an experienced trader seeking new horizons, FBS Nigeria is your gateway to financial success.
Experience the difference for yourself and join the ranks of satisfied traders who have unlocked their potential with FBS
SEO Content Writer with over 4 years of experience in On-Page SEO which gained me an award for excellence.
This is my web space where I share helpful guides to help you earn money legitimately.
I register brands with CAC, create websites and offer Business Consultancy services. For business deals, contact me