Hello there, welcome to the Infinityidea review, by the end of reading this blog post, you will get to know more about Infinityidea platform, how it works and how members can register and make money.
Are you struggling financially and looking for websites that pay for referring, doing certain activities? then you are in the right spot.
One of the reasons you have not taken a bold step about your financial situation is that you have been giving listening ears to what people will say if you start leveraging online.
It doesn't matter how small you start, there are apps that pay you to refer, there are also websites like Swagbucks that pays you for watching videos.
Did you know that people are making money online by teaching languages to foreigners? I heard of a guy who earns hundreds of dollars just to teach the westerners (whites) Yoruba language?.
How about a guy who teaches the Igbo language on Upwork and charges $20 per hour. As a Yoruba guy, do you even need a degree to teach your own language? obviously Noooo!!.
At this point, if you are only coming online to check what's happening on Twitter, Instagram and Facebook, I pity your life because you have been wasting technology.
Alot of people are leveraging the internet to make money. The digital transformation is happening fast, where do you stand in the mix of things?.
Yes, you may have been scammed or duped online before but that shouldn't mean you should quit. Nobody made it without failures.
Without wasting so much time preaching, let's get right into this myinfinityidea review to see how things work on the platform.
About Infinityidea, Africa's Affiliate Entrepreneurship Platform
Infinity idea is an online Affiliate Entrepreneurial platform structured by top-notch entrepreneurs that teach and train members to acquire high income and marketable skills.
In addition, the platform also pays members handsomely for the daily tasks they perform on their platform such as selling, promoting, commenting and sharing.
In summary, Myinfinityidea is similar to Expertnaire, an online marketplace for the sale of high-value digital products with tutors in their online channels to teach and guide all registered members in a tripartite order involving; the vendor, the affiliate and the customer.
Being an envisioned organization on a mission, InfinityIdea is operated by a team of well-experienced online/offline affiliate marketers and entrepreneurs.
My Infinity Idea was created because we are aiming at promoting the source of income of all our registered members and also create employment opportunities for all.
Read Also:
Cashmint Review: Scam or Legit?
About Bismart and how it works
How Infinityidea Works (Review)
Infinity Idea provides members with high demand entrepreneurial skills to learn.
Once you register and become an active member on the site, all the skills are available for your acquisition.
You can choose from the skills whichever one you most prefer to acquire and you will be taught everything you need to know concerning that particular skill you signed up for.
Additionally, you will also get a registered certificate of legitimacy to practice what you learnt anywhere from our team of entrepreneurs once you're done learning the particular skill you enrolled in.
The Infinity Idea team can also invest in that entrepreneurial business you wish to start up in as much as the investor that will be allocated to you will get his ROI (Return On Interest) exactly at the stated period of time agreed on and you're self-assured about the business you're presenting…
As a registered member, If you have a growing business and you're sure you can handle the delivery of your services both far and wide, You have access to advertising it to the massive audience on infinity idea
These opportunities are all available because the sole aim of the platform is to impact high-end income entrepreneurial skills into the upcoming generation because we're gearing at inspiring and creating a self-reliant generation
Infinity Idea Skill Acquisition Hub
As a skill acquisition hub, below are the skills available on the platform for members to acquire.
1. Makeup And Beauty Basics
Nowadays, the quest for makeup artists is highly on-demand. Almost every photography studio in Nigeria have at least 2 makeup artist in the makeup studio.
Usually, clients who come for birthday shoots usually go for a touch of classic makeup to give them beautifying pictures.
If you are a lover of makeup then this will probably be your skill of preference to acquire and pursue your dreams of becoming a professional makeup artist.
Under Makeup acquisition skills, team Infinity Idea would be tutoring you on all you need to know about makeup, how to apply makeup, and how to be a makeup artist and make money.
Read Also: How Extra Alert Works
2. Catering Services
Do you aspire to become a professional caterer? It is one of the most sought after skills because of its relevance to humanity.
Infinity Idea under the skill acquisition hub makes it possible for members to register and acquire catering skills.
Under Catering skills, Team Infinity Idea will teach you how to become a professional caterer in Nigeria, how to handle events and make assorted dishes for occasions.
You will get access to video courses, Webinars are lots more to faster your training and mentorship.
3. Cakes & Confectionary
Do you wish to become a baker? do you like baking and would love to learn how to make wedding cakes, birthday cakes and anniversaries? then my infinity idea is the sure plug to walk you through.
Under cakes & confectionery skills, Team Infinity idea will teach you practically everything you need to know about cakes and confectionery and also how to create brand awareness that will make people patronize you.
4. Pastries
Under this skill, Team Infinity's idea will be teaching you practical ways all you need to know about pastries and sweeties and also how to be self-employed being a Patissier
5. Commercially Viable Innovations (CVI)
Under this skill, Team Infinity Idea would be tutoring you on all you need to know about the production of all organic products like paints, disinfectants, creams, soaps e.t.c… and how to make a living out of it.
6. Tying And Dying
Tying and dying is a method of dyeing textiles to produce patterns by tying sections of the cloth together so that they will not absorb the dye.
This skill is high in demand, very profitable but underrated.
Under this skill, Team Infinity Idea will teach you practically how to make colourful patterns on fabrics to turn them into fanciful materials which you can sell and make a living out of it.
7. Mini-Importation
Mini Importation still remains one of the most profitable businesses in Nigeria. A lot of people have discovered how lucrative this business of importation can be and have swung into action long before now. Interestingly, you can start your importation business with as low as ₦30,000 or less.
It all depends on how big and successful you want your business to be. You can choose to import products such as electronics, clothing, phone accessories from Chinese to Nigeria at cheap prices and sell them at high prices.
To start mini importation business in Nigeria, you need training and mentorship on the right way to follow that that is where My Infinity Idea comes in.
Under this skill, Team Infinity Idea will walk you through practicals ways on all you need to know about growing a business from scratch by importing goods at a very cheap rate from foreign countries and then reselling them in your countries to make massive profits.
8. Crocheting
Crochet is a process by which yarn or thread and a single hook of any size can be used to make fabric, lace, garments and toys. Crochet may also be used to make hats, bags and jewellery.
Interestingly, you don't even need to go to school before you can acquire this handwork skill. I highly recommend this skill for ladies as it's one of the handworks to learn in 3 months of practice and before you know you are hitting it big in your bank account.
Once again, Team infinity idea will be tutoring you on the basics of crocheting and how to run a successful crotchet business as self-reliant personnel in Nigeria.
9. Content/Freelance Writing
Content writing describes the art of producing high-quality, informational articles about a particular topic. For example, a content writer can be hired to write blog posts that tell a story about how to transform a room in your home.
In the 21st century, many websites are looking for highly skilled content writers to write SEO optimized contents that will rank their website. This in return, has made freelancing one of the most sought after skills globally.
10. Forex Trading
Forex trading is becoming very popular in the market now. It is similar to buying and selling other types of securities, like stocks. The main difference is that forex trading is done in pairs, such as EUR/USD (euro/U.S. dollar) or JPY/GBP (Japanese yen/British pound). When you make a forex trade, you sell one currency and buy another.
Under this skill, team Infinity Idea would be tutoring you on all you need to know about forex trading, forex signals e.t.c. You will also be trained by trading experts on how to make a living with forex trading.
11. Agribusiness
Agribusiness is a term used to describe the sector that encompasses all economic activities that are related to farming, i.e., chemicals, breeding, crop production/farming, farm machinery, distribution, marketing.
In summary, Agribusiness is the business part of agriculture that involves marketing and sales.
We all know that agriculture is very indispensable in Nigeria and without farming, there will be famine and people will die of hunger.
Under agribusiness, members will acquire entrepreneurship skills surrounding agriculture and how to go about it.
If you are a student studying agribusiness this will be an advantage for you to explore your course of study to the fullest and develop your field of specialization.
12. Crypto Trading
Cryptocurrency is becoming the talk of the town as crypto traders are making millions from it.
Under this skill, Team infinity idea will be tutoring you on the act of speculating on cryptocurrency price movements, reading signals and selling the underlying coins via an exchange.
13. Blogging
Did you know as you found this webpage and navigated down this article I am making money through? maybe you don't.
For those aspiring to start blogging in Nigeria but lack mentorship, I want to say that blogging is not dead and is still very profitable so you shouldn't give up.
Under the blogging skill, Team Infinity Iea will practically teach you the fundamentals of blogging, how to be a successful blogger and how to make a living from being a blogger.
14. Information/Affiliate Marketing
Affiliate marketing is an advertising model in which a company pays others (e.g., bloggers) to advertise their products and services and generate sales. Affiliates place ads or market the products or services on their website, app, or blog. Commissions are paid on leads that convert to sales.
Under this skill, Team Infinity Idea would be tutoring you on how to make a living from online marketing either by information marketing or affiliate marketing.
How To Make Money On InfinityIdea

Infinity Idea is not just a skill acquisition hub but also an earning system that pays you regularly on a daily bases.
As a registered member, you earn an instant ₦1500 as a welcome bonus immediately your registration is completed.
Again, you will earn a total of ₦200 for sharing sponsored adverts on social media handles.
Infinity Idea Affiliate Program
Referring people to join infinity idea is one badass strategy to carry out so as to earn bigger and faster.
As an affiliate, you will earn a whopping commission of ₦2,600 for each direct downline that gets referred to the platform with your link and ₦500 for each indirect referral (i.e earnings when a downline refers)
How To Withdraw on InfinityIdea

On the basis of withdrawal, My Infinity idea pays its Affiliate earners (referral) on a daily basis with a threshold of ₦7,800 and its activity earners from every 25th day of every month once you've attained a threshold of ₦5,000, isn't this great?
In summary, the minimum withdrawal for referral earners is ₦7,800 while for non-referral earners (activity) is ₦5,000. Cool right?
Does Infinity Idea Pay Without Referral (Review)
Yes, they pay without referral, you can choose not to refer and still get paid. However, we recommend you refer people to join if you can because it is one of the fastest ways to make money.
InfinityIdea Registration
To signup and get started with My infinity idea, you will have to get a Infinity idea coupon code from the vendors and proceed with your registration.
The registration fee is ₦5,000 (which is cool considering what you will be getting on the platform.)
Infinity Idea Website Login
Once you have successfully signed up for the platform, you can access the website @ MyInfinityIdea.com
Is InfinityIdea Legit or Scam? (Myinfinityidea)

To make money online it's either you have a service to render; (such as monetizing your skills) or a product to offer; (create digital products that solve people's problems).
InfinityIea happens to be a website that offers skill acquisition training for members to leverage and acquire high-income skills.
In a digital and technological advanced world skill acquisition is something that can not be neglected. Companies are prioritizing skilled workers over those with just common degree certificates.
At the same time, infinityIdea provides an earning system for members to share, like, refer and get paid for taking part in activities on the website.
From our assessment of this infinity idea review, InfinityIdea is legit and safe to join, It's one of the best things that could ever happen to you. Just imagine joining the platform to learn high-income skills by just paying ₦5,000 to get started whereas you will be charged higher if you get mentors elsewhere to train you.
Personally, I charge about ₦50,000 to create a blog and offer blogging mentorship for my students, but as crazy as it is, you can learn how to create a website, blogging with just ₦5,000 by joining Myinfinityidea and saving the remaining balance for something else.
To grand it up, InfinityIdea is legally registered with the Corporate Affairs Commision with BN 3541586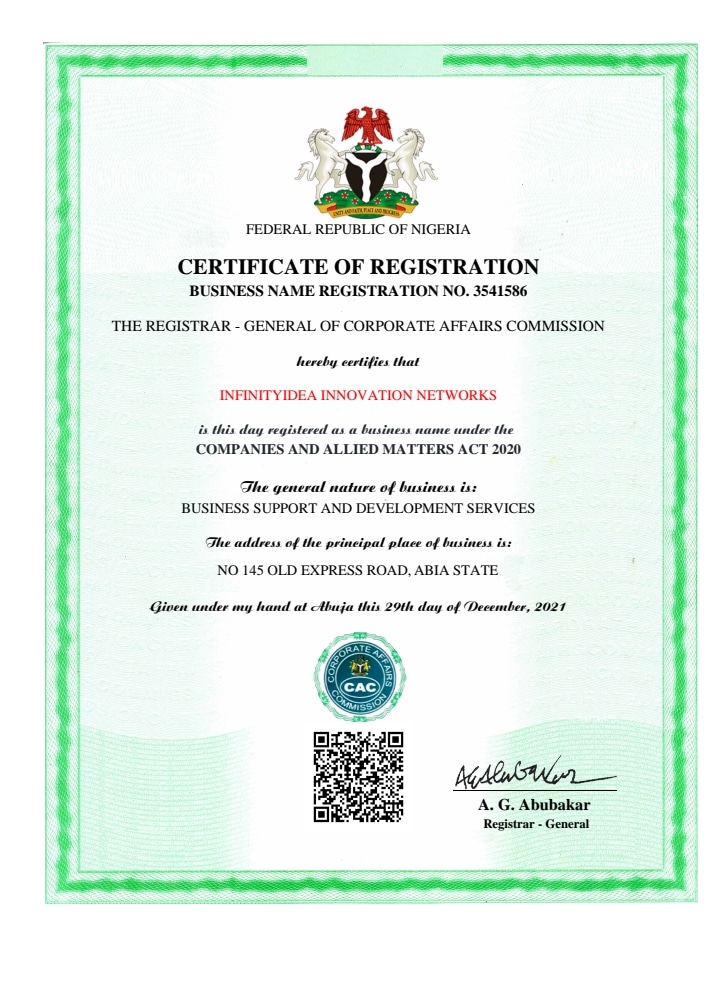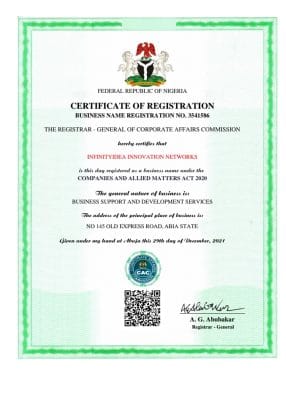 The Concept of InfinityIdea Is fully legalized, documented and legit!!!!!!!!!!
Read Also: MyPayCap Review, Best Way To Invest Cryptocurrency
Conclusion: InfinityIdea Review: Scam or Legit?, How it Works, Registration
In conclusion, InfinityIdea is a similar website to Expertnaire but more advanced and unique. The platform offers members the opportunity to learn high-income skills after paying a registration fee of ₦5,000 to get started.
Members can also earn money by sharing, liking and referring others (affiliates) to join the website while they earn commissions.