Digitstem is a platform that has been making waves for a couple of months now and people are already leveraging on this goldmine opportunity. Have you ever imagined earning online in dollars with just your smartphone? What if I show you a platform that can help you achieve that? In this Digitstem affiliate program review, you will understand how it works and how to earn dollars as an affiliate.
Earning in dollars now is one of the best investments you can make as a Nigerian now considering the gross fall of the Naira against the dollar.
There are so many other ways to earn dollars that most people are already aware of. Such as blogging, freelancing, YouTubing and of cause Affiliate marketing.
Affiliate marketing happens to be one of the easiest and quickest ways to earn dollars online compared to the others as they require tedious work.
According to SmartBlogger, Affiliate marketing is the practice of promoting the products or services of another person or company in exchange for a commission on the resulting sale.
Affiliate marketers join affiliate programs, find reputable affiliate products to promote, and then share those products with their audiences.
Some of these reputable affiliate programs are
Amazon Associates
ClickBank
eBay Partner Network
Commission Junction (CJ)
GiddyUp
Impact
Awin
Rakuten Affiliate
Jvzoo
Learnoflix
ExpertNaire
The sweetness of affiliate marketing is that you don't need to own a product. All you are required to do is promote other people's products while you earn whopping commissions.
Most of these Affiliate programs pay you in dollars and Digitsem happens to be one of these affiliate programs.
For the sake of clarity, let's understand what Digitstem is all about and what the Digitstem affiliate program brings to the table of earning in dollars.
About Digitstem Affiliate Program (Review)
Digitstem.com is an affiliate platform created to connect various product owners and affiliate marketers looking to reach, sell and scale their products online.
On Digistem, you can take on courses which are made available by various product owners and also get paid in dollars when you promote these courses to reach more people
Even though Digitstem is a marketplace connecting sellers and buyers, not all products are acceptable. Only digital products are allowed on the platform.
How To Make Money (Dollars) On Digitstem
To become a member or an affiliate on Digistem that would enable you to earn in dollars, first of all, you need to get the Ultimate Sales Machine Course which goes for 1000
In this course, you will be exposed to amazing and hot selling skills that can make you $2,000 monthly from the digits tem. Some of these hot-selling courses are
Copywriting
Marketing
Facebook Ads setup
Instagram Ads masterclass
WhatsApp traffic generation
Closing and handling of objections
How To Withdraw Withdraw on Digistem
You are expected to update your bank details on your profile before placing a withdrawal. Withdrawals are every Friday (8:00 AM to 9:00 PM) for affiliates and monthly for vendors.
Your earnings will be paid to your bank account or PayPal.
The weekly withdrawal limit is $25
I Don't Have A Dollar Bank Account, Can I Withdraw?
Earnings on Digitstem are basically in Dollars. However, you don't need a domiciliary (dollar account) before you can get paid.
Once you place a withdrawal, your dollar earnings are automatically converted and paid directly in Naira to your bank account.
What is the Dollar to Naira Conversion Rate?
On Digitstem, the Dollar to Naira conversion rate goes from ₦500 to 1$
How To Register On Digitstem As An Affiliate
Digitstem affiliate platform designed a skilled course named the Ultimate Money Machine (UMM) course. This UMM course comes with many video-based skills courses to help you sell better.
With the knowledge from the UMM course, you can make your first $1,000 (600,000) in 90 days as an affiliate. This course gives you access to 1 year of free sign-up as an affiliate.
What You Will Learn from The UMM Course

✅ The 7-figure mindset to successfully build a profitable business that will make you steady commissions weekly
✅ Step-by-step framework to make your first sale in less than 21 days.
✅ An easy way to attract people ready to follow you and buy from you. (Even if you don't have any product or service)
✅ How to generate massive quality leads on Twitter, Facebook, and Quora like a magazine.
✅ Do-For-You lead magnets to give away to increase your affiliate sales.
✅ How to build a landing page with your smartphone.
✅ Done-For-You Copy headlines for writing copy and content.
✅ How to pick a hot product that has lasting solutions to 80% of your prospect's problems.
✅ The secret Objection Handling Formula that takes money from the pocket of your client without having to beg or force them.
✅ How to run converting ads on Facebook and Instagram like a Pro with your smartphone.
✅ The secret to generating surefire content for your business in less than 5 minutes.
✅ How to convert your WhatsApp into a CASH MACHINE.
✅ The Easiest funnel to convert that prospect to a hot buyer in less than 14 days.
✅ How to Build a Landing Page with your smartphone.
Bonus
✅ How to start a YouTube channel that pays you $$ with your smartphone. (Valued @
$17 – ₦10,000)
✅ How to create a blog that ranks with Google with your smartphone. (Valued @ $84 –
₦50,000)
✅ Access to our telegram support group where we'll be having our 7 weekly coaching
calls (Valued @ $100 – ₦60,000)
✅ The Ultimate Money Machine (Valued @ $180 – ₦60,000)
The total value is $381 – ₦180,000
But guess what?
You are paying only $50 (₦20,000)
Note!!
You can either register as an affiliate or a vendor.
The current affiliate signup for the UMM course is now ₦20,000
(This increment was done to foster more payment and ensure sustainability on Digitstem)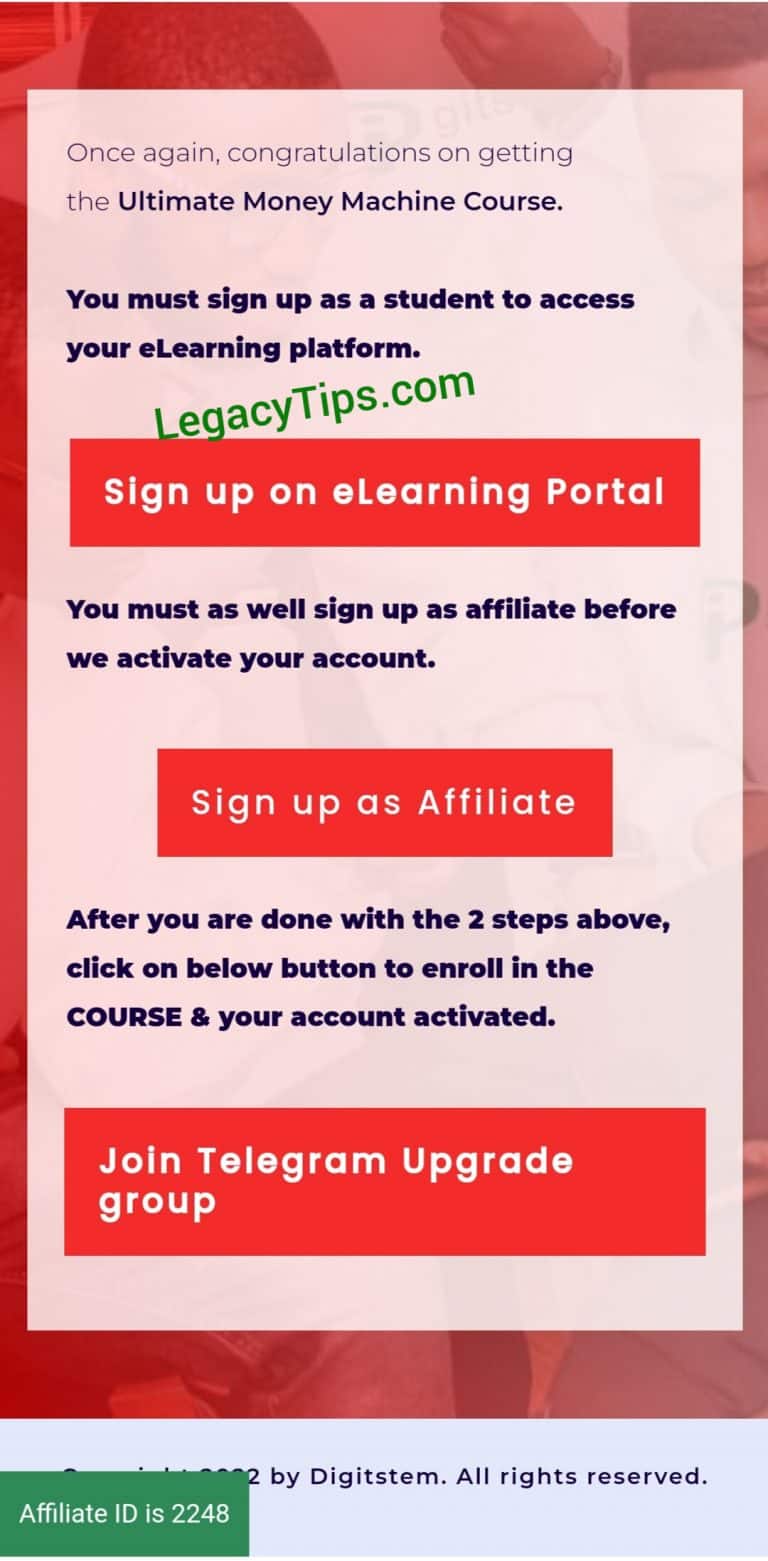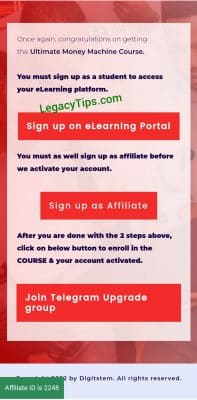 ✅ Once you click on the link, navigate to where it says "Click here to get it now"
✅ Proceed and enter your card details, request for OTP
✅ Make payment using your debit card (your card details are always safe)
✅ Once you have successfully paid, you will get a congratulatory mail from Digitstem
✅ Open the congratulator message and click to signup up to the e-learning Portal (Without this registration, you can not access the UMM course)
✅ Once you have signed up for e-learning, go back to your email again to signup as an affiliate.
✅ In the process of doing these 3 signups, ensure you use the same email, username and password so that you can always and easily remember.
✅ Once you have done all these, click again (from your email) to join the Digitstem Telegram Group
Why You Should Start Affiliate Marketing in Nigeria
I need you to take at least 10 minutes of your time today to discover why you should start affiliate marketing.
Why Digistem Affiliate Program is Odogwu Over Others
Below are some advantages of Digitstem over other affiliate programs.
1. Unrestricted membership. The platform is open to other African countries and globally
2. As an affiliate, you will earn with your smartphone and withdraw in dollars
3. It possesses a strong early-bird advantage
4. Affordability of courses on the platform.
5. Introduction of Core Teach Niches aside from making money, skill, travel, and health niche.
6. As an affiliate, you are given unlimited access to products to promote and earn a massive commission of 40 – 80%
7. Access to the Ultimate Money Machine blueprint framework for your first $1000
(₦600,000) in 90 days as an affiliate.
8. 1-year sign-up and direct access to founders support the community.
9. For every sale made, you will get instant commissions that will reflect on your dashboard.
Access The UMM Course Now!!
Getting the UMM course might just be the best decision of your lifetime. Those who have doings are known to be actionable. No carry last because time no dey to check the time.
Digitstem Affiliate Program Review: Scam or Legit?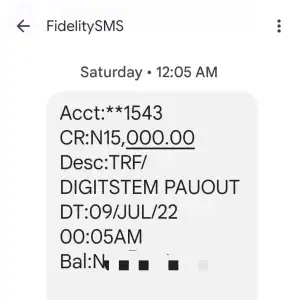 Wahala for who no join Digistem today!!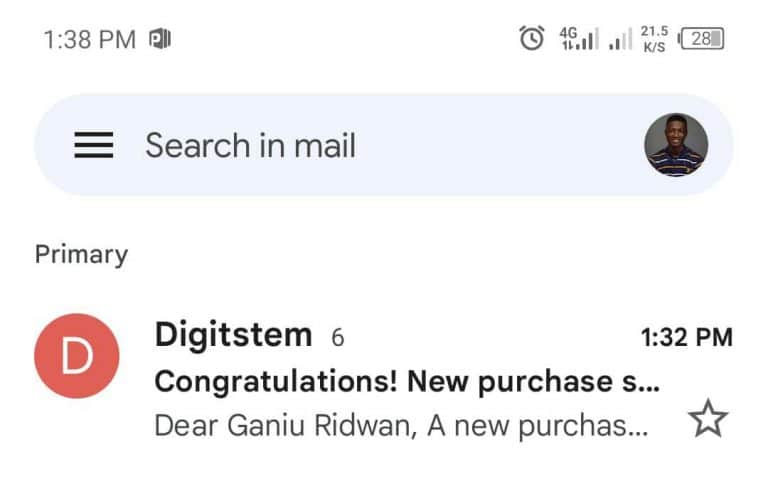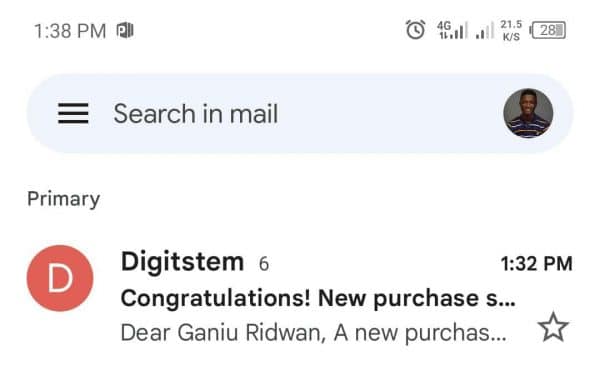 Digistem is a marketplace connecting buyers and sellers while also making it possible for affiliates to earn dollars through referral commissions.
Furthermore, this platform offers high-value digital products that are evergreen and will always be sought, therefore, ensuring the sustainability of the platform.
In the grand scheme of things, the Digitstem affiliate program is legit and will hardly crash so long as people still leverage these digital skills which are in high demand.
Digitstem Website Login
You can access the website at digitstem.com
Topupvista VTU Platform Registration
Conclusion: Digitstem Affiliate Program Review
Conclusively, Digistem affiliate marketing is a good way to start if you are looking forward to earning dollars not just in Nigeria but the world at large.
If you notice any negatives or positives about this platform kindly leave a comment below
SEO Content Writer with over 4 years of experience in On-Page SEO which gained me an award for excellence.
This is my web space where I share helpful guides to help you earn money legitimately.
I register brands with CAC, create websites and offer Business Consultancy services. For business deals, contact me