It is obvious that RAGP is the fastest-growing VTU business at its peak in Nigeria, Its no doubt there is an increasingly high demand for airtime and data and a lot of people have already leverage on this telecom oil business. For intending members, you need a recharge and get paid referral ID for your registration.
It's quite unfortunate that a lot of people who are into this telecom platform do not understand basic facts about the company hence this post is also aimed at providing answers to RAGP FAQs.
 Recharge And Get Paid Referral ID

Before your registration to be successful you will be asked to use a valid referral ID, use Legacy649 to signup instantly
however below are recharge and get paid sign-up packages
1. Basic Membership…….N5,000
you'll get back 20% i.e N1,000 plus 20pv and earn commissions up to the 5th level of your downlines.
2. Bronze Membership……. N10,000.
you'll get back 20% i.e N2,000 plus 40pv and earn commission up to the 6th level of your downlines.
3. Silver Membership…….N20,000
you'll get back 20% i.e N4,000 plus 80pv and earn up to the 7th level of your downlines.
4. Gold Membership…….N30,000.
you'll get back 20% i.e N6,000 plus 120pv and earn to the 8th level of your downlines.
5. Diamond Membership…….N40,000.
you'll get back 20% i.e N8,000 plus 160pv and earn to the 9th level of your downlines.
6. Platinum Membership…….N50,000.
you'll get back 20% i.e N10,000 plus 200pv and earn to the 10th level of your downlines. and can qualify for 100k, 500k, and 2million bonuses.
7. Executive Platinum Membership…….N100,000.
you'll get back 20% i.e N20,000 plus 400pv and earn to the 10th level of your downlines and can qualify for 100k, 500k, 2M, 3M, 4M and 6M bonuses.
Once you have selected a package of your choice you can proceed with the registration
Click Here To Sign-up Now
Ensure to use Legacy648 as your referral ID
During registration, you can choose from e-wallet mode of payment or Paystack if you have a working debit card that can pay stuff online.
RAGP is a platform that gives you access to recharge your phones directly through VTU for MTN, Glo, 9Mobile & Airtel lines as well as data purchases.
The platform also serves as a payment gateway for cable TV subscriptions (DSTV, GOTV, Startimes) and electricity (PHCN) bill payments.
This is a business sector with 100% certain patronage. Airtime has come to be a necessity because people must recharge daily.
Recharge And Get Paid Frequently Asked Questions (FAQs)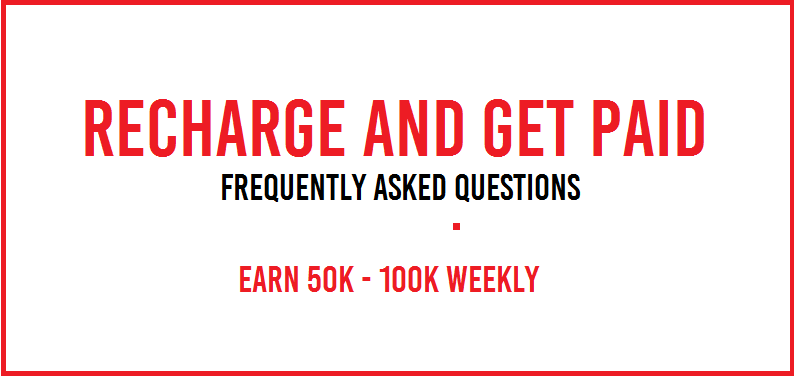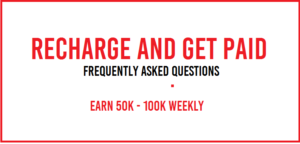 Below are some cool answers to RAGP FAQs
What is the meaning of RAGP?
RAGP simply means Recharge And Get Paid
Is Recharge And Get Paid Legit?
Yes RAGP is legit and 100% trusted, no scam at all
Who is The CEO of Recharge and Get Paid?
Mr Ositadinma Oshopo is the CEO of recharge and get paid
When was RAGP founded?
Recharge and get paid was founded in 2015
What are RAGP products?
Products include VTU vending of AirTime and Data of all GSM Networks; Cable TV Subscriptions such as DSTv, GOTv and StarTimes; and PHCN, WAEC, NECO coming soon.
Where is RAGP office in Nigeria?
The office is located at Corporate Head Office in Abuja FCT, as well as an office in Ibadan, Lagos and a Training Centre in Calabar, very soon the Southeast regional office will be launched in Enugu
Is the company registered with the Corporate Affairs Commission CAC?
Yes, RAGP is a fully CAC registered company and is also licensed by the National Communications Commission (NCC).
Are you sure this company won't fold up like others?
We are very sure because it is a legally registered and licensed corporate entity recognized by the laws of the land and especially because it deals in products that have a PERMANENT market ie as long as we have human beings, these products will ALWAYS be in demand.
Must I refer anyone before I start making money?
No! You will start making money immediately u obtain your license and continue to make money from distributing VTU and other products alone if you so choose
How many people am I expected to directly refer?
At least 3 people are enough with a very good package, then you can earn from your downline without referring
How do I convert my e-wallet to cash?
You can transfer the money to your bank account every day; sell it to others who need e-wallet funds in exchange for cash or sell as VTU.
What about the PVs; what are they used for?
PV simply means Point value, it is used To keep a record of activity that will qualify you for monthly leadership bonuses and other incentives.
How do I accumulate PV?
You can accumulate your point value from signups and account package upgrades.
What is the benefit of upgrading?
It helps you avoid being cut off and losing referral commissions, PV, and VTU bonuses.
How To upgrade RAGP Package
It's simple! all you need to do is to Have the e-wallet funds in your account and click the upgrade icon.
What is the difference between the monthly PV and cumulative PV?
Monthly PV qualifies you for the monthly N100,000 and you must achieve 10,000PV in a month while Cumulative PV qualifies you for incentives with no qualifying time frame attached to it.
How do I earn VTU bonus?
From the recharge of AirTime (0.35%) and Data (1%) of ALL your downlines, Direct and indirect for life
Can people outside Nigeria join RAGP?
Yes, RAGP Ltd has been registered in Liberia, Sierra Leone & Ghana
When I register with N5,000/N100,000 and I'm given N1,000/N10,000 as my Registration Bonus, where will the remaining N4,000/N80,000 go to?
This one is among the weirdest and common questions people ask each time they get signup on RAGP for the first time
in order to set up your online office, a distribution license that covers the 4 GSM networks and two cable TV; and little amount Will be partly retained by the company to sustain the business for you.
I hope this has answered all your RAGP related questions
Conclusion: Recharge And Get Paid Referral ID
Am sure by now you must have used Legacy649 as your RAGP Referral ID to signup on their website. Nevertheless, if you have any questions or complaints to make about this platform feel free to comment below, If you need assistance to signup you can chat me up on WhatsApp.
RAGP Rocks!!!