What's new with Kuda Bank Virtual Dollar Card? Do you realize how long people have been anticipating this specific feature?
We're very happy that the app now allows you to make a digital Kuda Dollar Card! The setting up of virtual IDs in Kuda is free, and they function online in Nigeria.
There is a single virtual ID available to everyone. Learn how to create your virtual card by reading this comprehensive article.
What's a Virtual Dollar Card
A virtual card is exactly the same as a physical card, with the exception that it is a digital card (non-physical). The card can only be used to make payments and to buy online.
The convenience of not having to visit a bank makes virtual cards very helpful. You can obtain one by using a smartphone application.
You'll undoubtedly find one that meets your requirements because there are many fintech companies in Nigeria that offer virtual dollar cards.
In Nigeria, if you'd like, you can have several virtual dollar bills. You can get a Virtual Naira card or a virtual Dollar card in Nigeria.
However, the subject of the following article is virtual dollar cards in Nigeria, so we will primarily concentrate on that.
Online shopping can be simple with a bank or credit card issued in Nigeria. It may be challenging to use your card for transactions with foreign service providers if it was given in naira.
This is due to the fact that these platforms won't accept your card or that your bank has put a limit on your ability to make international purchases.
Virtual dollar money can help with that. These cards are only available through an app, so you can't use them for in-person purchases, but they work well for internet purchases.
They are also much simpler to obtain than a physical dollar card because they have no physical counterpart, and you don't have to wait for them to come by mail.
Typically, they function as prepaid cards that must be filled from a card or account that holds naira.
In addition to the small monthly charge, you might also have to pay a fee when topping them off. You won't, however, be subject to foreign transaction fees, which can range from 0% to 15%, based on the issuer of your naira card.
There are numerous virtual cards like Chippercash and Gomoney in Nigeria, however, this article will focus on the one that is provided by Kuda bank.
How to Get Kuda Bank Virtual Dollar Card
Virtual cards are available from Kuda Bank, one of Nigeria's best online banks. Kuda Bank is a digital bank for all your banking needs.
The company also provides physical cards, which they will send free of charge. They also provide loans at some of the most competitive interest rates.
The process of getting Kuda Bank virtual cards through the application is free. Follow these steps to create a virtual card on Kuda Bank:
First, you will have to open the Kuda app
Then, you must deposit at least ₦1,200 into your account.
At the bottom of your device, select Card from the menu.
The following step is to select "Request A Card."
Next, click "Get A Virtual Card."
Your Kuda transaction PIN, fingerprint, or Face ID will then be required for confirmation.
Is Kuda Virtual Dollar Card Free?
Yes, Kuda offers free Visa virtual cards
Kuda Bank Virtual Dollar Card Activation
Once you have gotten your card, activation is very easy when you follow these steps;
Open Kuda and tap Cards at the bottom of your dashboard
Tap Activate Card.
Read the activation instructions and tap Activate Card.
Type in your card number (on the back of your card) then tap Next.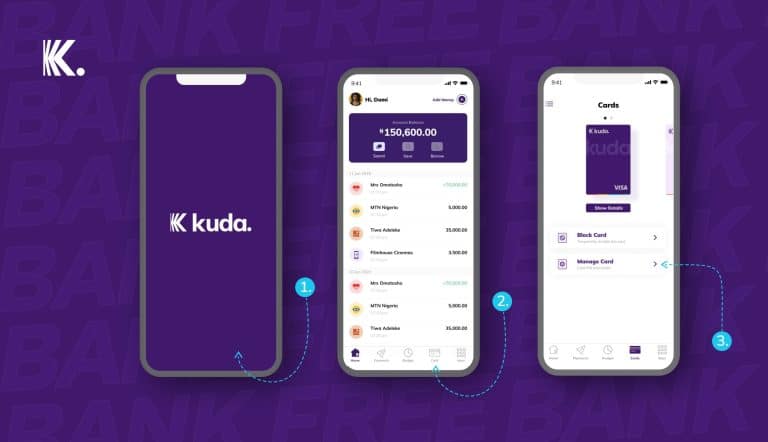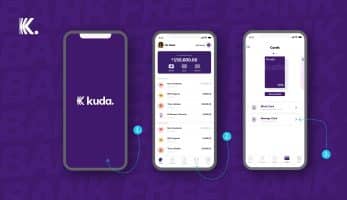 Kuda Bank Virtual Dollar Card Limit
Kuda Bank serves as one of the top digital banks in Nigeria which provides virtual cards. All of your banking requirements are capable of being met by Kuda Bank, an online financial institution.
The business also provides physical cards, which they will send free of charge. They also provide loans at some of the most valuable APRs.
You can use the Kuda app to save money, increase your wealth, and pay internet merchants with its fictitious dollar cards.
The Kuda virtual USD cards are one of the visual dollar cards that are working at the moment. The monthly cap on the Kuda virtual currency card is $25,000. You can start using this virtual dollar card by downloading the Kuda App.
Kuda Bank Virtual Dollar Card Charges
The virtual dollar card issued by Kuda has zero maintenance charges.
How To Block Your Kuda Card
For so many reasons such as loss of card, unauthorized debits and many others, you may wish to block your Kuda card. To do this;
Open Kuda and tap the Card.
Swipe the Block Card toggle to the left.
To Cancel Your Kuda Card
Open Kuda and follow the process to block your card.
Tap the red Cancel Card button
Can Kuda Virtual Card Be Used for International transactions
Yes, with the Kuda Visa card, you can carry out all international payments with ease.
It is important to note that when Kuda issue you a card, it must be used for only lawful transactions within Nigeria. The card will have an expiry date and is valid until the last day of the month shown on the card.
Your card will be auto-renewed upon expiration unless your account is closed or the card is revoked.
Read Also:
How To Use Sezzle Virtual Card on Amazon
How To Use NetSpend Cards for AfterPay
Conclusion:
Have you ever attempted to make an online transaction using a Nigerian credit card but been declined? It can be distressing, especially if you want things so badly.
However, there is a workaround that makes use of digital dollar notes. Virtual dollar cards allow you to quickly make purchases and payments on foreign websites where your Naira card is not accepted.
These pre-paid, dollar-denominated internet cards enable hassle-free payment for your web purchases.
You can buy virtual dollar cards on many digital sites to make paying for your online activities simpler. This makes it enjoyable to shop.
Finally, Kuda virtual dollar cards make excellent payment choices for any online transaction. You are spared the agony of being unable to make a purchase of the item of your choosing.
You can pick whichever virtual dollar card you want to use from the list of available options above to improve any digital purchases you are making.
SEO Content Writer with over 4 years of experience in On-Page SEO which gained me an award for excellence.
This is my web space where I share helpful guides to help you earn money legitimately.
I register brands with CAC, create websites and offer Business Consultancy services. For business deals, contact me