Are you searching for how to get referrals easily on any online income program?  This article will provide an informative guide and I assure you if you take action and apply this tip you will get massive referrals on any online platform and earn more money.
If you are out there looking for how to get referrals in Nigeria in other to earn on top income programs like Newspayforum, Zinoly, Flowextra, Trolex etc then just keep reading this article, I have the solution.
I have noticed this referral a thing has made many Nigerians quit any online platform that has to do with getting referrals and most people end up falling victims to Ponzi Schemes which promise Silver and Gold but it all ends up being a Scam.
How To Get Referrals Online On Any Income Program
Each time I hear people complaining "I don't know where to get referrals" I just wonder. Like I always say Referrals are not Robots, they are your friends, the babes you toast every day on social media, sister you wey be Slay Queen all those guys wey dey rush you on Facebook you fit convert them to Referrals lol….. the people you meet and hang out with every day are your referrals,
How To Get Referrals On Facebook And Whatsapp
If you want to know how to attract referrals either on Facebook or WhatsApp then follow the steps below
Other Bloggers would have said "Pay Money And Buy My Ebook" But Legacy Benjamin is giving it free, am just a caring Blogger
Who says that you cannot make 50 to 100k online Monthly? I am living proof and testimony that you can even at the comfort of your home listen to friends, making money online is not as hard as people say or think.
Tip 1
The first thing I would like to talk about is Creat a Whatsapp Group while creating a WhatsApp group, make sure you give it a name relating to the business you are doing,
e.g if you are creating a group for Giftalworld then the group name may be Giftalworld Income, Giftalworld Daily Pay, or Giftalworld Global Business.
We already know that almost everybody now has a Facebook account so all you need to do is join as many Facebook groups as possible and then start advertising your business there
I noticed and have seen a lot of guys doing adverts on Facebook groups in the wrong way. below is one of my adverts that got me massive traffic
I posted that advert in a Facebook group, below in the comment section I put in my WhatsApp group link which means anybody that opens the link will be taken straight to my WhatsApp group where I educated and tell them about the business, and eventually people get convinced to join below is the result
Be Warned!!
Don't ever do the mistake of posting too many links on Facebook, else Facebook will consider your posts as spam and will block your account
Tip 2
You can also Advertise on Whatsapp by creating short adverts and including your link there, you can search on google for the latest Whatsapp group links and join,
I wont encourage spamming in other WhatsApp group but if you are smart enough to do that then Goodluck, below is a screenshot of how your writeup should look like,
you should try as much as possible to make your writeup as short as possible, having a long writeup doesn't guarantee you success, it just looks weird
Tip 3
You Can also do paid Adverts on top sites like Nairaland but that's going to cost you money, if you are buying enough and you think you know what you are doing then you are good to go
Accept new Facebook friend Requests, Nigerians are crazy sometimes, no matter the advert you post in groups even if your WhatsApp group link is there,
some people will still prefer chatting with you one on one, they will send you requests, just accept them and make mutual friends with them who knows they might be the ones that will easily get convinced about the business
If you don't lie about the idea of posting in Facebook groups, you can as well advertise on your timeline if you have a large number of Facebook friends, that will be cool too
It's not so important to have a WhatsApp group, you can just advertise with your WhatsApp phone number, but I still believe having a WhatsApp group is best
You can as well Advertise on WhatsApp TV and drive traffic to your WhatsApp group. They charge depending on the number of views they usually get on their TV channel.
Some charge 1k some 1,500. Just make sure the WhatsApp TV you wish to advertise on has thousands of Views
Premium Ebook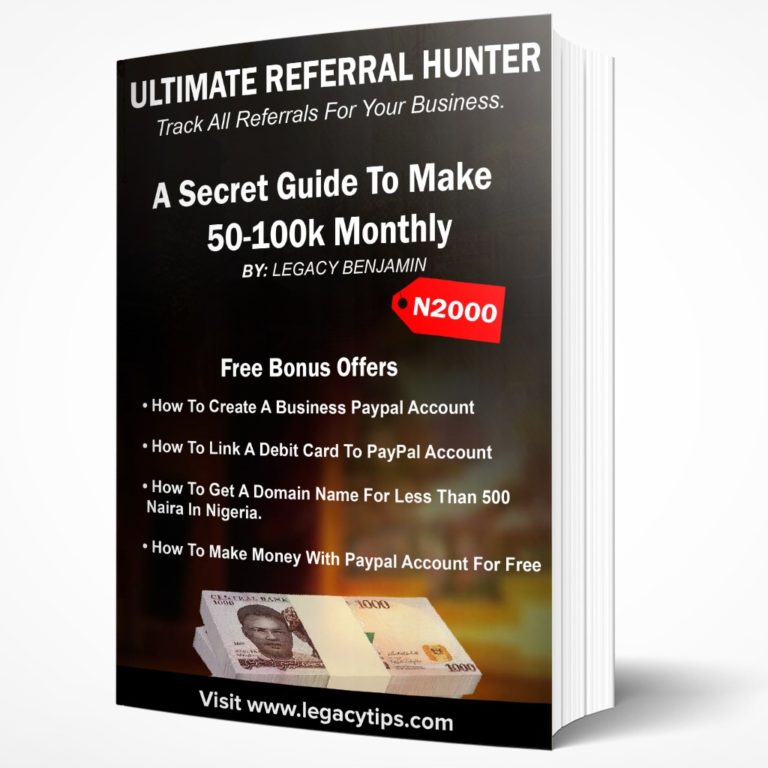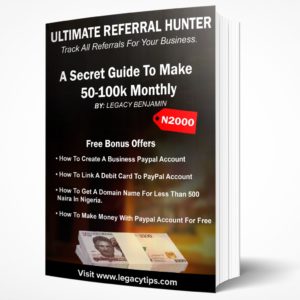 Even though I have provided exquisite strategies on how to get referrals easily on any income program, there are still hidden strategies which can be found in the ultimate referral hunter ebook.
I personally added some bonus tips for those who could take action and purchase this referral masterclass Ebook.
Learn From My Experience
I have been on so many affiliate platforms such as Get paid for reading news sites. while I was still fresh in my NNU days, each time I come across somebody online that I was finding it hard to convince to join this platform,
I will just stop and keep away then come back in a week's time with something like "Hello bro we were discussing NNU business"
and this time around I will send them more payment evidence and information on the latest development going on in the business after doing that the person finds it easier to concentrate and hear what I have to say and finally the person will agree to join the platform and that's how I got up to 100 Referrals in just a few months
My Recommendation
Below are the current best Online earning platforms you could ever join and make money online in 2019, just check it out and discover things for yourself
I highly recommend you join Giftalworld because you can also register foreigners on the platform, don't forget referral is optional
Update!! Giftalworld Don Crash
Avoid This
Like I earlier said sharing links anyhow is not going to solve the problem I have noticed a lot of guys who share links on social media and expect people to register for what they have no knowledge about,
you should also try to be consistent with what you are doing,
In life we all need people to be successful in whatever thing we are doing, a teacher needs students, a church is not a church when there are no worshipers, and an Okada man needs people in other to earn a living Even Dangote who is the richest man in Africa still needs people to work in his company
The issue of Not getting referrals is something that shouldn't make you quit online earning platforms rather you should look for a solution, there must be a solution and I think I have solved if not all but part of your problems in this article, giving up shouldn't be an option, even if you fail that's how we learn
Conclusion: Creative Ways To Get Referrals Online
If this article solved your problem in one way or another other kindly comment below, like and share it with your loved ones too, thank you