Have you bordered to know why the quest for how to open UAE PayPal account in Nigeria increased?. Every day I keep getting requests like "boss please help me create a working UAE PayPal account that can send and receive funds here in Nigeria and worldwide".
One thing I've noticed with UAE PayPal account is that they aren't very strict to their policies unlike USA PayPal accounts as a result of this and the fact that you don't need a VPN to access this UAE (United Arab Emirates) PayPal account makes it very easy and handy to manage.
One more thing: it's very easy learning how to open UAE PayPal account in Nigeria as it requires fewer materials unlike the USA where you need a USA mobile number, Dedicated IP address, Virtual Bank and all that as stated here when I wrote about it.
However, it might also please you to know that you can't get the real details to make a fully verified UAE PayPal account since you are not a legal UAE citizen. The highest you can get is a UAE mobile number for PayPal verification if you've got someone around there.
In that case, making a UAE PayPal account can never and will never be legal but we still need to do it because that's how we've been sustaining online for years now and without it we can't live since almost every international online business now require PayPal for cash out.
Do you need a PayPal Account?
If you're looking forward to getting a legal PayPal account then you will need to create a Nigeria PayPal account and am very sure you know the limitations: You can't send out nor receive international funds but you can only Add your credit or debit cards to do shopping online and am very sure we aren't here for shopping instead for business. That makes it useless to have a Nigeria PayPal account.
If you want to keep to the law and remain legal then you can exit this page. But to those who want to get things done even with risk let's continue with our tutorial on how to open a UAE PayPal account in Nigeria after all no police or force man online to arrest you… You did not crime against the law but against the Terms and conditions of PayPal
The worse PayPal can do is get your account suspended and am going to talk about that so let's roll.
How To Open UAE PayPal Account in Nigeria
To open a working UAE PayPal account in Nigeria you need the following
Your Email address
Name
Billing address
Passport number
Phone number
Most of all these are gonna be fake. don't be scared because even with that it's working fine. am also using a UAE PayPal account here and I also have USA as well so I know what am saying.
Step. 1 Visit the UAE PayPal link https://www.paypal.com/ae and click on Signup then you will see these two options to select your account type.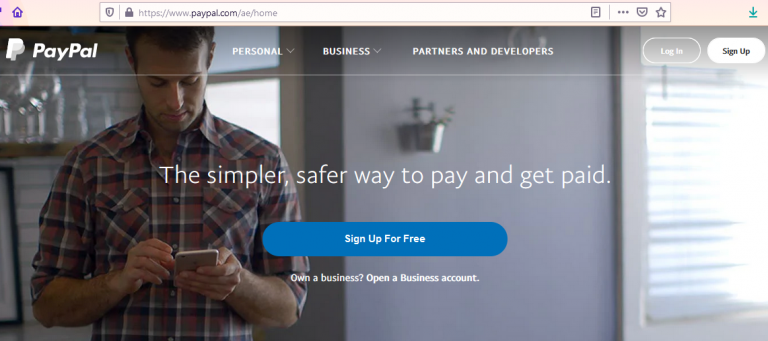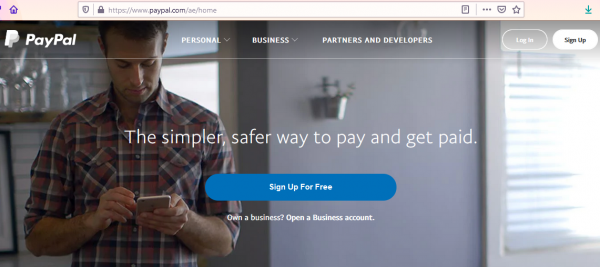 Step. 2: Select the Personal Account or business depending on the type of account you want to create. For the purpose of this tutorial, I selected Personal account: Mind you after creating a personal account you can later upgrade it to a Business account if you wish. It's very easy.
Step. 3: Make sure the country is shown as the United Arab Emirates just like it's in my screenshot after that fill in your details (Your First and last name, Your email and Your password)
Step. 4: Then when you continue to the next page it will show you as below. fill in your date of birth (must not be real) Select passport number and Add any Six digits numbers there in the area of PO BOX just put 18004 Fill in your city as shown below and select your state as Abu Dubai. put any phone number. You can google some UAE phone numbers and use them.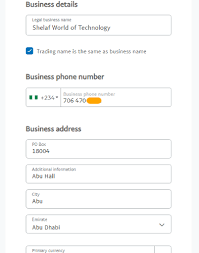 After that, you can now complete your registration and verify your email through the confirmation link sent to you and you're all done. The next thing is linking your Credit or Debit Card to verify your PayPal account.
How to link Credit or Debit Card to your UAE PayPal account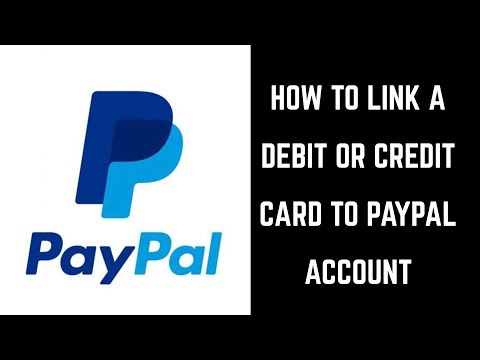 Does Naira Card also work on this UAE PayPal account? Yes, it does. you can link your Naira Master Credit or Debit Card for verification. But not all bank do work.
Some bank Cards in Nigeria might be rejected but the majority of the cards do work. all you have to do is try your Card to see if it work.
Just login to your newly created PayPal account: You can log in from any Link even with PayPal.com no issues. Then select Wallet and click on Link Card. Put your card details and link your card
After linking the Card, You will be redirected back to your Card page. Click on the Card you just Added and Select the option to Verify Card.
You Bank will send You 4-digit verification Codes: This might take up to 24hrs but once the code arrives you can then login to your account and use the code to finish the verification process.
They will charge you $1.98 USD or so but after verification, they will later refund you the money in 24hrs time. When your account is verified your status will show like:
It will only show verified when you have done the verification otherwise it will redirect you back to your dashboard which means your verification isn't complete.
What if my Card is rejected?
If your credit or debit card is rejected during the verification you can connect me to help you complete the verification 4,000 Naira only and it's not negotiable. it's left for you. (Whatsapp me 08066108299)
How can I withdraw from my UAE PayPal Account in Nigeria?
The Card you added to your PayPal account is only meant for debiting as you cannot be credited which means you can't cash out to that card as there's no option for that.
And even if you try to Link bank it won't still work, but you can withdraw directly from UAE PayPal to your Nigeria bank just like other Africa countries PayPal accounts like Senegal, Lesotho, Morocco etc which does direct bank withdrawal here in Nigeria. Am sure you wanna learn how. CLICK HERE.
If you choose not to learn how to withdraw from PayPal to Nigeria bank, The only possibility of getting your money in Naira is selling your PayPal funds. and that's gonna be at a cheap rate, risky and time-consuming.
Can you Link Payoneer to UAE PayPal account?
The only PayPal accounts which allow you to add Payoneer bank for easy withdrawal is USA or UK PayPal account. With any of these accounts, you can add your Payoneer bank, and then withdraw from your PayPal account to your Payoneer then move it to your Nigeria bank account very easily.
The whole answer says "You can't add Payoneer bank to UAE PayPal unless UK and US.
But mind you, There are issues surrounding US PayPal accounts, I mean too many requirements, unlike UAE and others.
Notice!!!
Be sure to keep every detail you used during the UAE PayPal Registration such as email, First and last name, Zip/Postal Code, Phone number, Card number, Date of Birth, ID Number and Address.
You can keep them as a record by noting them down somewhere. You may need them to resolve account issues in the future.
Conclusion: How to Create UAE PayPal Account in Nigeria
With all of the above steps, you've learnt how to open UAE PayPal account in Nigeria. Now you can send and receive funds worldwide without limitations.
But here's my advice for you: Whenever you get paid, don't leave huge earning on your PayPal account instead as soon as your money arrives in bulk you discard them. So even if anything has incidentally you will have no loss to bear.
SEO Content Writer with over 4 years of experience in On-Page SEO which gained me an award for excellence.
This is my web space where I share helpful guides to help you earn money legitimately.
I register brands with CAC, create websites and offer Business Consultancy services. For business deals, contact me