Let me quickly show you the necessary steps on how to open or create a Payoneer account in Nigeria.
If you can open a Payoneer account in Nigeria, you will be able to enjoy the simple and cost-effective Payoneer payment solutions in Nigeria.
You can pay with Payoneer and you can also receive money with Payoneer from international clients right here in Nigeria.
Payoneer was founded in 2005 and based in New York, Payoneer simply allows you to pay and get paid as easily globally as you do locally.
Payoneer gives you two major bank accounts as soon as your registration is activated with them. You get UK bank and USA bank from them in common.
So with Payoneer, you easily get USA or UK bank account without you being a citizen. And with this bank, you can send and receive money worldwide without issues. let me further explain
There are other banks that might be available but we only focus on those two since they are the ones we need in common.
You can use the Payoneer debit card for withdrawal of your Payoneer funds via ATMs worldwide and you can easily load the Payoneer card via Payoneer exchangers in Nigeria.
Most of the online businesses today require Payoneer to pay you e.g Google AdSense, since they are international companies.
What they will request is your USA or UK bank if you're using the USA or UK AdSense or if you're working with other companies that pay with Payoneer
Another crucial reason why Payoneer is hot in demand in Nigeria is the fact that you can use them to withdraw from PayPal in Nigeria.
With the aid of Payoneer, you can create a USA PayPal account, Connect your Payoneer and get your funds transferred to your Payoneer with ease. With this, you need no war with any PayPal exchanger. You can read that in detail here.
Benefits of Having A Payoneer Account

You can open a Payoneer account in Nigeria Free of charge
Secondly can create virtual bank accounts to receive payments from American and European companies
You can apply for a debit card which you can use for online payments and for funds withdrawal at ATMs.
There is no need to change your IP address or use VPN to access the Payoneer website in Nigeria.
You don't need to use fake information to get a Payoneer account in Nigeria.
Payoneer is safe and trusted in over 150 countries.
Once you receive $1000 in payments into your Payoneer account, you will receive a $25 reward from Payoneer.
You can use a Payoneer account to receive payments from freelancing marketplaces like Fiverr, Upwork, and other websites that accept Payoneer as a payment method, etc
Read Also: Benefits of Business Name Registration in Nigeria
Requirements for Having A Payoneer Account in Nigeria
There are just a few easy steps to sign up Payoneer account in Nigeria and below are the steps.
Follow The Payoneer Registration URL.
Fill in your name, address, etc as it is in the ID card you want to use for verification.
Set password, Secret Question and Answer and select your ID type. Provide the details of the ID as required.
Provide your bank account details if required. You can google the SWIFT/BIC for your bank. GTBank SWIFT/BIC is GTBINGLA.
How To Open Payoneer Account in Nigeria
Step 1. Firstly Visit Payoneer's official website and click on the signup button and you will see a new page as shown below.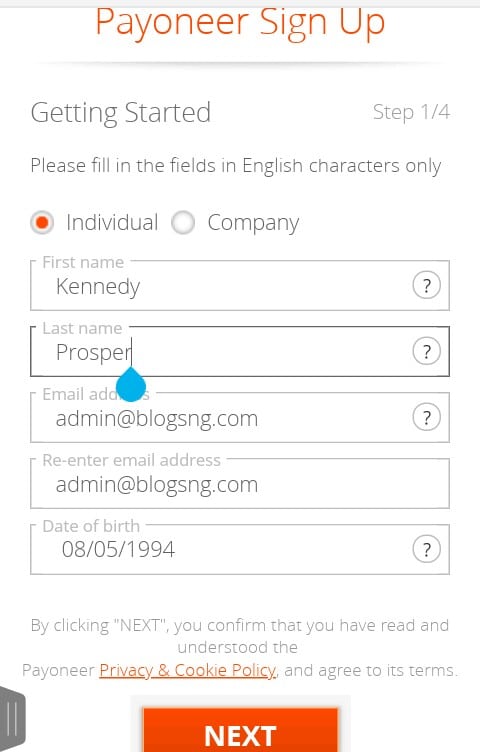 Fill in your real name, Working email address, and date of birth, and click on the Next button.
Step2: Select your country, Your home address, your zip code, and your phone number (use a real mobile number please in case of verification) after that click on the Next Button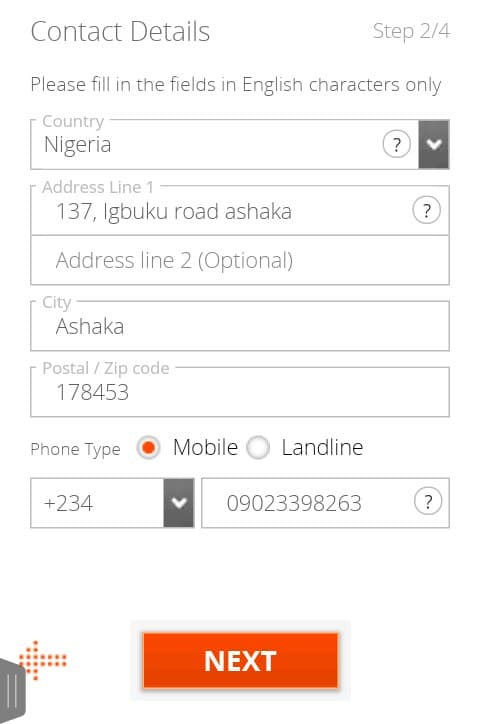 Step3: fill in Your security details correctly just in case any issue arises you can solve them without losing your Payoneer account. after that select the next button.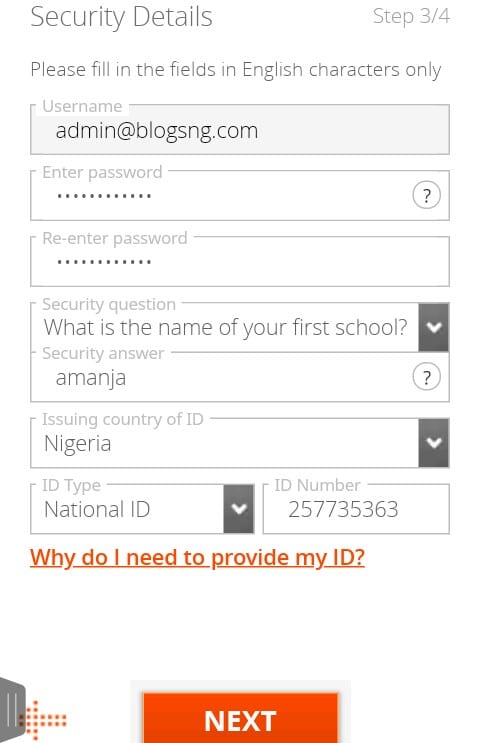 Step4: Fill in your Nigeria bank details correctly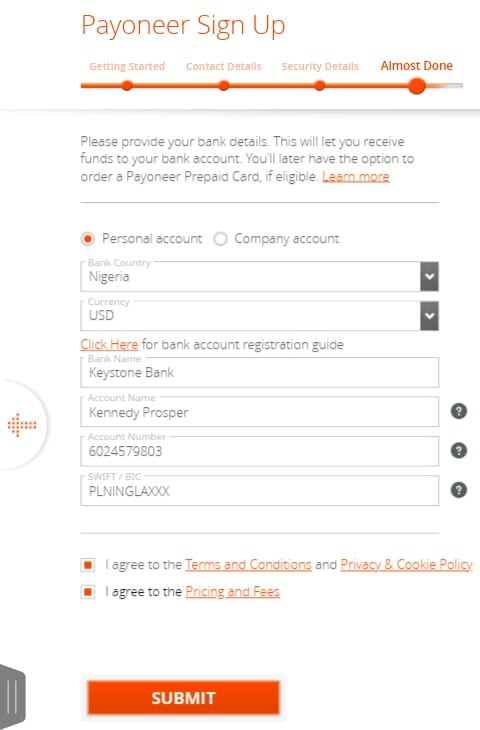 After filling in your Bank details wait for them to review your account and you will get a message from them. In the area of swift code, you can check out Nigeria banks and their swift codes here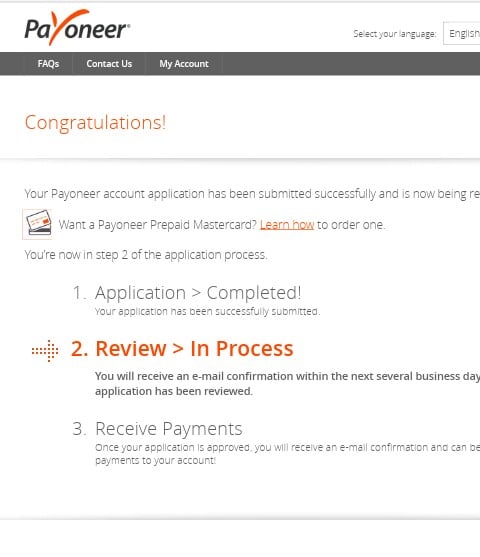 Sometimes it may take 24hrs or more to activate your account, I have even come to an instance where it took about a week but sometimes it takes just hrs.
The last Payoneer I created in order to capture the steps was easily approved less than 40munites: See the below screenshots time and dates.
Read Also: How to withdraw from Payoneer in Nigeria
Link Payoneer bank with PayPal
The above steps are all that is required to get your Payoneer account done. With the above steps, you can create Payoneer for yourself or for any other person.
Note: When your Payoneer account isn't fully approved you won't get access to the entire dashboard, such as UK and US bank details and others but as soon as you get the approval message you can now check back on your Payoneer to see it has been activated with the complete dashboard.
Conclusion: How To Create A Payoneer Account In Nigeria
I believe this works for you. oh, yea it works perfectly. for more information, contributions and suggestions about how to open a Payoneer account in Nigeria kindly leave a comment below.
SEO Content Writer with over 4 years of experience in On-Page SEO which gained me an award for excellence.
This is my web space where I share helpful guides to help you earn money legitimately.
I register brands with CAC, create websites and offer Business Consultancy services. For business deals, contact me