Are you struggling with How to verify Google Adsense Address without a PIN? Are you waiting for Adsense Pin or want to know the alternative methods to verify your Google Adsense Address, then you are at the right place because in this guide we will discuss in detail Google Adsense Account Verification Without Pin and how I survived this misery.
I have decided to document this article that will guide you on how to verify Adsense address without and hopes it will be a solution to pin verification issue faced by thousands of bloggers across the Blogosphere
Google AdSense is one of the most prominent and trusted ways to earn money from your blog. It is a simple and most powerful and popular source of earning for publishers and webmasters.
But it is true that getting Google Adsense Approval is really difficult because of their policies. Once your account is approved to start displaying Ads, Google has certain other verification processes.
Google verify your account by verifying the account holder's address. Before sending money, Google sends a PIN code to your Address to Verify your Address.

Once you have reached the required $10 threshold, Google requires you to verify your Adsense identity which can be done using your voter's card, international passport, or drivers license
Is Google Adsense Address Verification Important?
After you have verified your identity before sending you any payment from your Adsense Account, Google Adsense wants that you verify your Address.
For that reason, Google Adsense sends a 6 digit code which is known as Personal Identification Number (PIN) to your Payment Address, which you have provided in your Google Adsense Account.
This PIN is also known as Adsense PIN which will be used to verify your Address, the essence of pin verification is to verify your address, and there is nothing so big about it
Once you reach the Adsense Address Verification threshold amount, Google Adsense will send your Address Verification PIN in the next 3-5 days
and it will arrive at your Address in 2-4 weeks which usually takes more time
But mostly Adsense Publishers become fail to get their Adsense PIN due to Mailing problems. If you are one of them and looking for your Adsense PIN then you have no need to be afraid or frustrated.
Because I have come up with a solution on how to verify a Google Adsense account without a pin because I understand so well how it feels when you can't get your Adsense pin even after the 3rd time of applying
Most bloggers have quit blogging because of this same Adsense verification problems, in fact, I prefer losing my Girlfriend than losing my Adsense Account or having to undergo Adsense verification stress
How To Verify Google Adsense Address Without PIN
After applying for an Adsense pin several times there was no hope for me to continue in this agony of blogging
sometimes I had the feeling that my village people were actively involved and wouldn't want to see me progress
It got to a point that my Ads stopped displaying after four months of waiting for the pin, I was saddled with depression with no hope of overcoming this melancholy, I could clearly see the future ahead of me was bleak
I went to church prayed and did serious fasting and prayers for God to show mercy and luckily for me i met a God-sent friend online who was able to take me to the promised land
Let me stop here and not bore you further with my sorrowful Adsense story and get straight to the point
But always remember If you have not received your Adsense address verification PIN then don't submit or use your guessing PINs for your Adsense Account the result will be a disaster
If you entered the wrong PIN 3 times then your Adsense Account will be suspended and you will lose your all Adsense earnings leaving your hard work in vain
So don't try to be over-smart you just need to keep patience, and your Adsense account will be verified with or without a pin.
How I Verified My Adsense Address Without Pin
I know you can't get this information free from anywhere without bloggers telling you stuff like, Pay money and get my Ebook, Pay for mentor-shi
I have decided to share this information free because I wouldn't want my fellow bloggers to go through the same challenges I went through
Step1.
After having applied for Adsense pin for the third time, then change the address again and apply making it the fourth time, this can only work after you have applied for your Adsense pin up to four times
After applying the fourth time check back your Adsense go to accounts and click on verify address as shown below
To be on a safer side I recommend using a Laptop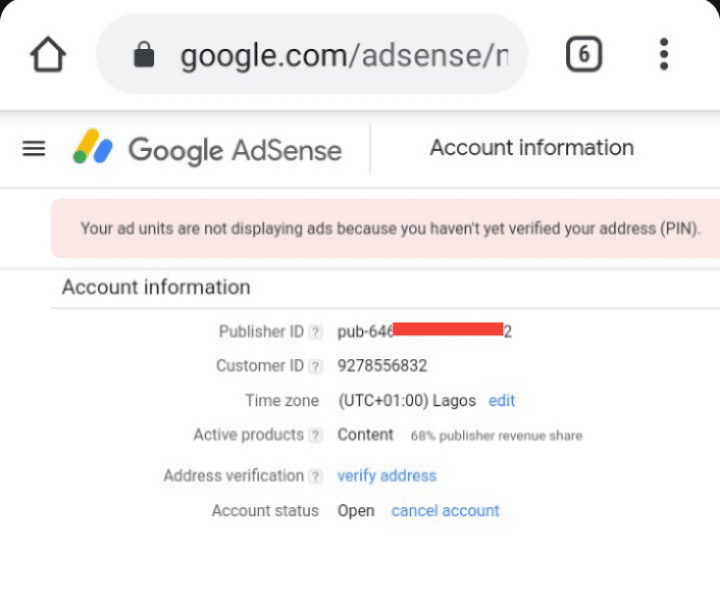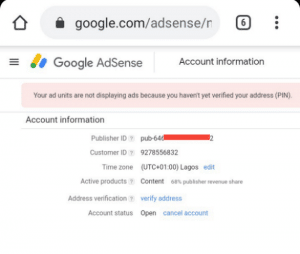 But before you pass this stage, If you have already verified your ID using your Voters card or any identification card go and get the same card.
And ensure the address on your Identity Card matches the Address on your Adsense account otherwise visit your Adsense account page and change the address to match the one you are using on your ID card
Below is the National electoral Voters card I used for my ID verification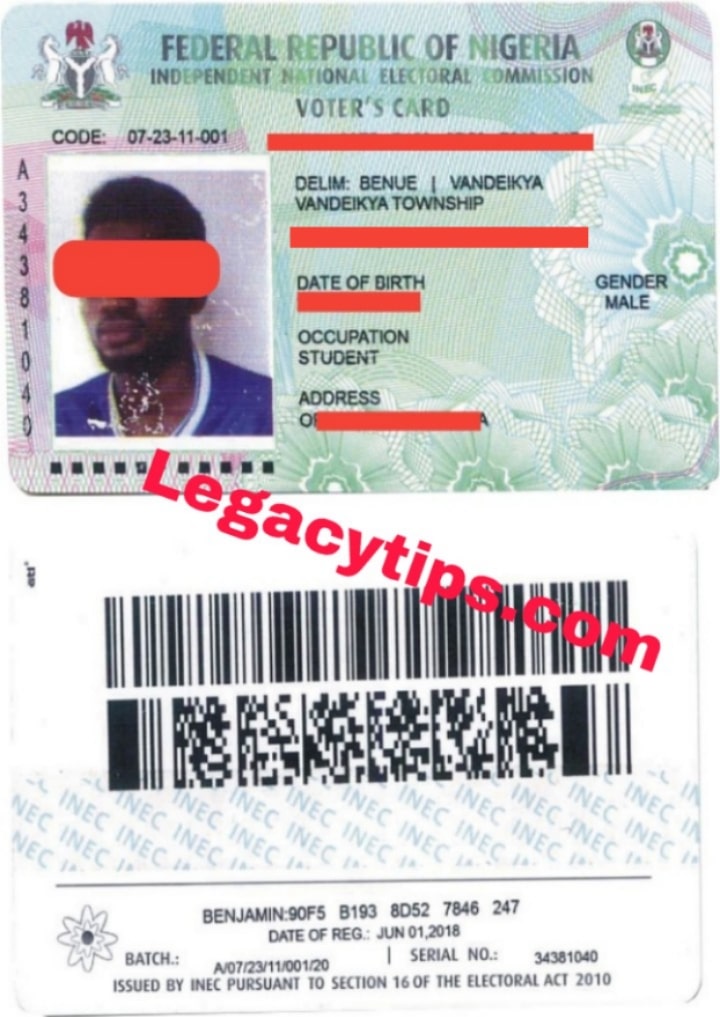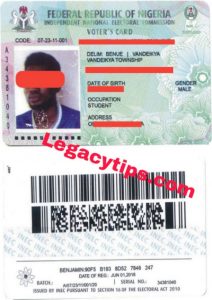 Just ensure you scan the Voters card using a scanner and not with your phone, merge it back and front and make it as clear enough as you see above
Step2.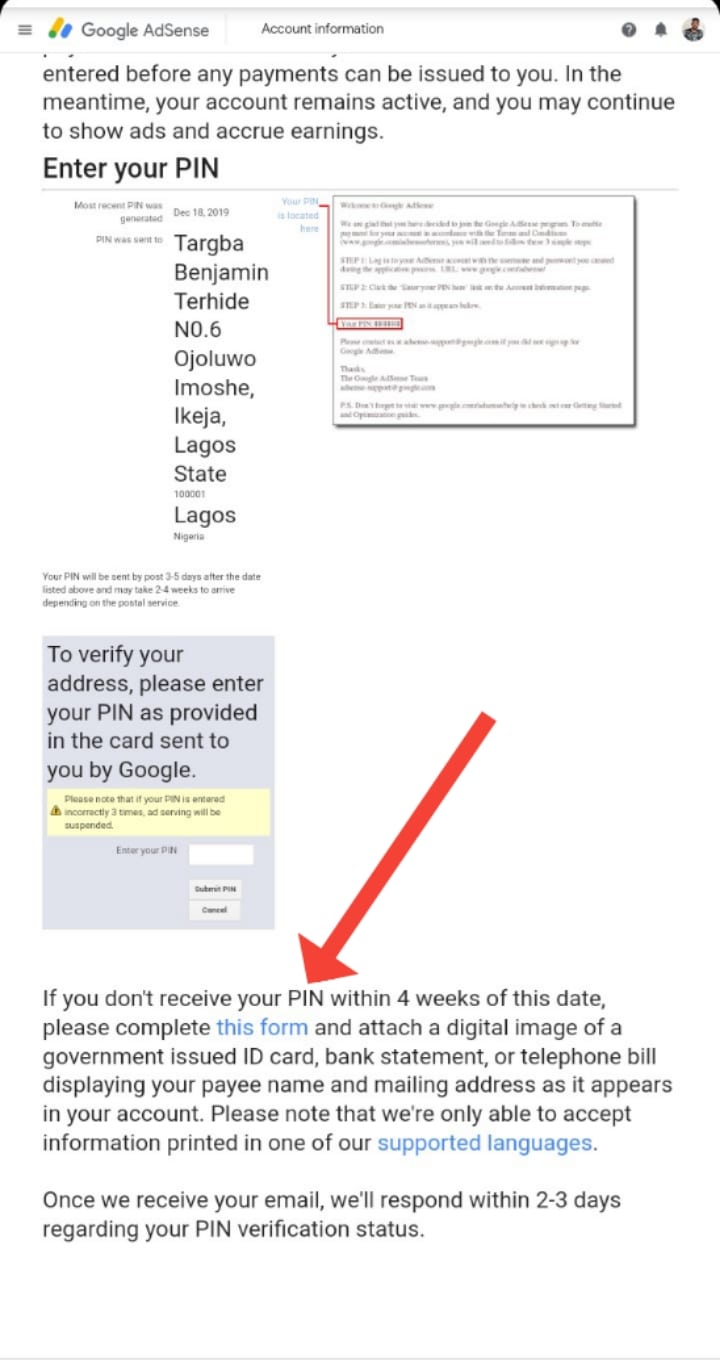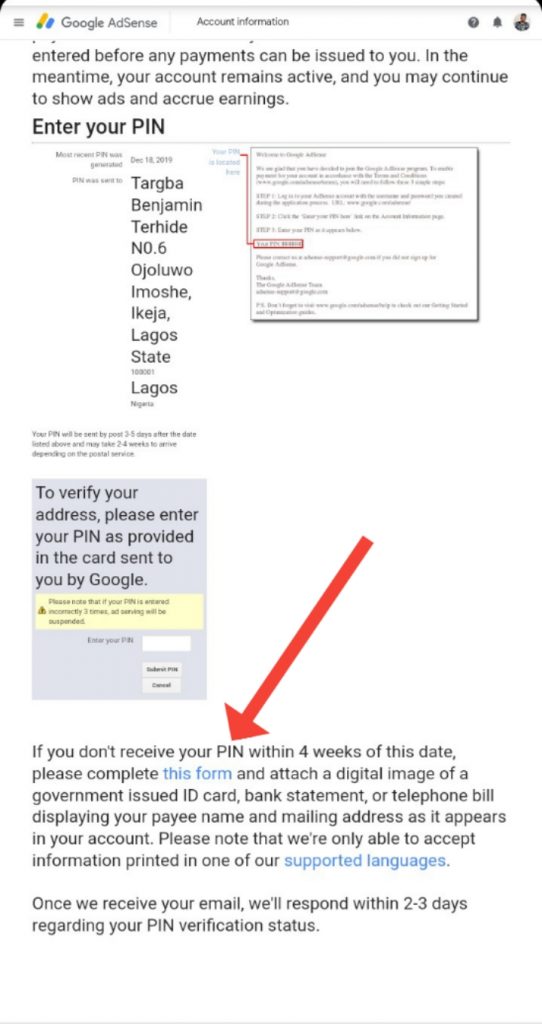 Google Adsense will now notify you and ask you to fill out a form if you have not received your pin after applying for the fourth time as you can see in the screenshot above
Make sure you have followed the detailed instructions I have given before proceeding to fill out the form
Step 3.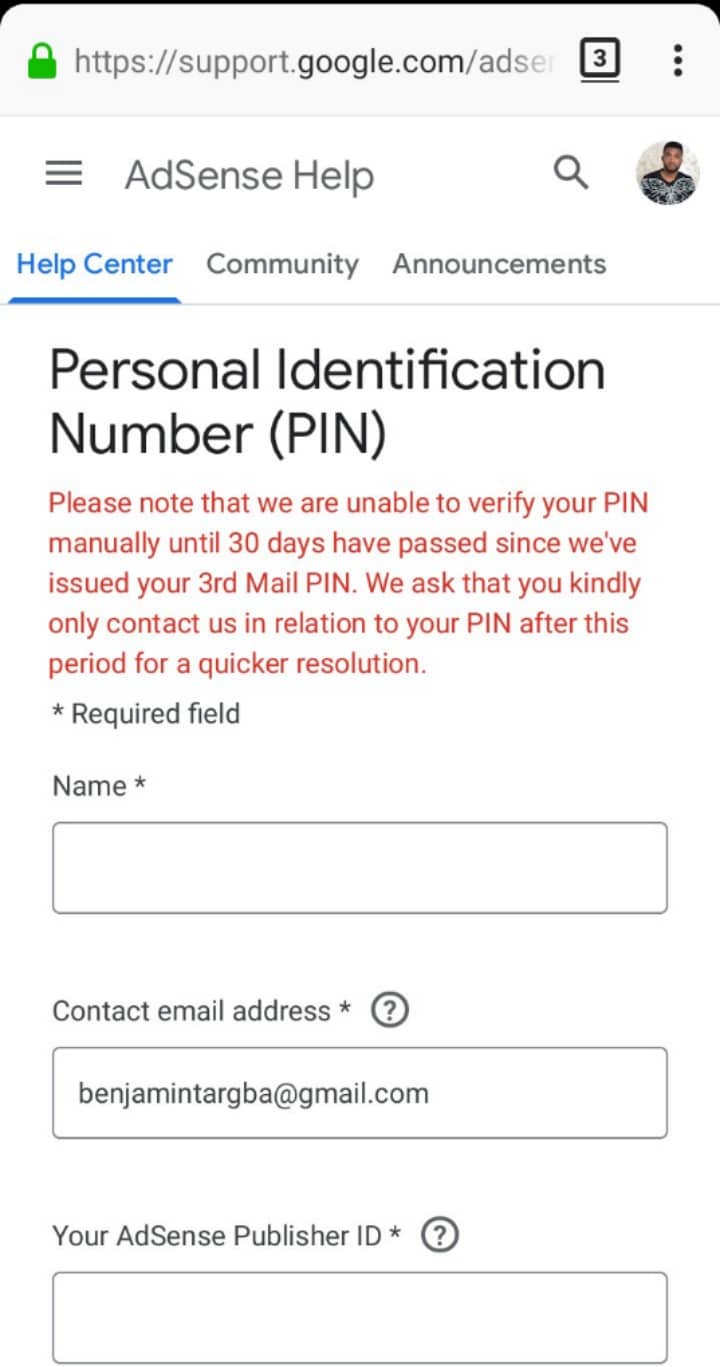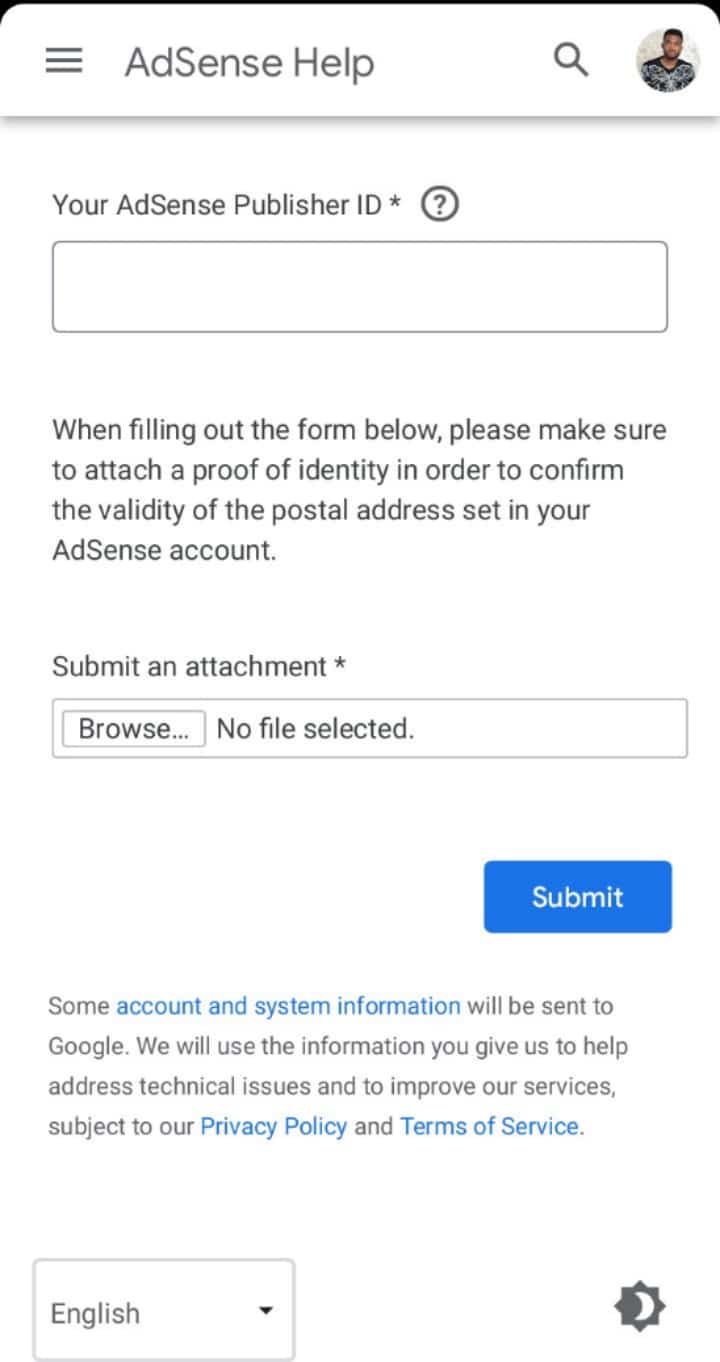 As you see above, fill out the form, and don't forget to input your publisher ID you can go to your Adsense home to get your publisher ID ( your publisher ID usually starts with pub…)
Uploaded the identity card (the same one you used during ID verification) and hit on apply, in less than 10 minutes I got an email from Adsense telling me my address has been successfully verified and I should update my payment settings so as to get paid
Step4.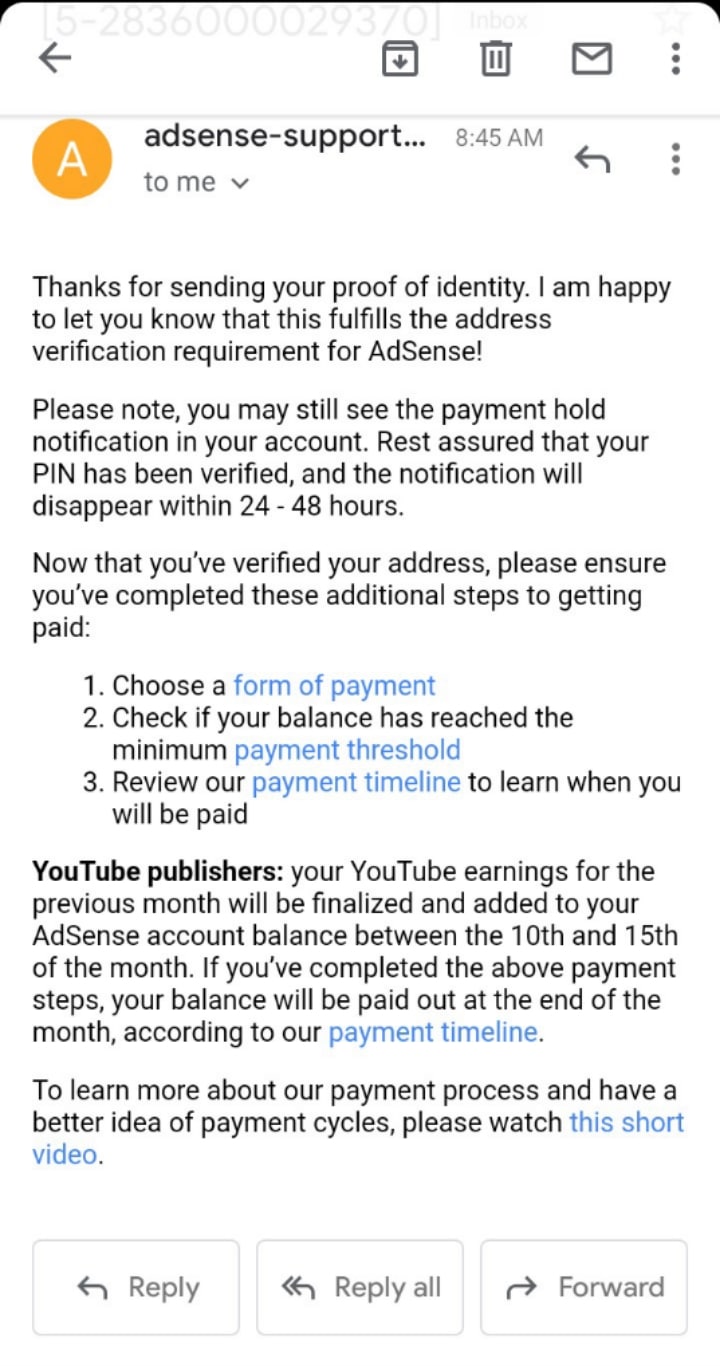 After I received this email, I leapt with Joy dancing around as if I was high on something, and that was how I and my guys went out to do some parte after parte lol..
Later that same day my Ads were live and displaying every nook and cranny on my site
Step 6.  

After you have successfully verified your Address google demands that you choose a payment method so as to receive payments once you reached the payment threshold
Immediately I verified my Address and payment method my payment was sent straight to my bank account via wire transfer without delay as shown below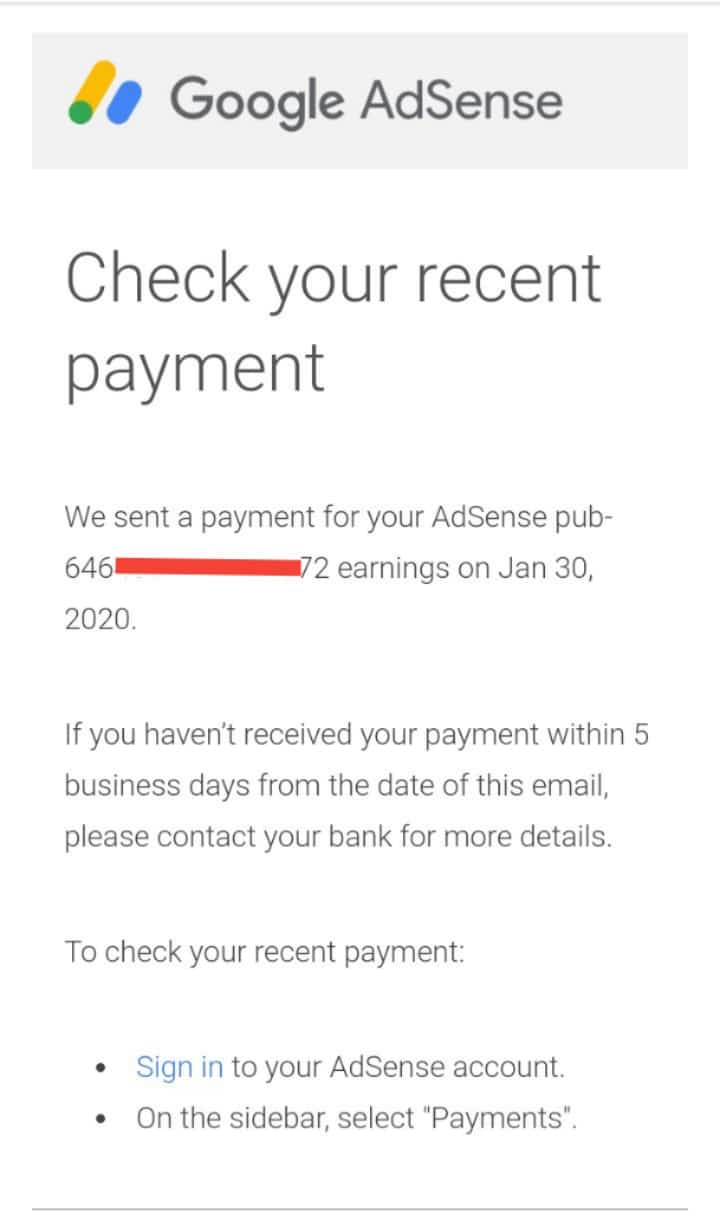 Now if you want to withdraw directly from Adsense to a bank account I already explained in one of my blog posts How to withdraw from Adsense to GT Bank wire Via Transfer
Overall, the direct bank deposit feature is already making the life of many Nigerian AdSense publishers easy, and if you have not updated your Payment option, it's time to log into your AdSense account and update payment settings.
Updated!! How To Verify Adsense Address Without Pin in 2022
You can still verify your Adsense address with this technique in 2021 If you can't go with the aforementioned method.
follow this simple step
Visit the Adsense community page and in the search box kindly type Personal Identification Number, Click to accept that you did not receive the Adsense pin, a new window will pop up and you will be given a form to fill.
Before this ensure to get your Id card scanned and ready for upload (it must be the same ID card you used on the Adsense account during ID verification)
Proceed by uploading the ID card together with your location and clicking on submit. (the Address must match the one on your Adsense account otherwise go to your Adsense profile and change it to match.
Once you have done all these, your address verification will be successful.
When you follow the right strategy, you will understand there is no special adsense pin verification trick
Conclusion: How To Verify Google Adsense Address Without PIN
Has this article solved your problem regarding how to verify a google Adsense address without PIN?. I strongly believe after going through this lengthy but informative guide you can now easily deal with Adsense pin verification.
If you found this post interesting kindly subscribe to keep informed about the latest posts like this, don't forget to share with your loved ones and friends who could be passing this same Adsense issue.
SEO Content Writer with over 4 years of experience in On-Page SEO which gained me an award for excellence.
This is my web space where I share helpful guides to help you earn money legitimately.
I register brands with CAC, create websites and offer Business Consultancy services. For business deals, contact me