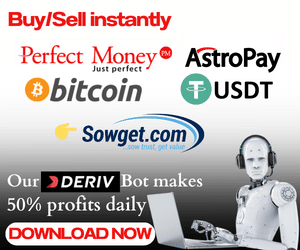 So many bloggers are just tired of AdSense rejection and they are like "Why not just buy AdSense Account" and save me this stress? Yes there's no doubt you can buy a Google AdSense Account for your website and as a matter of fact, in this article, I am going to share with you things to look out for when buying a google Adsense account in Nigeria
It's no doubt that while so many bloggers buy AdSense Accounts and rejoice, others do buy and come back with sorrows perhaps for one reason or the other.
But does that really make buying an approved Google AdSense Account unreliable? Not at all.
Before thinking of buying AdSense Account there are certain factors you must consider otherwise you may regret why you've done so.
And these factors are what so many bloggers aren't aware of making them purchase what they didn't desire.
In this article, am going you everything you need to learn about buying and selling pin-verified and unverified accounts. So stay focused.
Things To Check Before You Buy Adsense Account in Nigeria

If you are thinking of buying an Adsense account then you should consider these facts
1. New Policy
Back then, when you buy AdSense Account, as soon as a new ads code is generated and placed on your blog the ads start displaying immediately not until late 2018 when AdSense made some modifications that eventually affected the AdSense market.
With the new AdSense policy, you can't just buy an AdSense account and place the ads code to expect them to show immediately instead AdSense will give you a code to place in your new site Header just like when you're applying for a new AdSense Account.
After that, they will have to review your blog and feed you back if the blog is ready to show Ads or Not qualified. Automatically you're like applying for a new account that must go under review.
You're scared of applying for AdSense because you don't want AdSense to review and send you disapproval messages probably as a result of scrap contents but now you can't escape the review anymore.
All Domain names must be reviewed and approved before they can show ads currently.
But one thing I have noticed is that "The add-on websites are easily approved compared to when you apply freshly.
2. The Seller
Another important factor you must consider before buying AdSense is " Who is behind it?"
We are talking of email-associated kinds of stuff here and recovery can be done easily by smart scammers.
If you must buy AdSense Account in peace then you must know who you're dealing with to avoid getting scammed.
No matter how cheap it seems to be don't get tempted to pay first unless you're very sure you're dealing with the legit folks.
I have seen over 100 persons get scammed with this same issue of buying AdSense so I know how easy it can be to fall for this AdSense scam, especially for newbies and over-curious ones.
3. Figure Out The Adsense Price
What's the price of the AdSense Account you want to buy? This is another factor to consider when buying AdSense. Certain factors increase or decrease the price of AdSense. Here are some questions you may likely ask the buyer.
Is the AdSense Account verified, Is the AdSense payment received?, is it hosted or non-hosted AdSense?
How much is the current earning? etc.. These are very few factors that make the price of AdSense increase or decrease.
4. Adsense Account Country
You can certainly withdraw from other countries' AdSense accounts with the aid of Payoneer Bank.
You Don't Use Payoneer in getting your money from Nigeria AdSense Accounts instead you link your (Dorm.) Dollar account. But for USA or UK AdSense, you use Payoneer Bank.
You need to ask the seller as well to know the country's account you're buying so as to be ready with the means of withdrawal and verifications if the account is yet to be verified.
5. Number Of Pin Request
When you request a verification pin 3 times without getting the pin delivered, AdSense will place your Ads on hold and ask for ID verification which might not be very easy compared to the natural method.
Some AdSense sellers are always stuck at this stage so they have no option other than to sell the Ads. When you buy such accounts you will continue the suffer from where they stopped. This is why you must be vigilant about the type of AdSense you buy.
6. Study The Blog That Displays The Ads
Tell them to show you the Blog where the Ads are running and where they have gotten the accumulated earnings from if they've gotten some already.
The reason why you're doing this is to make sure you don't buy Adsense that's already violating AdSense policies and sometimes you get banned for a crime you didn't commit.
Ensure the site where the ads are running doesn't fall into categories that go against AdSense publisher policies e.g. Porn, Weapons, Gambling, Casino, Online Dating, etc. because even when you remove those sites the violation is still recorded on the account and soon it will visit you.
The above are the major things to consider before you buy a Google AdSense account in Nigeria. But if you ask me "Did you have anyone for sale? I will say Non-available for now.
But you can contact me to hear the update perhaps I might help you get some.
Conclusion: Buy Pin Verified Google Adsense Account In Nigeria
Hope you found this article interesting, thump it by sharing, and don't forget to subscribe for more updates like this
SEO Content Writer with over 4 years of experience in On-Page SEO which gained me an award for excellence.
This is my web space where I share helpful guides to help you earn money legitimately.
I register brands with CAC, create websites and offer Business Consultancy services. For business deals, contact me