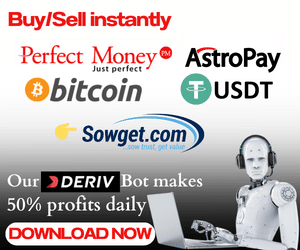 Today we are going to learn how to get blog post ideas. Have you ever sat down to write your up-and-coming blog post just to find yourself staring blankly at your computer screen like a man who has lost his way in the jungle?
I know I have. It's a daunting task to get words out when you have no idea what you want to write. What makes it even worse is when the publish deadline is fast approaching and the cursor just continues to torment you with its blinkyness.
It might also feel like writer's block, but I don't really believe in writer's block. It's really a lack of good writing
When I started my blogging career things were not easy for me at all, I always in a state of having lack of blog post ideas for beginners like me or even topics to blog about and at a time I got scared I might not succeed in blogging
I had to strive every day to get interesting blog post ideas on what to blog about and gradually I started growing and building myself and till today and am indeed glad for the work I have done so far.
How To Get Blog Post Ideas
The saddening is that your blog readers want more of you, they want to read what newest thoughts, information, and experiences you have to share. You have them waiting for you and this puts a lot of pressure on your overall blogging.
So follow up on these few tips I have for you and they will help you in overcoming writer's block as a blogger
1. Do Keyword Research
In our previous article, we already discussed two useful tools for keywords research and get more keywords to blog about
A blogger who doesn't have interest in keyword research is like a student who wishes to study Engineering and has a hatred for Mathematics, just imagine how the life of this student might be in the near future
A lot of new bloggers don't even consider doing keyword research, and because of this, they struggle to get visitors on their blog, no matter how hard they try.
Others simply add keywords that are "the most popular, " but they don't understand that if a keyword is very common, it will not help, but send your blog to the 15th page of search results.
A friend of mine whom we started blogging together was never interested in doing keyword research the right way so as to get the right keywords to blog for, while I strive all night searching for keywords online to blog about he was busy doing copy and paste from other sites without even editing part of the contents he copied
the worst mistake he did was copying from sites that have been protected by DMCA let me cut the whole story short, his blog traffic dropped to the lowest limit and his Alexa rank wasn't visible again. He murdered his own site in Cold Blood, Ghos!!
So Skipping over this part as a blogger who wants to go wide is not an option, as you won't be able to grow your blog as fast as you want to, so what can you do? Simply put, you will have to do keyword research to find keywords that will work well and help your blog
rank higher in the search engine results pages (SERPs). It's not a simple thing to do, as all blogs and target markets are different
2. Write About Yourself
You could also write about yourself for the audience, this is another way of getting unique blog ideas you could start by writing something like "How I Succeeded combining Blogging with Schooling" I bet you, seeing that catchy and juicy headling people would love to hear what you have to say.
This is going to create a mutual interaction between you and your visitors you could make it in form of a story so interesting that people would love to read and read and keep on reading without getting tired
A friend of mine did a mistake trying to add his new site to his old site so that the new site could be approved by Adsense in order to start displaying ads
Unfortunately for him, he got Adsense Ban, it was over he had nothing to do but to leave on with that pain and sorrow forever
But before I could know what was happening the next day he wrote a post on his blog titled How I Got Adsense Ban – Don't Fall Victim,
I was like wow, this guy knows how to get things done, right inside that blog post he explained everything from the scratch starting from the first moment he opened his laptop and started having such thoughts of linking his site for Adsense
The post attracted lots of view and raised about 20 comments in less than 48 hours after he published the post so I also learned from him that day
So this is exactly what I expect you to do, You don't need a special blog post ideas generator before you could get topics to blog about
Just write a post and share the mistakes you have done in your blogging carrier when you were a newbie to your audience and of course how to avoid them so that upcoming bloggers may not fall into the same category
Checkout: Howto write Long Articles And Still Get Your Audience Engaged
3. Read From Other Blogs
What are your competitors writing about? Are there topics on which you have a different opinion?. How can you substantiate a Blogger's view about something on your own blog?
Do you know that you can find a month's worth of blog posts by just reading other people's blogs and developing content around them too? I really don't have to start to explain what plagiarizing their content does to your brand. You know that already.
Read comments on their blogs and answer some of the questions on your own blog. Since you have similar audiences, watch out for what they are constantly asking and curious about. Write something quality on it and generate tons of ideas from reading these people.
Connect with other Bloggers and brainstorm with them too. It's really fun, I tell you. You may even end up collaborating with them.
As an upcoming blogger, it's very important for you to have some sites in your niche you could always look up to and learn from
4. Write Different Versions Of the Contents
What I mean by writing different versions of your content is simply writing a different blog post antagonizing or adding more explanation to what your competitors are missing out
Reading from other blogs will give you a great opportunity to understand what your competitors are doing and what they not giving their attention to
for example, I came across Ester Adeniyi Blog post "how to make egusi soup" I am going to do is I will pick up my own idea from there and create a better version of that post
for example, I am going to explain every step bit by bit starting from how to cut and wash the vegetables properly, the quantity of water to be added, the right amount of Maggi to be used and of course, possible mistakes to avoid during the process
you could also write a blog post to antagonize what your audience is saying and thereafter provide a solution to a problem
for example, if your audience is saying Blogging on Blogspot is better than using WordPress you can go ahead and write your own version of the topic and explain why WordPress is better than Blogspot and of cause why you chose WordPress over Blogspot, stating your points clearly
This is what Google wants you to do, just try out this technique and see how your rankings will increase like magic
5. Listen To Your Audience
What are their struggles? What are they frequently talking about in their online groups? Ask them what they would like to read more of on your blog.
To create engagement with your followers, try posting some questions about anything relating to your blog topic or niche.
In fact, ask for specific topics they would like you to write about. Stay close to your readers. Be on some of the groups you can find your ideal blog reader.
What are the most common questions people ask about your business, blog, or organization?
Once you've gathered up some answers, create a subsequent post and see what people had to say. This works for generating the content, and it helps keep followers coming back.
6. Guest Posts
Ask another blogger to write a guest post for your blog — or vice versa! Guest blog posts are a great way to mix up the content on your blog and drive more links back to your site. When you write guest posts on other people's sites, you also help to build your own credibility as a thought leader.
Checkout: Updated List Of Business Blogs That Accept Guest Posts
7. Bust A Myth
Make sure you back up your claims, though. Otherwise, readers will lose interest when they realize they're reading the rants of someone who really doesn't know what they're talking about. Approach writing such an article with the intention of providing as much useful and usable information as possible.
There are thousands of well-known things that actually are not true. In other words, they're called myths. Take some time and do some research to disprove some of them. If your followers love it, feel free to become MythBuster.
8. Review Some Products
Nothing gives me joy more than when am reviewing a product or business here because i have less work to do, i just go straight to the point
Reviewing products and services is another great way to drive traffic to your blog. Not only are product reviews a trusted resource online that will draw traffic, but they are also a revenue stream for bloggers.
If you want to monetize your blog instantly, this is a smart move.
By linking to product pages through affiliate links like Amazon Affiliates, you can monetize a blog almost entirely on product reviews. Make sure you go niche since this provides the greatest platform for credibility and expertise.
Read Also: Is Blogging Dead? Can I Make Money Blogging?
Conclusion: How To Get Blog Post Ideas
What did I miss out on? Are there any blog post ideas for beginners or general content structures you've had success with (that we didn't cover here)?
Share your best blog post ideas with us in the comments below!
SEO Content Writer with over 4 years of experience in On-Page SEO which gained me an award for excellence.
This is my web space where I share helpful guides to help you earn money legitimately.
I register brands with CAC, create websites and offer Business Consultancy services. For business deals, contact me