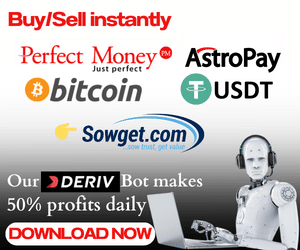 Business name registration in Nigeria is a smart choice for a new entrepreneur for a variety of reasons Anyone can decide one day to start operating as a business.
All that person has to do is provide a product or service to another person that produces a profit to be "in business."
While registering a business with the state or local government isn't necessarily required to complete business transactions. In a recent article, we explained the procedures to register an NGO in Nigeria.
It is believed that in Africa, up to 70% of people who regard themselves as 'entrepreneurs' do not own a registered business.
How can anyone say they own a business when it doesn't really and legally exist?
For some of these people, it's just plain ignorance; they don't know or understand the importance of getting a business registered. The others, who aren't totally ignorant, just choose to avoid the upfront cost of registration when they start their business.
If you have been running an unregistered business for some time, this article will give you mindful reasons to get your business registered with CAC.
However, if you plan to start a business soon, the reasons in this article will prevent you from missing out on the benefits of a legally registered business.
but first, let's break some things down
Business Name Registration in Nigeria

Business registration is simply the process of getting your business in its unique name and ownership, registered with the company, and listed in the register of Corporate Affairs Commission which is a master record of all registered companies.
Having understood what business registration is all about let's quickly move on
Benefits of Registering Your Business With CAC

below are the key reasons why you need to register your brand name on the Corporate Affairs commission and receive their certificate with you
1. Your Business is Secured
Registering your business helps you to secure your business name before someone else takes it. Once you have successfully registered the name of your business with CAC, no other person can lawfully use that same name to carry on a business because you have already and lawfully occupied the name making you in charge
The name is reserved for you and only you alone I think that's a good reason for you to start thinking about getting your business registered with the Corporate affairs commission
2. Access To Corporate Account
Did you know you will only be able to open a corporate account with your business name only if it is legally registered?
I hope you already know the importance of having a corporate current account for your business. It makes people feel more relaxed dealing with you
3. Authenticity Of Your Business
When you get your business registered it imbibes in you, a high level of seriousness and makes your brand more authentic, it makes you feel more responsible and work harder towards establishing your brand and at the same time achieving your goals.
The incorporation of your business suggests that the business has permanence and is committed to effective and responsible management. It gives third parties including customers, clients and contractors a sense of confidence.
3. Your Business Liability is Secured
Another important factor of having a company registration in Nigeria with your brand is that it protects you from personal liability, this is arguably the biggest reason why many people have to register their businesses.
Without legal rights and protection from limited liability, you could lose your business and personal property if something goes wrong such as your customer sues you to court for heavy damages.
4. Investment Is Guaranteed
It is easier to get Bank credit investment from investors for Banks when your company is legally registered in Nigeria
There are basically two categories of loans which include Personal and Business Loans
They are totally different and one cannot be used to represent the other. As a result, most banks will gladly lend you money to buy a new car or house but non will give you money to fund a business that isn't registered.
So to qualify for a business loan, the first thing and non-negotiable requirement is to get your business registered
5. It helps Perpetual Succession
A registered business has its own legal identity which affords it perpetual succession. Third parties contract with the "company" and not you or other directors, shareholders or employees.
This means the company has an unlimited lifespan; the business will continue to exist even if the owners or directors die or leave the business and the ownership of the business changes.
A company's existence will only cease if it is formally wound up by the order of the court. Amongst other benefits, this allows your business to outlive you and even generations.
How To Register A Business Name in Nigeria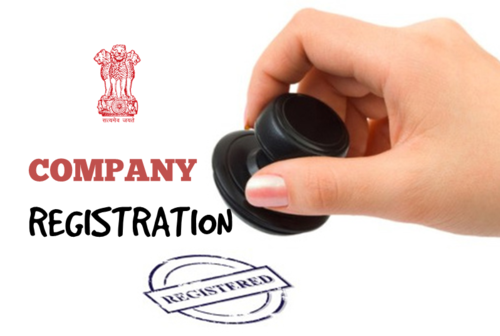 To do a business registration in Nigeria The first important thing to do before proceeding with the registration of a business name is to gather the necessary requirements or documents to b used for the registration.
The requirements for registration of a business name are minimal and simply involve names and identification of the partners or proprietors of the business, where more than one person is to register the business name.
The requirements may also include a partnership deed where necessary. The procedure for how to register a business name in Nigeria or how to register a business enterprise in Nigeria with the Corporate Affairs Commission (CAC) includes a few steps, which must be adhered to strictly in getting the desired results. These steps include:
STEP ONE
First, an applicant should apply for an availability check and reservation of the proposed business name through the CAC Portal.
Applicant should now proceed to fill all necessary columns rightly in the Statutory Form (FORM BN1) and submit it appropriately. After the successful filling of the form, the applicant is to proceed with the payment of the necessary fees
Subsequently, the applicant must print Business Name FORM BN and sign and date the required aspects of the form.
STEP TWO
Applicant must now submit or upload the duly completed statutory form together with two sized passport photographs
Below are the documents to be uploaded:
Availability Printout (It is the same as the Approval Note).
Statutory Form (FORM BN 1)
Proficiency Certificate (where applicable)
Once you have successfully Registered your business brand, the following documents will be issued to you by the CAC Agency
Original Certificate of registration of the business name
CTC of the Application for the Registration of the business name

Meanwhile, a business name of more than one proprietor may choose to file a partnership deed with CAC after completing the registration process.
Update!!
@
Legacy Benjamin Consult We Can Get Your Business Registered With CAC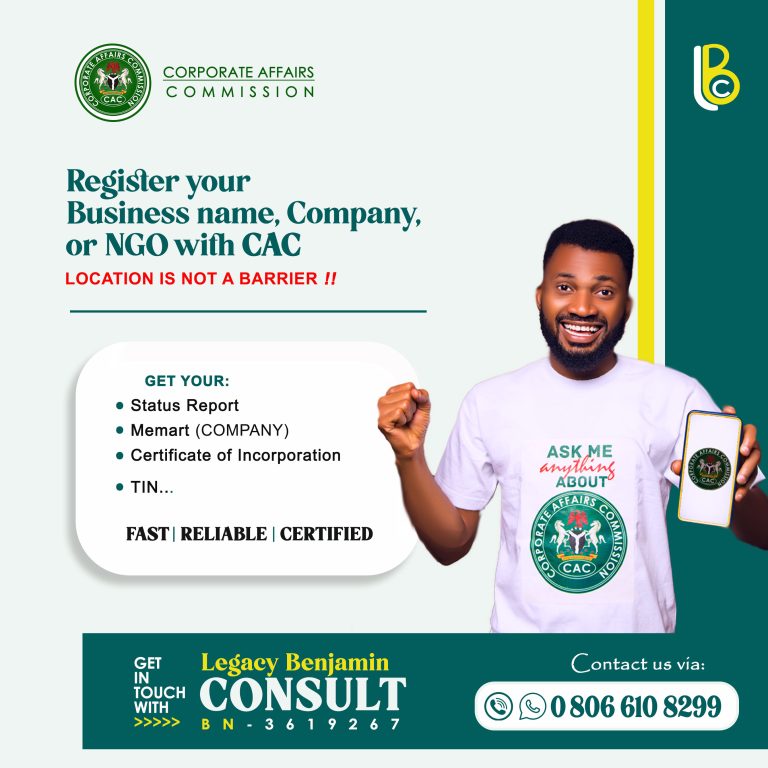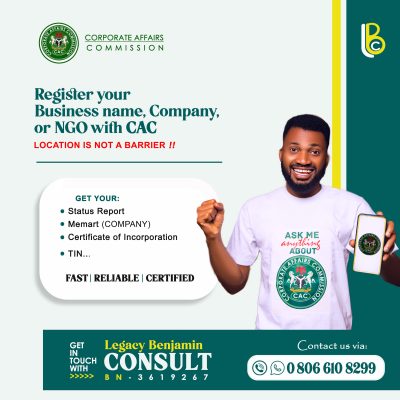 How to Check if a Company is Registered With CAC

If you have intentions of doing business or working together with a company and you wish to find out of the company is legally registered or not
In order to avoid the risk of doing business with an unregistered company, you need to check if a company is registered. Without checking it like this, there is no other way you could know this fact.
Doing business with fake companies have caused many people to lose their money, and you should not fall victim of scam because you have come to the right place for information on how to find out if a company is registered in Nigeria.
The following steps will guide you to discover how to check if a company is registered in Nigeria:
Step 1: Log on to the Corporate Affairs Commission website at http://services.cac.gov.ng/ and choose the "Public Search" service on the landing page.
Step2: You will find yourself on the search page where you will have to input the name of the company in the search engine with this heading: "Search Record by Name"
Step 3: Below the search engine is a square box you will need to check to verify that you are human and not a robot.
Step 4: After verifying that you are not a robot, click on "Search" to check if the company is registered. The search will display results showing the details of the company and CAC registered status if it is registered,
the name of the company, the RC number, the address of the company and the date of registration will be included in the result.
The result will return empty if the company is not registered. Then if the company is still undergoing registration, the result will return without an RC number and address.
Conclusion: Benefits of Business Name Registration in Nigeria
Are you about to go into a business deal with some company and the information in this post about business name registration in Nigeria has helped you to know the best approach to use? Kindly use the comment box to tell us.
SEO Content Writer with over 4 years of experience in On-Page SEO which gained me an award for excellence.
This is my web space where I share helpful guides to help you earn money legitimately.
I register brands with CAC, create websites and offer Business Consultancy services. For business deals, contact me