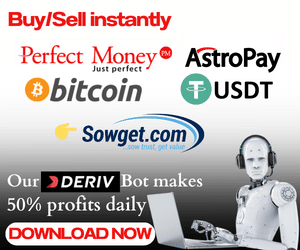 Are you looking forward to exploring the Adcreative.ai affiliate program? It is evident the affiliate marketing industry is one of the fastest-rising industries with a billion-dollar market revenue yearly.
Again, technology is growing very fast hence the integration and innovation of more advanced tools and systems to reduce human work and produce faster results in businesses with machines.
The launching of AI chat GPT caused global recognition and hence then, people are making optimum use of some of these AI tools to facilitate results
Statistics have it that ChatGPT crossed 1 million users in just 5 days of launch and gained 100 million active users by January 2023. Thus, ChatGPT users grew by 9,900% in 60 days setting the record for the fastest-growing platform in history!
There are so many affiliate programs in the digital space you can register, become an affiliate and make money promoting products.
Since Artificial Intelligence is taking over the globe, it will be a creative idea to identify and utilize affiliate programs in the AI niche.
Without further ado, let's see what the Ad Creative affiliate program brings to the table.
About AdCreative
Ad Creative is the first ever AI-powered ad creation tool that helps you create higher-performing ads in minutes. Their machine learning technology.
Creatives generated by the AI have a score which is the probability of that creative doing well in your ad campaign. You can download or push the creatives directly to your social media ads from our platform.
You can generate over 100 conversion-focused creatives/banners in seconds without any design skills. Let our Artificial Intelligence generate and score creatives for you so you get the best results possible without spending hours.
There's also a text generator to write your ad copies and headlines. Works like a charm when you face writer's block, especially in those demanding campaigns like Google Performance Max and Facebook Dynamic Ads.
Then there are creative insights that give you real-time feedback on the performance of your Ads once you connect your Google Ads and FB ad account on our platform.
All this seamless integration on one power-packed AI platform would help you gain an unfair advantage over your competitors!
Tufan Gok is the CEO and founder of this amazing company
Who Should Use Ad Creative?
Startups
E-Commerce
Agencies
AdCreative Affiliate Program: How To Earn
The Adcreative affiliate program offers users the opportunity to start earning rewards! When your visitor signs up and turns into a paid user, you earn with us. 25% of every single revenue from this user + the rewards! The more users you bring, the more rewards we issue
How Much Can You Earn As An AdCreative Affiliate
Below is how much you can make from the ad creative marketplace
1. Bring 10 paid sign-ups: Earn up to $7475 per month
2. When you bring 100 paid sign-ups you will earn up to $747,5 per month. A $1,000 bonus will also be given to you
3. If you get 1,000 paid sign-ups you can earn up to $74,750 per month! with an additional $10,000 bonus
4. Bring 5000 paid sign-ups and earn up to $373,750 per month with a bonus of $25,000
In essence, the more users you bring, the more rewards we issue
There is no limit to how much you can earn! it all depends on your capability, attitude and your will to succeed!
All earnings and payments are recorded and tracked by PartnerStack
How To Withdraw
Adcreative.ai pays monthly to her affiliates through PayPal or Stripe. From there you can use your funds to shop online or even withdraw to your local bank.
Payment is on monthly bases for all affiliates.
AdCreative Affiliate Minimum Withdrawal
As an affiliate, the minimum withdrawal you can withdraw is $25
How To Partner As Ad Creative Affiliate
To become an affiliate, below is all you have to do
Sign up for the program and start earning money by bringing users to AdCreative.ai via your link.
Customize your affiliate link
Promote your affiliate link on your blog, website or even social media pages
25% of the income is yours! for each signup/sale
Ad creative special tools will record all earnings in your wallet
Withdraw and enjoy
Is Adcreative.ai Affiliate Program Legit?
Ad creative has been tested and proven by so many ad experts and digital marketers all over the world.
With the help of AI, Adcreative as a legit platform aims on making creatives that are focused on converting visitors into leads in just minutes. They can also reduce the time-consuming design process and improve click-through rates.
Read Also:
Is Jumia Affiliate Program Scam?
Payporte Affiliate Program Review?
Conclusion
Conclusively, AdCreative.ai was selected as a 2022 Leader in its category by G2 and 2nd best product by Product Hunt!
Through the affiliate marketing program offered by Adcreative, users can partner and earn as much as $300,000 in earnings and up to $25,000 in bonuses.
SEO Content Writer with over 4 years of experience in On-Page SEO which gained me an award for excellence.
This is my web space where I share helpful guides to help you earn money legitimately.
I register brands with CAC, create websites and offer Business Consultancy services. For business deals, contact me