The Jumia KOL affiliate program is one of the highest-paying affiliate programs making waves in 2023. If you are looking forward to kickstarting your affiliate program carrier but need a heads-up on which affiliate program to join, this article will give you a review of the Jumia KOL affiliate program and how it works.
You will agree with me that you can't scroll 30 minutes on your Facebook wall without seeing an Ad of someone promoting a product which is more likely an affiliate course.
In recent years, Nigeria has witnessed a colossal increase in the number of people promoting high digital courses as products to earn commissions.
Statistically, some of the top businesses in the world get 5% to 30% of their internet revenue via affiliate marketing. 57.55% of affiliate marketers earn less than $10,000. 80% of brands have an affiliate program.
Despite Numerous affiliate programs littered in the global market, tech brands like JUMIA are always looking for people to affiliate with and promote their products to target a wider audience.
It is evident the affiliate industry is a million-dollar industry. On this note, you should find your space to have a share of the cake.
This JUMIA KOL affiliate program review is aimed at giving you insightful guides into it and what it brings to the table.
About JUMIA KOL Affiliate Program (Review)
JUMIA KOL formerly known as the JUMIA affiliate program & stands for Key Opinion Leaders.
The KOL program is introducing a new concept of partnerships so that more partners can easily join the KOL program and make more money by referring customers online to Jumia.
You can use our creative ads or build your own custom links on your website, App, Blog, and Social Media assets to refer your customer to the Jumia.com website.
On conversion, you can earn up to 9% commission every time a user clicks on the banner/link and places a successful purchase on Jumia's website.
The commission scheme differs from one country to another and depends on the category level.
From a statistical report given by Jumia, the company generated $50.5m in revenue in Q3 2022. The company made this known during its Q3 2022 earnings call on Tuesday.
According to Jumia the $50.5m is an increase of six per cent from the $47.6m reported in Q2
How JUMIA KOL Affiliate Program Works

Below is how the Jumia Key Opinion Leaders affiliate program works
Visit the KOL affiliate page and register an account
Input all details necessary and submit
Once done, wait for approval from Jumia
Once your account is approved, you can start promoting Jumia products to earn commissions

JUMIA provides creative banners or special custom links to generate sales.
If you are a blogger or YouTuber you can utilize these banners on your website, drive traffic to it and make sales
Once your referred visitor places an order for items or products from Jumia's website, you will earn a sales commision.

Products on JUMIA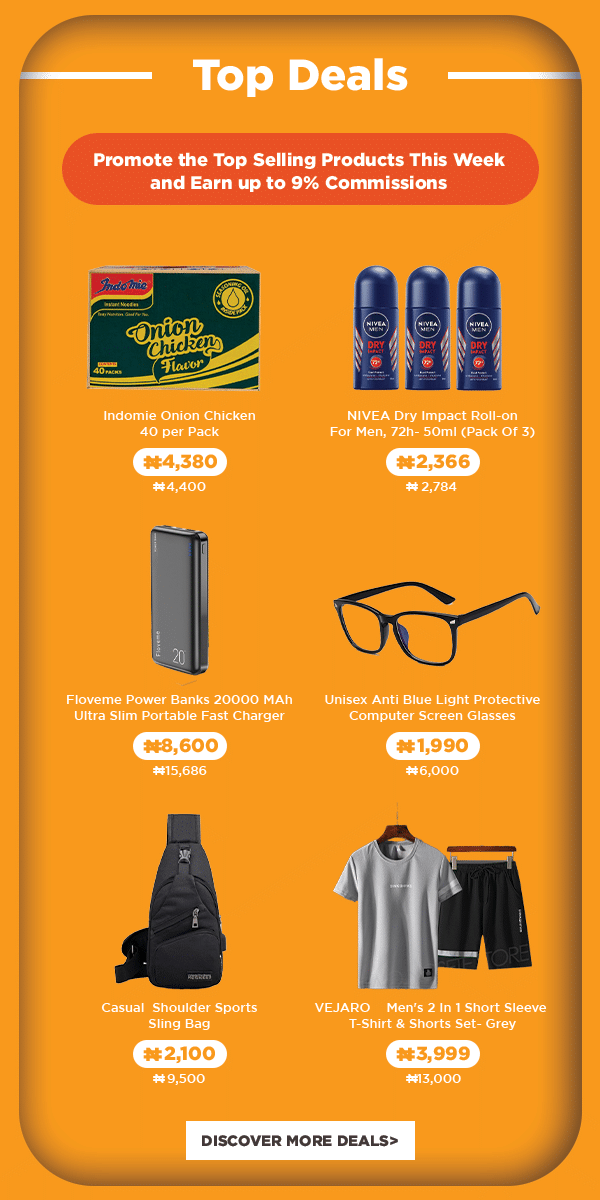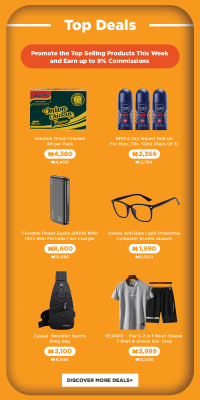 There are so many products on JUMIA to be promoted. These products range from
Phones and Tablets

Fashion products

Home and Office

Computing, Cameras

Electronics

Watches

Sunglasses

Baby and kids products

Toys, Health and Beauty

Automobiles, Sports and Fitness

Games and Consoles

Service Deals, Books

Movies and Music

Weddings

and many more…
How Much To Register for JUMIA KOL Affiliate Program?
The Jumia Key Opinion Leaders affiliate program works (KOL) is totally free to join. Unlike other affiliate programs in Nigeria like the digital system that demands you to pay before obtaining full membership
Who Should Register for JUMIA KOL Affiliate Program?
If you have a website, App, blog, social media page, or group that allows you to operate in the fields of Cashback, Deals, Reviews, Email Marketing, Loyalty Programs, Coupons, Price Comparisons, or similar
Ventures.
Then you can register yourself as a Jumia Affiliate and start promoting!
However, if you are a content creator who loves to give recommendations and reviews to your small but loyal followers across social media platforms, then register yourself as a Micro–Influencer / Creator and start!
JUMIA allows a minimum of 5,000 followers
Furthermore, If you are just an individual with huge and well–established social media followers, your posts are enough to make your followers want to purchase that item as soon as possible! You can join the KOL and start promoting products as Macro Influencer!
How To Find Your JUMIA KOL ID
Please click on your name on the top right side then click Account Details < info
How To Promote Products on JUMIA KOL As An Affiliate
As an affiliate, You can use your dedicated custom link, banners, or Vouchers to promote Jumia and once
customers order through your link/banner or voucher in case you are an (Influencer or content Creator) you will get a commission on all items they ordered even if it's not the same item you are promoting for
How To Use Your Dedicated Custom Link
To get your link, navigate to "Advertising" on the left panel and from the resulting drop–down, click on the custom link.
● Click on Jumia eCommerce then choose the country you would like to promote e.g., "Jumia Kenya".

● Open Jumia Website on another tab then copy the product page link (Jumia, Landing page).

● Paste the Jumia landing page on the "Web page URL" section you would like to promote e.g.,

● Copy the Advertising link URL and share it with your audience
How To Use Banners To Promote Products
Jumia banners are well-designed and prepared Images introduced by Jumia to our partners and by default, all partners can access these banners.
They are split into categories (Phone category banners, Fashion banners, Computing categories, etc.) and Campaign categories (Black Friday campaign, Jumia anniversary campaign, tech week, etc..)
● Click on "Advertising" then " Offers".
● Click on Jumia Ecommerce then select the country you would like to promote using Jumia's banners. (e.g., Jumia Kenya)
● Select the category or the campaign you want to promote.
● Click on the Universal link to track App or Web orders then select the banner size that can be compatible with your online website. e.g.: 728×90 and share it with your audience.
● If you would like to share it via your social media channel, download the image via the Image URL
● Copy the Ad URL code and paste it on your social media page.
● Also, you can attach the banner to increase your click-through rate.
● If you would like to promote through your website or BlogSpot, copy the Banner Code, and add it to the HTML code to make the image clickable and trackable
The good side of this KOL affiliate program is Jumia allows affiliates to promote links on more than one platform.
How is Sales Commision Calculated?
Jumia calculates the commission based on the net item price. "Paid Price"
E.g: if the item price on Jumia's website is 1000 KES, the Item tax is 100 KES. The user used a voucher for 50 KES. Net item price= Item price – Tax – Voucher value. Net item price= 1000 – 100 – 50 = 850 KES.
Jumia deducts the tax of this item and the voucher value. Then apply the commission based on this category of the advertised country
Pending Commissions
All pending commissions are approved within 15 to 30 days weeks after the order delivery to the customer. (After the Return policy period has elapsed).
The Return policy period depends on the regulations of the country you are promoting for and whether this product is local or global "Shipped from overseas".
In most cases, the return policy ranges from 15 to 30 days.
Rejected Commission
An order could be rejected if the customer cancelled, rejected, or returned the order.
How To Get Paid (Withdraw) On Jumia KOL Affiliate Program
Before you are able to withdraw your sales or commision funds to your local bank account, certain things must be met.
Jumia will request information such as (Company name, Tax ID, Phone number, and Company Website).
However, if you are an individual, you MUST insert your full name instead of the company name and the national ID number instead of the tax ID.
Company Address or your individual address is requested so please make sure to insert it completely and accurately.
Payment Options
Jumia offers you several payment options based on the country's law, so please make sure to select the most appropriate method to your needs to avoid any rejections that might cause later.
Minimum Withdrawal
Commissions are paid on a monthly basis for all the commissions approved in a particular month.
There's a minimum payout limit of €10 for individuals (local transfers) and €50 for international transfers, and if your commission is less than the minimum threshold, it will roll over to the following month after your approved commissions reach the minimum consolidated limit.
Local transfers: they are payments in local currency and in one of Jumia's countries that
operate in
International transfers: they are payments in USD or EUR and they are transferred globally and out of the countries that Jumia operates in.
And you must have a registered company and international bank account to be able to proceed with the payment
Does JUMIA Pay for Link Clicks?
The Jumia KOL program is solely based on sales generated from your advertising links and not clicks that were driven to our website.
For every sale made using your tracking link, we pay a certain percentage as commission depending on the category and the advertised country
Read Also:
How PayPorte Affiliate Program Works
High Paying Canadian Affiliate Programs
Conclusion:
Affiliate marketing is a goldmine in this century. There are so many affiliate programs in Nigeria you can pick from and start promoting.
Jumia KOL program happens to be one of the trending programs and I hope this guide has given you insightful tips for getting started