The Fairmoney Referral Program is just one of the many ways to get free money online. This program operates in the same manner as all other referral programs. You can make money with Fairmoney's referral program simply by telling your friends, coworkers, and family members about the company.
I'll cover all you need to know about Fairmoney in this article, including how to take advantage of their Referral Programme to make money.
About the Fairmoney Referral Program
The Fairmoney loan app offers a referral program that it uses to reward both new and returning users.
This referral program pays you when you recommend new users to the Fairmoney loan application so they may sign up and apply for a loan.
Simply put, it implies that you will receive payment as a reward when you introduce Fairmoney to your friends, family, coworkers, or neighbours and persuade them to sign up.
After taking out their first loan using the App, the person you recommended will receive some perks, so the referral doesn't end there.
Fairmoney gives each and every account a special referral code to make this work. Your reward will be approved once you copy and distribute this code with your friends and on social media, and if it is used while signing up.
That implies that you are not eligible for a sign-up bonus or prizes without the special referral code.
Let's examine the Fairmoney referral code's appearance and the process for obtaining it so you can give it to friends.
How to Make Money with the Fairmoney Referral Program
Find out how to earn money via the Fairmoney Referral Program by clicking this link. To sign up for the program, you will receive a referral link.
If your friends haven't yet downloaded the Fairmoney app, you can send them the link. The referral code will be instantly added once they download the app.
You can instruct them to manually enter your referral code if they already have the Fairmoney app on their phone but have not yet made an account.
What will happen then? Oh, that's easy. Here are the steps to follow in order to sign up for the FairMoney referral program:
Simply select "Invite Friends" from the FairMoney app's menu.
You can copy the provided link and share it with the person you want to mention by clicking "share via WhatsApp" or by clicking the "share via WhatsApp" button.
Your link is unique, and when someone fills out an application, your code will be entered automatically.
You receive a discount on your current loan for each new borrower you suggest who is approved for a loan.
That's it.
As easy as ABC, yes? As soon as you understand the basics, open the FairMoney app, copy your unique link, and begin sharing!
Repaying your loan is made simpler by the fact that you receive a discount for each person you suggest who successfully applies for a loan using the FairMoney Android app.
As usual, you will receive payment when someone clicks your referral link. The moon!
Fairmoney Referral Code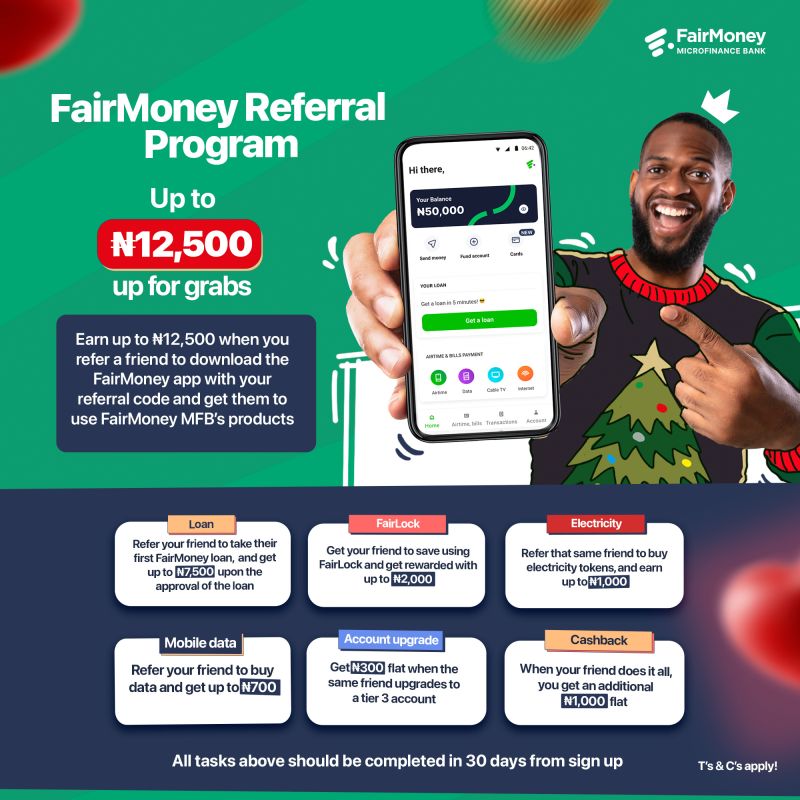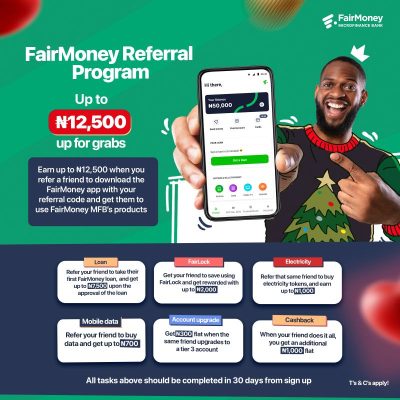 The Fairmoney referral code is HLT94. When you enter this code throughout the Fairmoney app's registration process, you'll receive money after taking out your first loan.
You only need to click "Have a Referral Code" to activate this code. If you're creating a new account, you must then enter the referral code HLT94.
This is how the Fairmoney referral code appears; when you share yours and a new customer uses it, both you and the new customer will receive rewards.
Let's now look at how to obtain your own Fairmoney referral code.
How Fairmoney Referral Code Works
Simply launch the notepad or WhatsApp app on your phone after copying your referral link using the above-described technique.
Now, paste the URL into any of these apps, and you'll see that the link's final few letters have capital letters.
The capitalized letters should be copied and sent, displayed, or given to your friends so they can use them as their referral code when registering for Fairmoney.
Ideally, after they take out their first loan, you'll receive a bonus as your referee as well.
How to Check Fairmoney Referral Code
You cannot earn bonus on Fairmoney for inviting friends if you don't have a special referral code.
So, here is a simple, step-by-step tutorial on how to obtain a Fairmoney referral code:
Launch the app, then sign in with your Fairmoney credentials.
Find and click on 'Profile'
Next, select "Invite Friends."
Lastly, select "COPY LINK."
If your friends don't yet have the Fairmoney app, you can send them the link, and once they do, the referral code will be added instantly.
You can instruct them to manually enter your referral code if they already have the Fairmoney app on their phone but have not yet made an account.
How Much Does FairMoney Pay Per Referral?
Fairmoney simply deducts ₦500 from the amount of your loan instead of paying you anything into your bank account for referring people. That implies that the lending firm would pay you ₦500 for each referral you make.
How many individuals you suggest to the loan firm and how many of them actually joined up using your code and took out a loan from them determines how much money you will ultimately receive. You will only be compensated if the person you recommended takes out a loan of any size.
Fairmoney Customer Care Number
Do you want to contact Fairmoney or do you have any complaints? Please contact them by email at help@fairmoney.in or through their social media channels between the hours of 8 am and 6 pm, Monday through Friday.
Address: 28 Pade Odanye Close, off Adeniyi Jones, Ikeja, Lagos, Nigeria (No money in the office, everything is digital)
Email: Customer service: help@fairmoney.ng
Phone: 01 7001276 / 01 8885577
Read Also: Apps that Pay for Referring in Nigeria
Conclusion
In conclusion, The faireMoney app is one of the most widely used fintech apps in Nigeria. The company offers loans and a referral structure to enable users to make money
SEO Content Writer with over 4 years of experience in On-Page SEO which gained me an award for excellence.
This is my web space where I share helpful guides to help you earn money legitimately.
I register brands with CAC, create websites and offer Business Consultancy services. For business deals, contact me