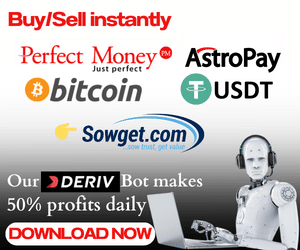 If you're a PayPal newbie you must be wondering how to get your PayPal routing number having set up an account especially when someone asks for your PayPal ID in order to send you some cash.
You will be like Where can I find it? As we've already learned, PayPal allows you to receive international payments easily without stress. With your PayPal account, someone in the UK, US, Canada, India, China, Ghana, South Africa etc. can send you money within seconds and you will get it directly to your PayPal account.
If you haven't learnt the real way to make sure a PayPal account enables all features you can check out here.
How to Find Your PayPal Routing Number
After securing a working PayPal account, when someone asks for your PayPal ID or Account in order to send you some money, kindly give the person your PayPal email address.
Unlike other online payment systems, PayPal deals with Email to receive payments. In that case, your email is your PayPal account number (the email you used to register with PayPal).
When you read my previous guide on How to send money from one PayPal account to another you will realize you only need the receiver email and nothing more. As soon as the money is sent, the receiver will get it directly to his/her PayPal account associated with the email you sent the funds and you can withdraw from PayPal to the Bank
Apart from giving your email to clients as your PayPal account number to receive payments, PayPal also made it very easy to create payme link. With this, you will have your unique and custom payment link which you can send to your clients and any payment they make via that link will go to your PayPal account balance.
E.g. My PayPal Custom Payment link is Paypal.me/Legacy649. When you click on it you will see where to make your payment if you're a client for instance.
You can learn how to Create a PayPal custom payment link. Then, use that or your email address to receive payment. Both will give you the same function.
PayPal Payment link VS Email Address
Which one is better to use as your PayPal account number? Your email or your custom link?
Well, both will help Get your money but I will recommend using the Payment link as that's the best and most convenient way for many reasons.
I have seen many cases where the sender wrongly your email address even when you issued it to them correctly. In most other cases you may also make the mistake when giving them your email.
Now when such errors are made, It will make you lose money especially when the funds are sent to the wrong address via FNF instead of GNS where you may likely find it easy to charge back.
When you give them your payment link they don't need to type any email address instead they only input the amount they want to pay and complete their payment easily.
The payme link will help you receive your payment without having issues with sending it to the wrong address/PayPal account number.
As soon as your PayPal is ready kindly make your payment link using the guide I shared here to create your payment link and keep rocking.
Conclusion: How to Find Your Account Number on PayPal
With this article on how to find your account number on PayPal, I am sure you now understand that you don't need any other account number or ID to receive money to your PayPal account other than issuing the sender your PayPal email address or a payment link.
Mind you, Whether the money is sent via email or a custom link it will always attract the same transaction charges. Please share this post if you find it helpful and remember to subscribe for more updates using your email below.
SEO Content Writer with over 4 years of experience in On-Page SEO which gained me an award for excellence.
This is my web space where I share helpful guides to help you earn money legitimately.
I register brands with CAC, create websites and offer Business Consultancy services. For business deals, contact me