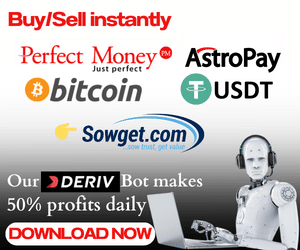 Food Business has become one of the most promising businesses in Nigeria and many entrepreneurs are already making cool cash from it. In this article, you will discover the profitability and how to start online food business in Nigeria, requirements and procedures to run it successfully.
Nowadays, a lot of people venture into the food business and are able to make cool money from it. If you know how to cook and love cooking, the food business should be for you.
Anybody can cook but not everybody can cook very well, and as a food vendor; your job is to cook delicious meals that will satisfy your customers while you make money from it.
What is Food Business?
In a clearer understanding, the food business involves the services of cooking various kinds of meals and making them available either through delivery services, or canteen/restaurant fast food joints for the consumption of customers.
Food business could come on a small scale such as cooking from home and doing delivery services; which you may not need a shop, then we have the restaurant which is an advanced food business which could contain both local and international dishes served.
However, it is important to note that a restaurant is quite different in this aspect of the food business; as you will need a large area as a shop.
One other factor is that both restaurant and fast food business requires a higher capital to startup.
How To Start Online Food Delivery Business From Home in Nigeria

Nowadays, there are so many young girls and women on WhatsApp who are into the food business in Nigeria and it is not even surprising to me that many of them are students.
As a girl, you want to be monetizing that amazing cooking skill you possess while you are in school. This could go down as an amazing opportunity and you will be able to make good cash if you really focus on developing your food business.
However, before venturing into the food business from home or campus or wherever you may wish to start your business, it's important to follow this procedure so that you will have a successful online food business in Nigeria and beyond.
1. Learn How To Cook
Cooking is a skill, even the best cook in the world was not born with innate skills in cooking. To always make your hungry customers search and crave your food, you will have to serve them the best meal.
Even if you are a good cook or average, there is still a need for improvements, this is simply because what might taste good to you might actually not taste good for someone else.
Learning how to cook various dishes and delicacies will tell how much you are serious and committed to starting your own food delivery business in Nigeria.
You don't need to attend the best or most expensive culinary school in Nigeria but if you can afford to then it's fine. On the other way round, you can learn from someone close to you or even take online courses that will train you to cook better.
The whole idea of the food business is not just to provide food for your customers to eat but to make them enjoy your food and always choose you over other food deliveries, joints or even restaurants.
Read Also: How To Start Indomie Wholesale Business in Nigeria
2. Choose Your Niche
There are different types of food businesses in Nigeria. All you need to do is select your niche; is what's best for you and four customers.
I have a good friend of mine who combines food delivery services with bridal shower services, catering, perfumes, small chops etc. I am sure you can tab from this idea.
3. Capital
One good thing about starting a food business in Nigeria is you don't need hundreds of thousands to start, except if you want to run a large-scale restaurant. Otherwise, with just a little capital, you can be able to run a successful food delivery business in Nigeria
Your capital should be channelled at buying cooking ingredients like oil, maggi, salt, and all spices as well as cooking equipment like pots, disposable plates etc.
4. Choose A Suitable Location
Choosing a good location for your food business is paramount. Do note that not everybody likes eating outside, again, in some families, it is not allowed for them to eat outside rather they prefer doing the cooking themselves.
If you want to run a big food canteen or restaurant business, you have to target your shop in areas where there is a crowd such as; schools, markets, banks, and other public places.
However, for those who may wish to strictly limit the food business to only delivery services (online food delivery), having a shop may not really be important as all cooking activities could be done at home and delivered to reach out to customers or clients respectively.
Places like school environments are the best locations for food business in Lagos
5. Employ Skilled Workers
The next thing you want to do is to employ skilled workers who are like you or beyond you to offer the best meals. However this might only be needed if you run a large-scale food restaurant or fast food joint.
On the contrary, if you are basically into small-scale online food delivery services, you may not really need helping hands if you know you can cope with the task.
6. Choose A Brand Name For Your Business
Every business has a name, right? It will be professional if you give your business a captivating brand name that will trigger people to keep patronizing you.
Getting a good brand name shouldn't just be your aim alone, acquire a professional to give you a first-class logo that matches your brand.
If you are having difficulties choosing a brand name for your online food delivery business you can consider names like;
Delight Kitchen, Precious Kitchen, Sommies Touch, Royal Gold Kitchen and so many other good names you could think of.
But caution should be taken when choosing a brand name, ensuring the name is unique and acceptable by CAC.
7. Register Your Brand With Corporate Affairs Commision
Registering your business with the Federal government should be another paramount thing to do. One major function of CAC is to give authenticity to businesses by issuing certificates to business owners.
Getting your brand registered with CAC shows that your business is legit, professional and legalized by the government and in the end, you could build trust and confidence between you and your potential clients.
@ Legacy Benjamin Consult, you can trust us to give you a seamless CAC registration. WhatsApp 08066108299
8. Open A Corporate Bank Account
After getting your business certified by CAC, the next thing you should do is open a corporate account with the Bank. Opening a corporate account with your brand name is one of the major benefits of CAC registration.
Any financial transactions done between you and your clients will be done into your corporate account and not your individual account.
Conclusively, this will be very massive in helping you keep a record of your business and also separate your business money from your personal money.
Lastly, having the CAC certificate will give you an edge to apply and acquire government grants whenever there is an opportunity for it.
9. Branding
At this stage, you have a brand name, you have a brand logo, and your online food delivery business or restaurant or canteen (as the case may be) is registered with CAC. The next thing is to package everything together.
It will be very important to get customized fancy bags and leather bags to deliver your food to your clients. Delivery bags must state clearly your brand name, Business Number (BN from CAC) and brand logo as well as your phone number.
10. Markert To Customers
The next thing you should do is to think creatively about how you can be able to reach your target audience. Obviously, this might be one of the most challenging parts of learning how to start an online food business in Nigeria from home.
The marketing strategy for those who have physical shops and canteen might be less than those doing online food delivery.
The evolution of WhatsApp TVs has made it very possible and less stressful for business owners to connect directly with potential clients.
As an online food vendor, the best medium to market your business is to advertise on WhatsApp TVs which will project your business to a larger audience.
business promotion helps brands grow faster!!
How Profitable is Food Busines in Nigeria?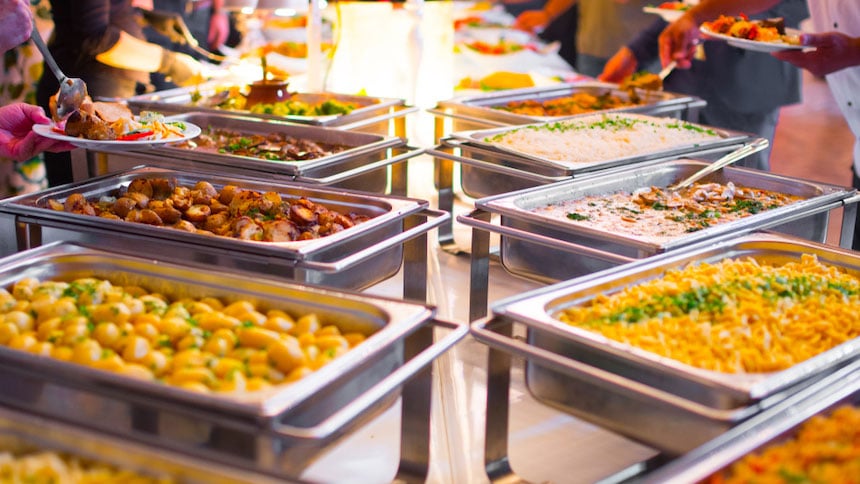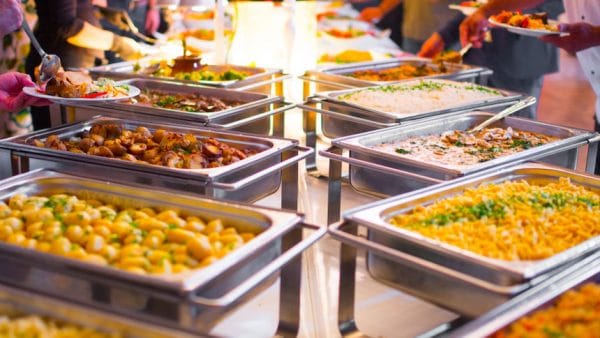 Man can not live without food, and that makes food very indispensable. We need food every day to keep our bodies healthy and to prevent hunger.
Therefore, the food business is one of the most profitable businesses in Nigeria It requires just a little to start, whichever way you want to run your business; either as a restaurant, canteen or food delivery, once you follow the steps shown here it will project your business for growth and you could make money.
How Much To Start Food Business in Nigeria?
The capital to start a small-scale online food delivery service might not be the same as starting a large-scale restaurant food business in Nigeria.
However, a capital of about ₦90,000 to ₦150,000 will be enough for a small-scale online food delivery service while for restaurants, you might need around ₦300,000 to ₦500,000
Read Also:
How Much are 25 Litres of Red Oil
Requirements to Start Kpono Business
Profitability of Salad Business
Conclusion: How To Start Online Food Delivery Business From Home in Nigeria
In a nutshell, the food business is one of the fastest-moving businesses in Nigeria, whether you decide to run a restaurant or stick to online food delivery, you will still make money. Nevertheless, depending on food alone may not be enough, you could spice up other services or products like catering, bridal showers, drinks and many more.
If you found this guide on how to start a successful food business in Nigeria from home insightful, do let us know in the comments
SEO Content Writer with over 4 years of experience in On-Page SEO which gained me an award for excellence.
This is my web space where I share helpful guides to help you earn money legitimately.
I register brands with CAC, create websites and offer Business Consultancy services. For business deals, contact me