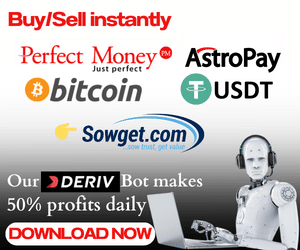 Perfume oil or oil perfume whichever way you call it; is the leading business in the Nigerian market today. In this business guide, you will discover more about the perfume business in Nigeria and how to make oil perfume in Nigeria.
Rocking a well-scented perfume never goes out of fashion, as much as there is a need to look good, you will also want to smell good at the same time.
Most of these perfumes and deodorants in the market don't only make you smell well but also keep you fresh inside and in return; your confidence is boosted.
Without getting you confused; there is actually a difference between perfume and deodorants which I will through more light for your understanding.
Difference between Perfumes and Deodorants
The major difference between perfume and deodorant lies in how they are formed and what they are used for.
First is, while deodorants are used on the body directly majority of the perfumes are sprayed directly on clothes.
The second difference is that deodorant usually contains a 10 to 15% solution of fragrance oil and mild alcohol while perfumes contain 15 to 25% fragrance oil in concentrated alcohol.
Despite these differences, however, both perfumes and deodorants have one thing in common; which is to reduce body odour and give you a refreshing smell.
Perfume Oil Business in Nigeria
Perfume oil is becoming one of the fastest-rising and most profitable businesses in Nigeria. Perfume oils are the major constituents of perfumes. They are used to manufacture perfumes which are widely used all over Nigeria and at large.
Perfume oils are extracted from different trees, shrubs, or flowers which are later used to produce the final product; perfumes.
Perfumes are only intended for use on the body, but perfume oils can be used to create a variety of scented products, like soap, candles, bath oils, air fresheners, and many other types of scented products
One advantage of perfume oils over perfumes is that; they last longer, since alcohol evaporates from the bottle faster.
A lot of Nigerians have leveraged the perfume oil market in Nigeria and are already making passive income from it. It's either you are selling perfume oils or you are selling the final product; perfumes.
It will be more fascinating if you can start your own perfume-making business, and sell the final products to whoever wants to buy
Making your own perfumes will give you freedom of choice and you will make the best perfumes for your customers, package them, and market them and make a decent income from them.
How To Make Long-Lasting Perfume Oil in Nigeria At Home

By producing perfumes for yourself you will be able to produce one that is unique and very different from the regular ones or mass-produced ones in the market.
It will also help you to serve some money. During parties either your own or friends you can give out as souvenirs.
Perfume is just a mixture of alcohol, flavour, beverages and other stuff, however, as simple as it may sound; you need to understand how these things are used and the right proportion in which they are used.
In that way, you will master the skill of making your own perfumes at home and watch your perfume business skyrocket in the market.
Ingredients For Making Perfume in Nigeria
Before you go into perfume production, you need to have a plan of what you will be needing and in what quantity those ingredients or requirements will take.
Below are some vital requirements for perfume production
Glass or new/reused bottles
Measuring cups and spoons
Funnel
Spices
Asorted roots
Leaves
Resins
Fruits
Water
Base Oil
Alcohol
Sodium Nitrate
Benzene
Stripes of paper
Essential oil
Pure ethyl
Ingredients For 1 Liter Perfume Production
Fragrance 500mls
Methanol 500mls
Menthol 3 pieces
Propylene to taste or as desired
Water optional
If you cannot afford 500ml of fragrance you can use 300ml. Fragrance oil is synthetic and less expensive than essential oils.
Procedure For Perfume Production in Nigeria
Having gotten the needed requirements for your perfume business, here is how to go about producing your own perfumes.
Add some base oil into a bottle
Proceed by adding some essential oil
Stir the mixture together to make it cohesive
Add alcohol into your mixture of base and essential oil and shake very well and allow it to rest for 2 days
After 2-3 days, add distilled water to the mixture
Allow the perfume to stay for about 3 weeks to achieve the desired outcome
Package your perfume for use or sale.
How Profitable is Perfume Oil Business in Nigeria
Perfume is widely consumed and so; there is always increasing demand for it in the market. Perfume business is one of the most profitable businesses in Nigeria that requires just a little capital and little or no stress to maintain.
You can produce, advertise and market your own brand of perfumes in the most convenient way for you.
Making and selling your own perfume is one of the best things you can do and it is no surprise; ladies have dominated this business niche due to their high taste of looking and smelling good.
How Much To Start A Perfume Business in Nigeria?
Perfume production and marketing is one of the profitable businesses in Nigeria that requires little or no capital. With a capital of about 30k to 50k (depending on your size of business) you can start a lucrative perfume business in Nigeria, making and selling your own perfumes to your customers.
As mentioned earlier, the most effective way to make money from the perfume business is by getting the essential requirements, producing and selling your own perfumes.
How To Market Your Own Perfumes
You always have an edge over your competitors if you can produce and package your products very well for commercial use.
Getting to learn how to market your perfumes and reach out to customers that will buy your products is the goal because at the end of the day; what is the need for producing perfume and people don't patronize you.
1. Get A Killer Brand Name
Never underrate the benefits of having a good brand name for your business because from the brand name alone; one can clearly understand the nature and purpose of your business.
Nevertheless, your brand name should always stand out from your competitors, again, it should not be too hard to pronounce or memorize.
2. Get A Brand Logo
Your brand logo is as important as the name so ensure to get the best brand logo for your business
3. Get A Good Designer
You also need the services of a good graphics designer who will craft both the logo and brand name for you and get all your perfume business designs made so you can share and advertise on social media platforms.
4. Register Your Brand With CAC
Another wise attempt to make is to get your brand registered with CAC as soon as possible before someone already gets hold of your name.
As a business owner, registering your brand with CAC does not only add legitimacy to the business but your clients see you as a professional in what you do.
Other massive benefits of registering your business with CAC includes
You can open a corporate bank account with your business
It builds trust between you and your clients
It enables you to collect government loans and grants
How Can I Register My Brand With CAC?
Getting your brand registered with CAC is no easy task and so you need an expert in that field
@ Legacy benjamin Services; we can get your business or company officially registered with CAC.
Kindly send us a DM on WhatsApp 08066108299
5. Put Your products for Sale
This is the final stage of your perfume business. Depending on the scale of the business; whether large or small scale, you can market your perfumes in wholesale or retail quantities.
However, even if you are a student, you can start a small-scale perfume business and market it on campus in your school while you also dedicate time to your studies.
6. Advertise
You need to advertise your business in other to connect with the right customers that will convert, there is no need to shy away from your hustle.
Adverts are very important for the growth of any small business because a lot of people will not be aware of what you do or sell, but through adverts, you can connect with them.
There are various ways you can advertise your perfume brand and the most effective of them are WhatsApp status and then Facebook.
There are a good number of WhatsApp TVs in Nigeria that you can get your brand to target and reach a large audience in Nigeria that will convert and buy your products.
Perfume Oil Price in Nigeria
I will be a bad teacher if I write so much about the perfume business and perfume oils without letting you know the current price of Perfume oil in Nigeria.
Below is a simple price list of perfume oil according to size
Whole Price
3ml ₦250
6ml ₦350
10ml ₦1000
12ml ₦800
50ml ₦2500
Retail Price
3ml ₦400
6ml ₦600
10ml ₦1000
30ml ₦2000
50ml ₦3000
Oil Perfumes in Dubai
If you are a Dubai resident, you may wish to get perfume stores with the best perfumes made of oil and other essentials in Dubai.
Below are some stores with the best oil perfumes in Dubai.
Naseem Al Hadaeq Perfumes
Tmaxonline
Al-Rehab Perfumes
Conclusion: How To Make Perfume Oil in Nigeria
In conclusion, the Perfume oil business in Nigeria has been one of the most promising businesses of late. If you are looking forward to making and selling your own perfume, I hope this guide has walked you through how to make oil perfume in Nigeria, the requirements, profitability and the best marketing strategies to adopt that will connect you to the right customers.
SEO Content Writer with over 4 years of experience in On-Page SEO which gained me an award for excellence.
This is my web space where I share helpful guides to help you earn money legitimately.
I register brands with CAC, create websites and offer Business Consultancy services. For business deals, contact me