Do you have explore gift card and looking forward to making good use of them? In this transactional guide, you will discover where shops that accept explore gift cards and where to use explore everywhere gift card.
The Explore Everywhere Gift Card is a one-way ticket to fun and adventure. When unique adventures or experiences are the order of the day, this card accesses your favourite adventure parks, museums, zoos and sporting arenas. Accepted anywhere Visa prepaid Gift Cards are accepted, this card is your ticket to a day they will never forget.
Furtheremore, the explore gift card is usually available in $50 and $100 denominations.
Where To Use Explore Everywhere Gift Card
If you have been nursing the question"where can I use explore everywhere gift card?" then worry no more as you discover shops that accept explore gift cards.
You can use your explore everywhere gift card in the following places
Gas stations
Restaurants
Theme Parks
Museums
Tourist attraction centres
Zoo or national park in the US where Visa debit cards are accepted.
Do note that the amount of every purchase you make will automatically be deducted from the value on the Card.
Again, you must register your card to use it online. Your Card is not redeemable for cash, except as required by law. It cannot be used at ATMs, for gambling, or at merchants requiring a manual card imprint.
Additional restrictions may also apply when necessary.
How To Use The Explore Gift Cards At Restaurants
One of the best places to use your explore gift cards is at restaurants, some restaurants may factor in an additional 20% (or more) to cover gratuity. In this situation, if the total amount of your bill plus 20% exceeds the amount available on your Card, it will be declined.
For example: If the total bill for your meal is $80, a balance of at least $96 is required on the card ($80 + 20% = $96).
You still get to decide how much to tip your waiter, and only the amount you spend is deducted from your account.
How To Use Explore Everywhere Gift Cards At Gas Stations
Payment at pay-at-the-pump stations should be made inside to avoid an authorization hold on your funds for more than the purchase amount. The ability to use your Card to pay at the pump will vary by merchant. This card is good for any purchase made inside a fuel station.
How To Register Your Explore Everywhere Gift Card
The best way to register is by visiting the Exploreeverywhere official site.
How To Check Explore Everywhere Gift Card Balance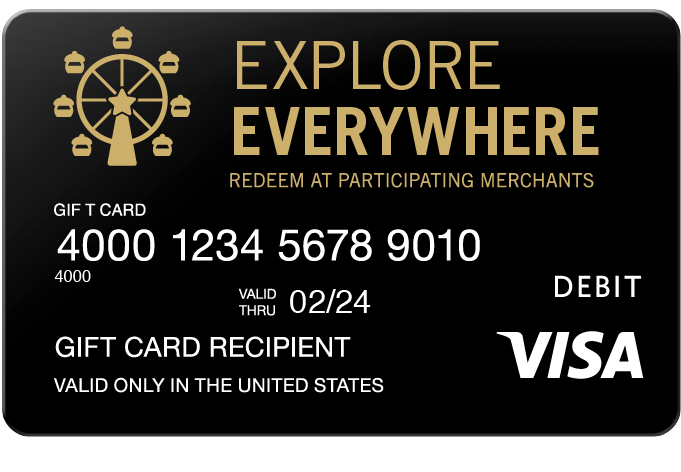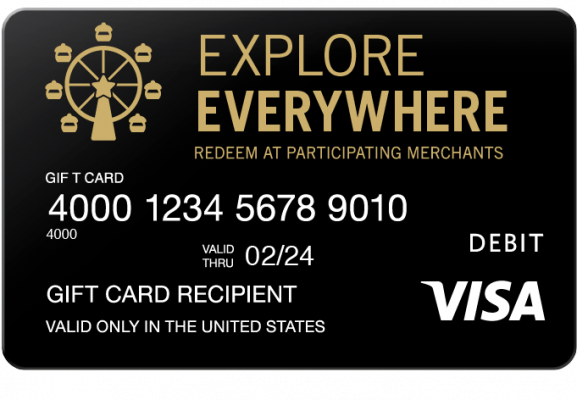 There are two ways you can keep track of your balance:
Visit Balance check page
Call 1-877-341-5484 to make automated balance inquiries 24/7.
Please note: Some retailers will not have access to the remaining balance on your Card.
There are no charges and the funds on your card will always be active and not expire.
However your explore everywhere gift card may expire, your Card will no longer work when the remaining value is equal to $0 or the "valid thru" date printed on the front of your Card has passed.
If funds still remain on your Card after that date, please call 1-877-341-5484 to have a replacement Card issued and mailed to you at no cost.
The balance on the replacement Card will be equal to the balance on your discontinued Card.
lastly, always keep in mind that the Card is disposable. It cannot be reloaded. When all value is used, the Card should be destroyed. Do not give your card to a merchant to destroy.
However, If your purchase is larger than your balance, advise the cashier to swipe your card for the exact amount available on the card. Then pay the balance with another form of payment. Some merchants require the balance to be paid in cash.
How To Use PIN For Debit Card Transactions
To set your PIN for PIN debit transactions, please visit the cardholder website or call the number on the back of the card (for more information, see the "Personal Identification Number" section in the Agreement below).
Note: the PIN can only be used for purchases and cannot be used to obtain cash at ATMs or cash back with a purchase.
If by any chance your card is stolen, call Customer Service IMMEDIATELY 24/7 at 1-877-341-5484 to cancel your Card. You will need to know your Card number, so if you choose not to register your Card, be sure to record the number in a safe place. You may also be required to provide additional information. If funds remain on your Card, you will be sent a replacement card at no cost. Protect yourself by registering your card.
Read Also:
Popular Online Gift Card Stores in Germany
Legit Chinese Gift Card Buyers
Is Gift Card Available in Pakistan
Conclusion; Where Can I Explore Everywhere Gift Card
In conclusion, Exploreevverywhere gift cards can be used at various places such as restaurants, gas stations, museums, parks etc. If you are looking for where to use explore everywhere gift cards I hope this transaction guide has revealed places or shops that accept explore everywhere gift cards
SEO Content Writer with over 4 years of experience in On-Page SEO which gained me an award for excellence.
This is my web space where I share helpful guides to help you earn money legitimately.
I register brands with CAC, create websites and offer Business Consultancy services. For business deals, contact me