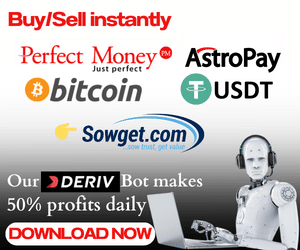 Do you wish to unveil the simple secret of how to start making money as a student? this post will provide you with the best place to sell ebooks online
Making money as a student is one of the fastest and easiest ways to make money online these days for most students who need to keep a side hustle job to meet daily financial needs in the cause of their academic pursuit
Yes I know what you are thinking, "How can I sell an ebook when I don't have one" Well you must not create your ebooks before you think of venturing into the Ebook reselling business
The fact is, you can buy ebooks from certain people where you will be given resell rights to sell them anytime and to whosoever you want, that's why it is called Ebook Reselling
Writing an eBook can be an exciting, but also daunting experience.  For many bloggers, it is not the writing of the book that causes confusion but selling the eBook online once it's finished. 
Of course, you can sell your eBook on your website and you also have the option to make it an affiliate product for other bloggers, but what about other avenues?  How can you sell your eBook Online?
How To Start Making Money By Selling Ebooks
If you are a college student you can make money by selling ebooks online at the same time while you study, In a country like Nigeria a lot of parents are poor and students depend on themselves to cater for their school needs
Nobody wants to be a broke college student and that's why you should consider this post very vital and find out how you can make money as a college student by selling ebooks
What Is An Ebook?
An E-book is an electronic book that one can publish in electronic form, such that you can assess through electronic devices. An e-book can be a fiction or non-fiction book depending on what one wants to write. After writing your e-book, you can sell it on various online platforms
Although it is not necessary to use a reader application or device to read an Ebook (most books can be read as PDF files), they are popular because they enable options similar to those of a paper book – readers can bookmark pages, make notes, highlight passages, and save selected text.
How is an Ebook Structured?
There's no set rule for organizing your content into an ebook. It generally mimics the structure of a novel or textbook (depending on what it is you're writing about). But, there are some aspects of an ebook you should be sure to adhere to before thinking of selling ebooks online
Ebooks have a system of chapters and supporting images. Similar to a blog post, they also do well when further segmenting their text with subheaders that break down the discussion into specific sections
Ebooks can be saved in one of several formats. Depending on your end-user, though, you might find a use for any of the following file types:
PDF
PDFs are likely the most well-known file type. The "PDF" extension stands for "Portable Document Format," and is best for ebooks that are meant to be read on a computer (digital marketers, you'll want to remember this one). We'll talk more about how to save your ebook as a PDF later in this article.
EPUB
This file type stands for "Electronic Publication," and is the more flexible ebook format. By that, I mean EPUB ebooks can "reflow" their text to adapt to various mobile devices and tablets, allowing the ebook's text to move on and off different pages based on the size of the device on which a user is reading the ebook.
They're particularly helpful for viewing on smaller screens, such as smartphones as well as the Nook from Barnes and Noble.
SIZE
This is an ebook file type designed for the Kindle, an e-reader device by Amazon. However, users can also open this file format on smartphones, tablets, and computers.
OF
PDF stands for OpenDocument Format, a file type meant primarily for OpenOffice, a series of open-source content creation programs similar to Microsoft Office.
Creating Your Ebook
There are many software you can use to create your E-book. Softwares like Designrr offer a wide range of benefits and features to effectively create stunning ebooks
You can make a lot of money selling ebooks so it is important to note that when creating your Ebook you should bear in mind the following factors
Choose a topic that matches your audience's needs
Think about what you're passionate about and what content would help your target audience. You also need an original edge.
The best ebooks share a personal story or experiences. Why? A personal story is engaging, builds authority, and creates empathy with the reader.
Tip: a great way to gauge what your audience responds to is to look at which of your blog posts and social media updates currently get the most comments or shares.
Before finalizing your topic, do some research on the existing market. Look at potential competitors already selling ebooks in similar categories on Amazon or their site.
Consider ways in which your story and unique perspective can help you to stand out. Get creative.
Outline each chapter of your ebook.
The introduction to your ebook should both set the stage for the contents of your ebook and draw the reader in. What will you cover in your ebook? How will the reader benefit from reading it? For tips on how to write an effective introduction, check out this post.
Some ebook creators say that an ebook is simply a series of blog posts stitched together. While I agree you should treat each chapter as an individual blog post, the chapters of your ebook should also flow fluidly from one to the other.
Break down each chapter as you write.
Get writing! Here, you can approach each chapter the way you might write a long blog post — by compartmentalizing each chapter into smaller sections or bullet points, as shown in the picture below.
This helps you write simply and clearly, rather than trying to use sophisticated language to convey each point. It's the most effective way to educate readers and help them understand your new material.
Be sure to maintain a consistent structure across each chapter, as well. This helps you establish natural transitions between each chapter so there's a clear progression from one chapter to the next (simply stitching blog posts together can rob you of this quality).
Design your ebook.
Check out these downloadable ebook templates which are offered in both PowerPoint and In Design. For this example, we'll show you how to do it in PowerPoint, since more people have access to that software.
You'll notice we only have one "chapter page" in the template (slide three).
To create additional chapter pages, or any pages really, simply right-click the slide and choose Duplicate Slide. This will make a copy of your slide and allow you to drag it to its proper place in your ebook via the sidebar or Slide Sorter section of PowerPoint. You can then customize it for any subsequent chapters.
Use the right colours.
Ideally, these free ebook templates would magically match your brand colours. But, they probably don't; this is where you get to personalize your work truly.
However, because ebooks offer more real estate for colour than your logo or website, it's a good idea to consider secondary colours within your brand's colour palette. Ebooks are where this colour scheme can truly shine.
To learn how to add your brand's colours to PowerPoint, check out this blog post. That way, you can customize the colour scheme in our ebook templates to match your brand!
Convert it into a PDF.
Once you've finished writing your ebook — CTAs and all — it's time to convert it to the right file type so it's transferrable from you to your recipient.
To convert your ebook to a PDF, click File >> Save As in the ebook template you have open. Under File Format, select PDF and select a destination on your computer for this new file.
Why can't you attach what you have to a landing page and be done with it? Word documents, PowerPoints, and similar templates are perfect for creating your ebook, but not for delivering it.
Because these templates are editable, the contents of your ebook are too easily corrupted, distorted, or even lost when moving from your computer to the hands of your future leads. That's where PDFs come in.
Best Place To Sell Ebooks Online
Now that you have known how to start making money by having your ebook ready for purchase from clients you may also wish to find where to sell Ebooks online, then consider our following picks below
1. Amazon
As you know, Amazon is the most popular online marketplace where one can buy or sell various goods. Amazon also allows one to sell E-books and you can earn 35-70% of the total price depending on your location.
Amazon is one of the best places to buy and sell books online as it has hundreds of millions of users from around the world.  
Getting your eBook on Amazon opens the door to a lot more people than you could ever hope to get with a normal website, which is why it is so vital that you get yours listed there.
Amazon only accepts Kindle formats of eBooks, which can put many bloggers off from using the service as they feel that this process must be difficult. 
This, however, isn't the case and shouldn't be a stumbling point for you because Amazon will automatically convert your eBook when you upload it.  Pretty exciting right?!
2. Payhip
Payhip.com is one of the best places to sell ebooks online. It is an E-commerce that allows the selling of E-books. They let one open an online store for free and also provide them with tools that facilitate selling like share buttons,
discount buttons, flexible pricing options, and the affiliate program that encourages others to sell your E-book and pay them by commissions.
Payhip.com only takes 5% of your sales.
2. Blurb
Blurb is a self-publishing website that provides tools to create, promote and sell your E-book. The bright side of using Blurb is that you have an option to sell your e-book on their platform or Amazon, Apple iBook stores, or Barnes & Noble platform.
Blurb takes only 20% per sale.
3. Lulu
Lulu offers a complete guide on creating perfectly formatted ebooks and then converting them into EPUB or PDF format. If you can't do it yourself, then Lulu also offers the personal service of doing it for you for a tiny fee. Your ebooks can be sold by different publishers with each offering its royalty.
4. Tradebit
Tradebit is very similar to Payhip as it lets you create a sales page and then helps you sell your ebooks (or any other downloadable material).
You can use an affiliate program, set custom prices, take advantage of social media integration and sell ebooks on popular markets such as eBay.
5. Smashwords
Smashwords gives you huge visibility by publishing your work over multiple distributors, including Kobo Barnes & Noble, OverDrive, and Smashwords. There is no fee in the publishing process and you get free tools to protect and format your ebooks. You will get 80% royalty on sales from Smashwords and 60% on other distributors.
6. ClickBank
Clickbank has a powerful affiliate network of 500,000 marketers that will surely boost your sales. It is also a product-selling website like others and gives you the ability to create custom forms, subscriptions, fraud protection and much more.
You can either keep 50% as a royalty or pay $49.95 as a one-time fee for your store and pay a 7.5% fee on transactions.
7. Shopify
For $29/month, you can access all of Shopify's tools to create a fully functional online store. You don't need any coding skills, it is really easy to use and gives you templates and themes to quickly create a perfect online store.
If you do have coding skills, then Shopify gives you complete freedom to control HTML and CSS. It also offers multiple opportunities to promote your ebooks, including distributing them over different stores.
8. Fiverr
As I mentioned earlier, you can hire someone to write your e-book, Fiverr is the best online marketplace where you can do so.
By that, we can see Fiverr is the best place one can make a lot of money by writing EBook for others.
So create a Fiverr account and start selling your skill by writing and selling ebooks online
Conclusion: best place to sell ebooks online
Am sure by now you must have picked sometime vital from this article on how to start making money by selling ebooks as a student online, you can able to earn from your E-books Selling. So take action today and commit yourself. In case you have used any of the above websites feel free to share your experience.
SEO Content Writer with over 4 years of experience in On-Page SEO which gained me an award for excellence.
This is my web space where I share helpful guides to help you earn money legitimately.
I register brands with CAC, create websites and offer Business Consultancy services. For business deals, contact me