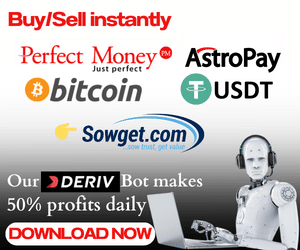 Making your own money in Nigeria has become so important that it doesn't matter if you are an adult or a teenager. In this guide, I will teach you some legit proven ways to make money in Nigeria as a teenager.
Why Make Money As A Teenager?
By age definition, a teenager is someone is who around 13 to 19 years of age. Probably at this age, most teenagers are still in secondary school even though some graduate before or at the age of 19.
In Nigeria, making money as a teenager is a very good decision to make because it will make you less dependent on your parents.
The world has advanced so well that you don't really need an office in this 21st century before you can make a decent income for yourself. This is not an exception for teenagers because being able to get something for yourself even at a young age is very good and it will help you grow and live independently.
Let me tell you my story…
Back then in primary school (before I become a teenager), I had a very high passion for making money for myself, this propelled me to start up a small garri business at home while at school. I was still in secondary school and was able to make good sales from my garri business.
With just ₦200 investment capital in this business, I was able to make up to ₦800 selling garri at just ₦20 each. Later on, I expanded the business and added sugar to it so I was able to get more sales, and my income increased monthly.
On the other hand, a good cousin of mine who had the same spirit as me was selling groundnut together with me while I took up my garri and sugar business to another level.
I became a big boy and everybody was proud of me. I could actually lend my mum money and even pay for house bills that were at least within my reach.
Life was sweet then and for once, I never allowed this garri and sugar business to interfere with my studies.
Imagine having up to ₦2,000 on me then even as a primary school pupil. that was big money then because the situation in Nigeria was not bad then.
Welcome back from the flashback of my story, But it is so unfortunate things have changed now, you can not start a business with just ₦200, in fact, ₦200 is not even enough for a full plate of rice.
So now, if you have decided to start making money as a teenager in Nigeria, as the Boss here who started this even in primary school. I will provide some helpful tips for you.
How To Make Money In Nigeria As A Teenager
Schooling should not stop you from having a side hustler. below are helpful tips to start making money as a teenager in Nigeria.
1. Start A Small Business & Sell Something
From my story, you can tell I sold something and was able to make money then. If you really want to make money as a teenager in Nigeria you have to have a product or service to market.
I know it will be difficult to start considering the fact that you may be still young and wouldn't have the right capital to start up.
In case you don't have the desired capital you can still try and let your parents understand this by telling them your business ideas, I am sure they will be able to support you.
You can start a small canteen shop where you will sell common daily goods like toothbrushes, tomatoes, indomie, garri, soap and other valuable items that people need daily.
Below are some products in Nigeria that are in high demand and from them, you can make money as a secondary school student in Nigeria.
Engineer Oil
Black-Market Fuel
Footwears
2. Make Money From Okrika Business
Okrika Business is one of the readiest lowkey side hustles that requires little capital in Nigeria. Nowadays things have become so costly in the market that people sometimes prefer patronizing already-used clothes rather than going to a boutique shop.
You can venture into this business either part-time or full-time. what I mean by part-time is if you are still in secondary school, you can be doing it off school hours.
Believe me, from 30k investment capital in Okrika business you will be able to make not less than 50k sales. That's 20k profit, impressive huh?
I actually have a friend of mine who is into this selling of used clothes business (Okrika) and I consulted him so he told me everything I needed to know.
3. Make Money From POS Business
If you think you have the right capital why not start up a POS Business? It is one of the fastest-rising businesses in Nigeria and you can make a decent income from it.
All that is needed to run a daily income POS business is a good place or location, a POS machine, capital, and approval from the bank. and you are good to go.
4. Make Money Selling Apple Fruit
Just tell me who doesn't love eating apples? It may seem as if only the rich eat apples but this is not. Some people don't eat apples not because they won't love to eat them but simply because they can't see where to buy them.
You can start an apple fruit business and make cool money as a teenager from it. depending on the capital, you can buy the desired number of cartons and kickstart your business.
But again you need a good location where you can be able to target the right customers.
5. T-Shirt Branding
Who no like the better thing?
Having your name crested behind your shirt gives you an awesome feeling of ownership.
It is very common in schools to have social activities such as student's week, fellowships on campus annual events, people have birthdays to celebrate and couples have pre-wedding photoshoots to make.
As a smart guy, you can leverage this opportunity as a Teenager and become a big boy of your own.
Let's take, for example, you have graphics design as a skill alongside photography. Branded shirts come with logos and stylish inscriptions most of the time; that's the work of a graphics designer. And people who have their clothes branded would love to take pictures; that's the job of a photographer.
You see why you can't have money as one of your problems. Additionally, you could also be selling the clothes used for branding.
No need for your clients to go to the market and buy clothes. They come to you, select the clothes and have them branded. This can't be more lucrative.
6. Become A Tailor
There are so many legit sides hustles teenagers can do to make money and one of them is tailoring. As a tailor you can get to show people's outfits in school most especially during social activities like FYB week, Freshers' welcome, fellowships lots more.
I actually had a friend at my University then who was known for her professional work in tailoring, she was the lady's plug and I could notice how ladies queue up to get her classic professional style.
7. Sell Past Exam Questions in School
If you are a university student by now, you will understand the relevance of past questions in any field of study. Most departments in certain institutions don't like giving out past questions to students to have access to it.
In most cases, fresh students who are just coming in on campus are left stranded moving onto exam halls without guidelines on how exams are set in respective courses.
This is a good opportunity for you to make money as a teenager in the university. One sure way to make money is to solve problems, so with this problem now, you can build a strong relationship within your school lectures and gather enough past questions from them, reproduce them, and sell it out to students.
Believe me, you will make a good amount of money selling past questions in school because you will be dealing with hundreds or even thousands of students craving to buy them.
I actually know of someone, a student of Obafemi Awolowo University (owner of Babafaros TV) who made his first million while selling exam past questions in school.
8. Become A Freelancer
By freelancing, you don't have to work for one person alone, you can work for as many clients as your time can contain.
If you are a teenager with top-notch writing skills, this side hustle is for you and won't creep into your time for work or academics.
I can hear you say in your mind, "But I don't know how to write because I am just a beginner ?"
Says who?
Who does your assignments for you in school when you are given a topic, asked to go research it, and write in your own words?
You write your English exams yourself and you compose letters yourself so nothing stops you from writing for the money?
Nothing!
In freelance writing, all you do is research a given topic and rewrite it in your own words after compiling information from multiple sites. Even as a freelance beginner, It can be that easy.
The client will tell you what he or she wants in terms of tone, writing style, and the number of words amongst other details.
If you don't meet up the demands, the job is returned to you for correction and you learn every day on the job. Just like fine wine, you grow better with the years.
I became a freelance writer on Upwork even without taking any formal writing courses anywhere. I learned everything I know now by practising, learning, and working on writing jobs. You too can.
10. Become An ebook Publisher
As a teenager in Nigeria, You can find a problem that is militating amongst everyone and then find the solution to it and then write and publish an e-book
Recall I said one of the best ways to make money online in Nigeria is to solve problems, and being a problem solver actually makes you indispensable, people will cross boundaries to meet you personally or in most cases your product and what you have to offer on the table.
11. Graphics Design
Another cool side hustle for teenagers in Nigeria is becoming graphics design. With your professional skills and art of designing, you can design for individuals, business owners, or even big companies.
12. Start Blogging
The profitability of blogging in Nigeria keeps rising on a daily but a lot of people are naive about this. A lot of people feel blogging doesn't pay again and no longer works simply because they have heard getting Adsense approval on a blog is very difficult these days.
But wait,
There are many other ways to monetize a blog even without Adsense
One of which is through affiliate marketing.
One thing that people neglect when going into blogging is choosing a good blog niche. A good blog niche idea should come with the ability to monetize the blog even without Adsense.
So far one of the best blogging niches of all time is affiliate marketing where you can promote affiliate products and at the same time teach people how to make money online.
13. Affiliate Marketing
You can start affiliate marketing the right way. With your blog, you can be able to promote various affiliate websites on your site and earn good commissions from each purchase.
14. Become A Tiktoker
Almost every Nigerian right now is on Tiktok. There is so much traffic on Tiktok right now that should get you wondering how to make money on Tiktok.
That's how those who have the mindset of making money online should be thinking right now.
Oh, you are surprised to hear that one can actually earn money from Tiktok right?. Yes it's possible
But how?
The first step to making money on Tiktok is having something to offer, you can be doing a lot of stuff like creating funny but creative videos, or anything that you know people would be entertained to watch and follow your page for more.
Below are some other badass but cool ideas to make money with TikTok
Growing account, getting followers, and then selling them
Partner and promote brand products
Manage influencer campaigns
Use Tiktok to promote and sell your own products
offer Consultancy services.
15. Become A Copywriter
Copywriting is one of the vital elements of effective online marketing that can never be overlooked.
By definition, Copywriting is the art and science of strategically delivering words (written or spoken) that inspire the target audience to take some form of action that you care about.
In more clear terms, Copywriting is writing copies with the end goal of advertising or marketing. The copy is intended to convince clients to buy a product or influence their beliefs.
Today, Copywriters happen to be the highest-paid writers in the world.
Who should become a copywriter?
Copywriting is one of the most lucrative online paying job opportunities, it is best for people who have a great passion for writing.
Copywriting is no magic…It's just a skill that can be mastered.
Conclusion: How To Make Money In Nigeria As A Teenager
In conclusion, there are so many other legit sides hustle to make money as a teenager in  Nigeria but we have selected the best simple ways possible.
If you found these business tips and ideas helpful kindly drop a comment before you leave.
SEO Content Writer with over 4 years of experience in On-Page SEO which gained me an award for excellence.
This is my web space where I share helpful guides to help you earn money legitimately.
I register brands with CAC, create websites and offer Business Consultancy services. For business deals, contact me