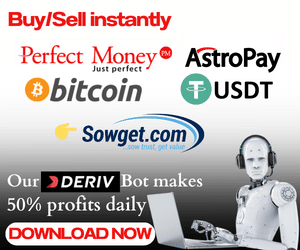 Daikin air conditioners are one of the most sought-after AC gadgets in Nigeria and globally at the moment. If you inquire to purchase any of these Daikin products, this guide will unravel some Daikin Airconditioning distributors in Nigeria.
The hot nature of the weather in Nigeria is on the increase day by day. One can not go 3 hours a day without grasping for a bottle of chilled water to drink and cool off.
Over the years, man's increase in deforestation (cutting down trees) has caused an economic crisis. This has led to the overexposure of an average Nigerian like you and me to constant harsh sunny weather.
According to WorldBank, the Mean annual temperature for Nigeria is 26.9°C, with average monthly temperatures ranging between 24°C (December, January) and 30°C (April). The mean annual precipitation is 1,165.0 mm.
This doesn't dispute the fact that the country has also been threatened by gross flooding over the years which has led to the destruction of life and property.
The use of Air conditioning systems is becoming more than just fashion but a lifestyle. Cars are now built with AC and so are houses, recreation and hospitality centres.
If you inquire to purchase an Air conditioning system from Dainking, this post will walk you through on the best distributors in Nigeria.
Without further ado, let's quickly look at Daikin as a company.
About Daikin
Daikin Industries, Ltd. is a Japanese multinational air conditioning manufacturing company headquartered in Osaka. It has operations in Japan, China, Australia, the United States, India, Southeast Asia, Europe, the Middle East, Latin America, and now Africa.
Daikin is a leading innovator and worldwide provider of advanced, high-quality air conditioning and heating solutions for residential, commercial and industrial applications.
With more than 90 years of operation, Daikin has sold millions of systems throughout 140 countries.
Daikin Products
Daikin offers a variety of high-quality products such as;
Residential air conditioners (Split Hi-wall AC)
Commercial air conditioner (Cassette AC)
Industrial air conditioners (Chillers)
Cold chain solution
Air purifier
Rooftops
FCUs
Thermostats
Daikin Airconditioning Distributors in Nigeria
If you are looking for where to buy Daikin air conditioners in Nigeria, below are some trusted suppliers you can reach out to.
1. Daikin Sales & Technical Centre
This is one of the renowned Daiking AC distributors in Nigeria. They partner with you for your split and central AC projects and other types of cooling and ventilation solutions.
Daikin Sales & Technical Center provides various AC designs/selections, and sales of Daikin equipment such as HVAC accessories, Duct accessories, fans, fresh air and ventilation equipment, grilles and diffusers
Furthermore, the company also practice installation, after-sales (warranty & spare parts), maintenance and smart automation controls.
Contact address: Suite C22, Emmanuel Plaza, 228 P.O.W. Mafemi Cres, District 900108, Abuja, Federal Capital Territory
Phone number: 08123673757
2. Ace Business Solutions Abuja
Ace Business Solutions are the best dealer in Daikin and Panasonic AC systems in Nigeria. Their centrally located showroom in Wuse 2 is an ideal spot for all your office needs.
The company deals in various AC systems ranging from
Panasonic air conditioners
Daikin air conditioners
Midea Airconditioners
Ricoh copiers
Printers & multi-functional devices & Panasonic Pabx
They offer sales, service & installation. In addition to split unit ACs and ceiling cassette units.
The company also do conceal ducted units & VRF for commercial and residential building projects. Their range of photocopy machines starts from the basic desktop device to the high-end range of colour machines.
For digital printing, they have the next-generation flagship printer models that hold unlimited digital printing potentials to meet the high-level needs of professionals and short-quantity printing like business cards, memory cards, Booklets, Flayers Danglers etc.
Lastly, they also stock consumables and spares to ensure efficient after-sales service
If you live in Abuja and need a standard working AC system, rush out to them.
Contact address: 79 Adetokunbo Ademola Cres, Wuse 904101, Abuja, Federal Capital Territory
Phone number: 08166605020, 08091257777
Website: www.absnigeria.com
Email: Info@absnigeria.com
3. Technoton Ltd
If you are a Lagosian and looking for the right spot to get your Daikin air conditioner, then consider Technoton LTD.
Technoton has alliances and technical partnerships with world-class, globally recognized manufacturers and firms. In the same vein, they also invest in staff training both locally and abroad.
Their services cover supply, installation, sales, repairs and maintenance services in the following areas:
Heating, Ventilation, and Air Conditioning Solutions (HVAC)
Industrial Refrigeration and Cold Room Services
Fire Protection
Building Maintenance
Water Infrastructure
Electrical and Power Distribution
Industrial Equipment & Parts
Commercial and Industrial Cleaning Services
Contact address: 9, Ademola Street, Off Awolowo Road, Ikoyi, Lagos Nigeria
Phone number: 08103047689, 08102955408
Email: info@technoton-ltd.com
Website: technoton-ltd.com
4. Panaserv Nigeria Limited
The Panaserv Nigeria Ltd is the official distributor representing Panasonic, Daikin & Kenstar brands and has established itself as a leading service-based company with a commitment to providing excellence from Pre-Sales to After Sales for the full range of HVAC products.
Panaserv is able to provide a wide range of services which includes Training & Commissioning of HVAC Systems, Residential and Commercial Air Conditioning Systems (RAC / CAC), VRV IV, Industrial Chilled Water Systems, comprehensive maintenance contracts to meet the requirements of consumers and commercial industry segments at an affordable cost.
They also have a comprehensive range of custom-made Air handling units and Fan coil units"
Panaserv Nigeria Limited is a wonderful company geared towards a pleasant customer experience by the delivery of top notch home appliances and at customer friendly prices.
Their Staff too are very efficient and friendly.
Address: 247B Muri Okunola St, Victoria Island 106104, Lagos.
Michika St, Garki 900103, Abuja, Federal Capital Territory
Phone: 08141306369
And that is all for Daikin Airconditioning distributors in Nigeria with physical stores.
Online (eCommerce) Stores To Buy Daikin Air Conditioners in Nigeria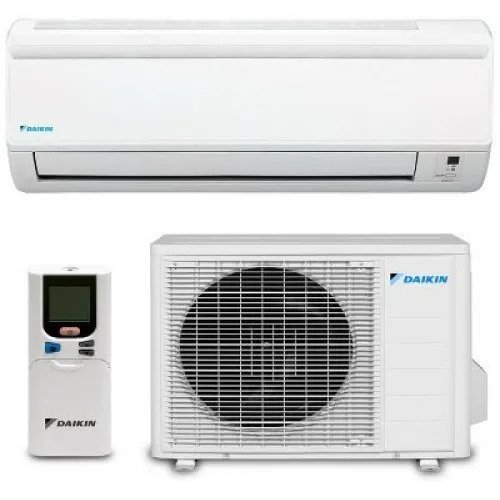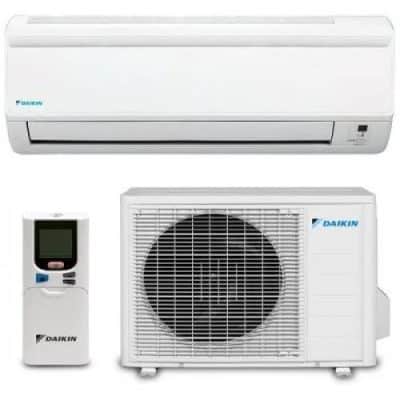 Did you know?
According to EcommerceDb, Nigeria is the 39th largest market for eCommerce with a predicted revenue of US$7,627.6 million by 2023, placing it ahead of Israel.
Revenue is expected to show a compound annual growth rate (CAGR 2023-2027) of 11.3%, resulting in a projected market volume of US$11,707.0 million by 2027.
With an expected increase of 25.5% in 2023, the Nigerian eCommerce market contributed to a worldwide growth rate of 17.0% in 2023. Like in Nigeria, global eCommerce sales are expected to increase over the next years.
From this data, we can see that Nigerians love shopping online.
If you are looking for the best online stores where you can buy Daikin air conditioners (AC) in Nigeria, then follow up on my recommended picks
1. Jumia
Jumia is your Nigerian one-stop online shop for all your Fashion and High-Tech needs. We offer a wide selection of products including but not limited to Men & Women's Fashion, Mobile Phones, Computers, Electronics, Home Appliances and many more, bringing them right to your doorstep.
On Jumia, you can simply make search for Daikin AC products and select your preferred choice from their catalogue.
If you have shopped on Jumia before, then getting a Daikin AC from their online store shouldn't be a difficult task for you.
2. Konga
Konga.com is Nigeria's largest online mall. It launched in July 2012 and its mission is to become the engine of commerce and trade in Africa.
They serve a retail customer base that continues to grow exponentially, offering products that span various categories including Phones, Computers, Clothing, Shoes, Home Appliances, Books, healthcare, Baby Products, personal care and much more.
Furthermore, you can get your high-quality Daikin Airconditioners right from Konga store to your doorstep.
All you have to do is visit the Konga Daikin catalogue from the eCommerce website and add to your cart your prefered AC system
Konga process most of its deliveries through the KOS Delivery Courier. Standard delivery time is 7 days however, this may vary by location and even product. Delivery times for products is usually indicated on the product detail page.
Call: 07080635700, 0809460 5555
Whatsapp: 09070038 400, 08094605555
Email: help@konga.com
Website: www.konga.com
3. Jiji
Jiji is an online marketplace that enables buyers and sellers to meet and exchange goods and services.
According to Sitejabber, Jiji.ng has a consumer rating of 3.03 stars from 33 reviews indicating that most customers are generally satisfied with their purchases. Jiji ranks 14th among Classifieds sites.
You can purchase your Daikin inverter air conditioner at an affordable price when you shop at Jiji store
To get your Daikin AC, visit the Jiji Daikin AC catalogue and make your order.
On delivery, Jiji provides courier services for parcels and documents as well as running errands, shopping, bank deposits etc.
Furthermore, they also provide services for those buying goods and services online and are not sure of the source so they want us to go there and confirm the source so that they can then pay.
Email: support@jiji.ng
Website: Jiji.ng
3. GZ Industrial Supplies Nigeria
They are Nigeria-based e-commerce-enabled businesses serving the needs of OEM and MRO customers in virtually every industry.
GZ Industrial Supplies offers a single window source for providing diverse product lines from industry-trusted manufacturers.
The company has been one of the fastest-growing e-commerce stores in Nigeria, they deliver items all over Nigeria in partnership with leading logistics partners. They also sell through offline stores located in Major Nigerian cities, we don't have any dealers or franchises.
To get your Daikin Air conditioner, visit their online store
Address:  18 Adeshina street, Behind Holy Trinity Hospital Ikeja, Off Obafemi Awolowo Way Ikeja.
Lagos.
238 Aba Road First Artillery by Fidelity bank, Port Harcourt, Rivers State
Nigeria.
32 Ndidem Usang-Iso, Marian Road, Calabar,
Cross Rivers State, Nigeria.
Contact: 09055793558, 08024699947, 08038362605
Email: info@gz-ind.com
4. Deluxe Nigeria
The Deluxe store is one of the leading innovations in eCommerce and online shopping customer experience. in Nigeria.
Deluxe Nigeria has excellent customer service tailored to meet your demands any day anytime. Again, they offer quick and free-delivery services to ensure orders are not delayed for any reason.
For the best buys, why not shop the deluxe way and have the best online shopping experience? Customers can buy on the website and pay online or by cash on delivery.
To get your Daikin Air conditioner, all you have to do is visit the Deluxe Daikin catalogue and select your preferred choice.
Contact: 09094789078, 012931712, 07010189956
E-mail: info@deluxe.com.ng
Website: https://deluxe.com.ng
5. Kara
Kara.com.ng is the trading name of Royal coast Technologies Limited.
The e-commerce store strives to deliver the benefits of technology to individuals and their communities. They aim to achieve this by partnering with local and international resources to deliver the optimal solution for our customers.
They believe that technology is the way to reach our development goals and empowering users through collaboration with business, government and educational institutions is vital in our approach.
It is their aim to deliver, Reliable, cost-effective and touching edge solutions to our customers.
You can get your Daikin AC from Kara store at any time, any day.
Address: 7 Balogun Street, Anifowose, Ikeja, Lagos State
Contact: 0909 358 3735, 07044913736
Email: saleskara@royalcoast-group.com
Read Also:
Cheap Wholesale Clothes Lagos Suppliers
Conclusion: Daikin Airconditioning Distributors in Nigeria
Conclusively, Daikin offers one of the best AC products in the global market. I hope this guide was able to walk you through suppliers you can get your Daikin AC
SEO Content Writer with over 4 years of experience in On-Page SEO which gained me an award for excellence.
This is my web space where I share helpful guides to help you earn money legitimately.
I register brands with CAC, create websites and offer Business Consultancy services. For business deals, contact me