The clothes business is one of the most profitable businesses to start in Nigeria. If you are looking forward to starting a boutique business in Nigeria, this article will guide you and show you where to buy cheap wholesale clothes in Lagos.
There are so many shopping platforms in Nigeria, you can sit a the comfort of your home and other for clothes online anywhere in Nigeria.
It has become so common that people now sell clothes via their WhatsApp rather than a physical shop. The advent of WhatsApp marketing has made it very easy for people to buy and sell clothes online without even needing a physical shop.
However, many people still choose to shop for their clothing offline. They prefer to choose from a bunch of variety of shops in the market to buy the clothes they desire.
You cannot blame these people for not wanting to buy clothes online because of the disadvantages that come when you purchase something online via WhatsApp status.
I am a victim of this scenario because I bought a palm for 7k and paid an extra 5H for delivery and when the palm got to my end, I discovered it was not worth the money. In fact, It could have been bought for 3,500 at most if I went to a physical shop in the market.
For some reason, you may not just want to buy wholesale clothes but to resell them at your retail shop so you can earn profits from them.
If you are looking for some places in Lagos state where you can buy clothes, shoes, and children's wear at wholesale price, this article is for you. Keep reading.
Where To Buy Cheap Wholesale Clothes in Lagos
Believe me most of these boutique shops you see on the street get their wear from these places I am about to show you in Lagos and resell them at their end.
Whether you want to buy Okrika or boutique clothes for reselling, you will get some fine wear in these places in Lagos I am about to show you below;
1. Oshodi Market
Oshodi market is one of the most popular and industrious markets in Lagos. It was one of the first beneficiaries of the urban boom in the 19th Century.
This was due to the construction of railway lines between Lagos and the North by the British-led government, for the transit of workers across the country.
Oshodi market is one of the major markets in Lagos Nigeria, where you can buy foodstuff, wear, shoes, electronics and many other things.
Oshodi Market is situated southwest of Ilupeju, close to the Army Resettlement Scheme.
2. Balogun Market
Balogun Market is one of the largest and most famous markets in Lagos, Nigeria. The market does not have a defined address because it is situated across so many streets on the island. The Balogun market is recognized as the best place to buy fabrics, shoes and all sorts of wares
In addition, the Balogun market is also often called the Eko market. When it comes to getting fabrics and textiles at affordable prices, the Balogun market is the right place to be.
If you are new to Fashion, let's say you just opened a boutique, then Balogun Market should be your top place to get quality wear ranging from Joggers, T-shirts, Palms, shoes and all kinds of ladies' wear too.
Lastly, wholesale clothes in the Balogun market are very good in terms of quality in materials, even Okrika wear is so good and has the potential to last long. So as a retailer, you can resell them at high prices.
It is important to connect with a vendor who will be sending you these clothing items through a waybill if you are in a different state as it will save you the cost of moving down to Lagos.
3. Aswanin Market
Aswanin market located in Isolo also attends to the clothing needs of the teeming Lagos population. It is one of the best markets to buy cheap wholesale clothes in Nigeria for reselling.
It is certainly not the biggest market in the state but prides itself as a major point of sale of fairly used items and at very cheap prices. The market equally holds great prospects for the council, the state and the nation at large, in terms of revenue generation.
However, commercial activities are not limited to the approved location of the market. Some sides of the major road, leading to it and even adjoining ones, are usually turned into mobile shops. In short, some of the traders preferred making their fortunes on the road rather than securing and trading at convenient and very safe spaces within the market
Conclusively, If you are looking for fairly used but quality clothing items and accessories, then consider visiting Aswanin market.
4. Yaba Market
Yaba market is one of the busiest markets in Nigeria. The market in Tejuosho is the home of clothing items, weaves, sports accessories, as well as beauty supplies and it thrives in the multitude of buyers and sellers it hosts on a daily basis.
Furthermore, the Market is arguably one of the most populous markets on the Mainland. There, can get great clothes at fair prices for both young and old and for any gender. It especially benefits the students of Unilag and Yabatech and workers around the vicinity.
The market days are Mondays, Wednesdays, and Fridays before 7:00 am in the morning.
Popular Markets in Nigeria To Buy Clothes in Bulk for Resale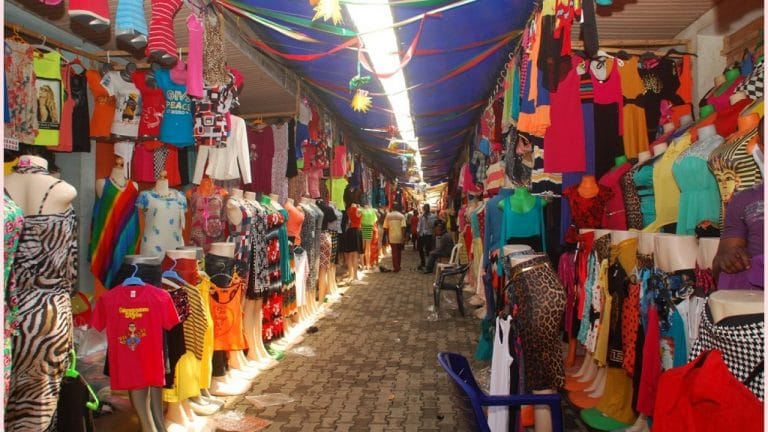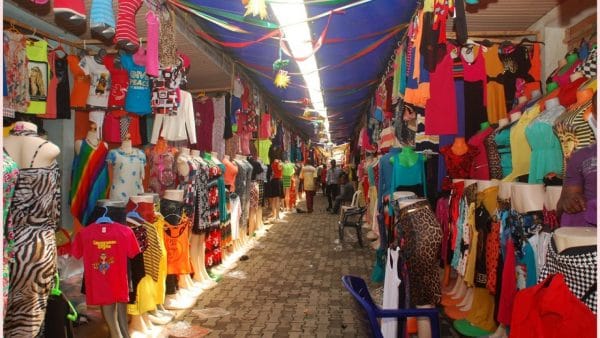 Even though Lagos is one of the popular places retailers rush to when looking out for cheap clothes to buy and resale, it does not mean there are no other shops or markets across Nigeria to get cheap clothes to buy.
For those who are staying outside Lagos but may wish to get cheap wholesale clothes in Bulk for resale below are some top markets in Nigeria to get quality Okrika and boutique clothes for resale.
1. Ariaria international market, Aba
Ariaria International market is known to be the biggest market in Aba, Abia State, it is a crowded market with so many things to buy at cheap rates. You can get various clothing ranging from Men and ladies' wear as well as children's wear.
Conclusively, Ariaria International Market, Aba market is one of the popular markets in Nigeria to buy goods wholesale and resell them.
2. Newmarket Ngwa Road, Aba
This market is a highly reputable market in Aba. You can get quality clothes and fabric materials at cheap costs and resale them.
Where To Buy Okrika Bale in Aba
If you are looking around where to buy thrift clothes in Aba, then make thrift wear by bellz your sure plug. They offer a wide range of quality Okrika clothes in Bale for resellers to resell and make huge profits.
You can also connect with them via Instagram @ Thriftwearsbybellz
3. Cemetery Market, Aba
The cemetery market is the importers market in Aba, here you will find so many imported items at cheap rates including clothes.
The market is known for items such as stockfish, provisions, furniture, electrical lighting, local crafts and food items, amongst others. It is a major depot for all sorts of foodstuff arriving from the northern part of the country.
4. Ekoha Market
Ekoha Market is nothing but a hopping centre that offers a wide range of clothing materials, at affordable prices. There is no textile company in the industry that is not associated with or working with this market and monthly it turns out hundreds of millions of naira.
The market again presents itself as one of the best markets in Nigeria to get cheap clothes in bulk for resale.
5. Onitsha Main Market
If you are looking for where to buy wholesale clothes in Onitsha then Onista Main market would come first to your mind.
The Onitsha main market which is patronised by foreign traders is undeniably one of Africa's commercial powerhouses.
If you are in search of good clothing for personal use or for commercial purposes, you will get well-tailored suits, read-made dresses, shirts, skirts, trousers and every other form of clothing at extremely cheap prices.
6. Garki Market Abuja
Garki Market is one of the most popularly patronized markets in Abuja. It is known for its quality clothes and clothing materials. The Beauty of this market will get you overwhelmed.
7. Wuse Market Abuja
Wuse Market located at Wuse in Abuja is a large market that offers a variety of goods, here will find locally made wrappers, made wears and lots of fairly used clothes that will leave you in awe.
8. Nyanya market, Abuja
Nyanya poses itself as another commercialized place to get wholesale clothes for retail. One inspiring thing about people from this market is their manner and way of marketing.
Even if you don't have intentions of buying, those market people have a magical convincing power to make you buy anything they are selling.
9. Oil Mill Market Port Harcourt
The Oil Mill Market is a widely recognized market in Port Harcourt, you can get cheap clothing items in bulk and sell them at higher prices at respective retail shops.
10. Choba Market, Port Harcourt
Choba market is located close to the University of Port Harcourt. Since the market is located near a school, it offers cheap clothing materials ranging from shoes, sneakers and so many other things you could ask for.
Where To Buy Laptop Bags in Lagos
If you own a Laptop, it is very important to get a Laptop bag because it gives you the following privileges;
Laptop bags provide great protection for your laptop and other gadgets.
Easy way to carry your laptop.
Divide the weight of your laptop on both shoulders, this way you don't feel like it's weighing you down.
Has several compartments and slots to fit your laptop accessories
Foxy Hubs


Foxy Hubs offers one of the best waterproof laptop bags for all kinds of laptops. The good thing is these bags are portable and very convenient to carry about anywhere and at any time.
You can reach out to them via the website Foxyhubs.com
Connect with Foxy Hus on WhatsApp via 08106548981
Read Also:
How To Shop on Jumia Without OTP Payment
Cheap Human Hair Vendors in Lagos
Conclusion: Where To Buy Cheap Wholesale Clothes in Lagos
In conclusion, Buying and selling clothes is one of the most profitable businesses you can start in Nigeria. Even with low capital, and without a shop, you can start your Okrika business and make cool money.
Lastly, there are so many markets and shops where you can buy quality and cheap wholesale clothes in Lagos and resell them, I hope this article connects you to the right place.
SEO Content Writer with over 4 years of experience in On-Page SEO which gained me an award for excellence.
This is my web space where I share helpful guides to help you earn money legitimately.
I register brands with CAC, create websites and offer Business Consultancy services. For business deals, contact me