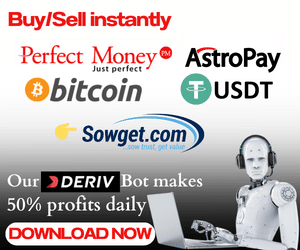 Are you trying to verify your PayPal account so as to avoid further limitations but are stuck with the question "Does Zenith Bank Support PayPal?", In this guide, I will walk you through the process of Verifying a Paypal account with a Zenith Bank card and if it really works or not.
If you are a PayPal user you should understand the importance of verifying your PayPal account. One of the major benefits of getting a Paypal account verified is that it sets you free from all kinds of PayPal limitations.
A verified PayPal account gives you the opportunity to carry out seamless PayPal transactions without much worry.
However, you need a bank card to verify a PayPal account successfully. Virtual dollar USA card works best for Paypal verifications but it is very hard to come by.
It is so unfortunate PayPal does not work in Nigeria, however, you can create UAE, Lesotho, or even a USA PayPal account and use it effectively for all your business transactions.
After creating the account, next is bank card verification.
Without further ado, let's quickly discover if the Zenith bank card actually works with PayPal
Does Zenith Bank Card Support PayPal?
Yes, Zenith Bank card supports PayPal, you can use either Zenith Mastercard or Visa card to verify your PayPal account.
However, It will be unwise to start receiving big amounts of funds even after verification because this could still put your Paypal account at risk of getting suspended.
So I will suggest that after verifying your PayPal account, start by receiving a small number of funds; maybe $50 for a start and subsequently you can start receiving more.
Conclusively, Zenith Bank is among a good number of banks that support PayPal in Nigeria.
Zenith Bank Mastercard Limit
It is very unfortunate I can't give you a precise Limit for Zenith Bank Mastercard, but I will still suggest you don't receive a huge amount of funds in your PayPal account.
If you need to withdraw up to like $2,000 another alternative (if possible) is to use a PayPal account verified with USA virtual Card or maybe open a dollar account with your bank, In that way, you will be on the safer side
Conclusion: Does Zenith Bank Card Support PayPal?
In conclusion, Zenith Bank Card works well with PayPal just like other bank cards, however, your PayPal account could be at risk once you start receiving large amounts of funds immediately after verification.
SEO Content Writer with over 4 years of experience in On-Page SEO which gained me an award for excellence.
This is my web space where I share helpful guides to help you earn money legitimately.
I register brands with CAC, create websites and offer Business Consultancy services. For business deals, contact me