How to see deleted tweets on Twitter is one of the most search queries by twitter lovers who want to get back tweets that have been deleted. In this tutorial guide, you will discover how to recover deleted tweets on Twitter.
How to See Deleted Tweets on Twitter
There are about 4 different ways you can recover or see deleted tweets on Twitter;/ as we will be explaining them one after another.
1. Twitter Retrieve Archive
When you delete a picture or any file on your smartphone, it moves to a trashed file and you can retrieve it later right?. It will surprise you that Twitter also uses archives just like Facebook and other social apps.
You can easily see deleted tweets from your archive by following the steps below
Step 1.
Log in to your Twitter account
Step 2.
Under the profile section, choose settings and privacy

Step 3.
Under this step, Click on open Twitter data. Proceed to enter your Password and click to confirm.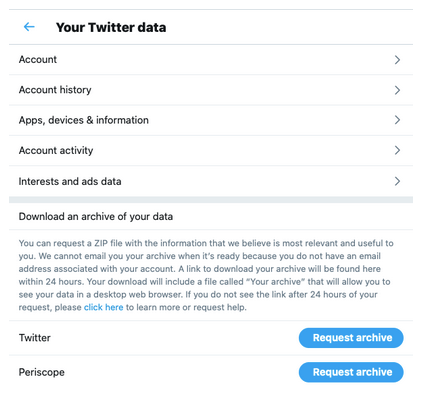 Step 4.
This is the most important step to get back deleted tweets, all you have to do is find out for the 'Request archive' button and click on it.
Step 5.
Relax as Twitter will prepare an archive, and an email notification will be delivered to you. It will be sent to the same email ID with which your account has been created.
Step 6.
Ensure to Locate your email mailbox and click on the "Download Now" button. A zipped folder will be downloaded.
Step 7.
You can proceed and extract the folder then locate 'index.html' here, and you can find all your tweets along with deleted tweets
This is one of the most effective methods to retrieve deleted posts on Twitter
2. Twitter Wayback Machine
Another way you can see deleted posts on Twitter is by using Wayback Machine.
The Wayback Machine is a digital archive of the World Wide Web. It was founded by the Internet Archive, a nonprofit library based in San Francisco, California.
Created in 1996 and launched to the public in 2001, it allows the user to go "back in time" and see how websites looked in the past. Its founders, Brewster Kahle and Bruce Gilliat developed the Wayback Machine with the intention of providing "universal access to all knowledge" by preserving archived copies of defunct web pages.
Today, Wayback Machine is the most popular part of the Internet Archive website
Step 1.
Open your browser and search for Wayback Machine
Step 2.
Click on Archive.org and visit the homepage then type or copy the address of Twitter (http://twitter.com) in the search bar on the home page.
Step 3.
The search results are shown in the calendar form. Just click on the date, and you will be taken to Twitter. Make sure you are logged in to find deleted tweets.
If you are not able to work well with the Wayback Machine, try other Wayback Machine alternatives and quickly see the deleted tweets.
3. Use Snapbird
You can also use Snapbird as an alternate method to see deleted tweets on Twitter. This website is so cool as the homepage allows you to see someone's timeline, someone's likes, tweets mentioning you, your direct messages, and your friends' tweets.
The Snapbird tool provides you with immense scope to see deleted tweets use it, just the Username of the Twitter account you wish to view deleted tweets. It is a very innovative and handy way to see deleted messages.
However, you will not be allowed to enjoy all the benefits as a free version user, you can upgrade to the premium version when it suits you
4. Google Cache
You can see your deleted tweets on Twitter by using Google cache.
Another easy and quick way to see deleted tweets is to discover and retrieve what's hidden with your Google cache. To do this;
Go to google.com > type (your username + Twitter) > click on the black inverted arrow beside the name and click Cached.


This method works well but if you have previously cleared your browser cache, it may not work for you but you can always try the other methods that could work for you.
Read Also:
Conclusion: How to See or View Deleted Tweets on Twitter
Twitter is one of the most used social media platforms not just in Nigeria but globally, getting back your lost tweets on Twitter could be important and I hope this step guide has served you well on how to see deleted tweets on Twitter and even retrieve them
SEO Content Writer with over 4 years of experience in On-Page SEO which gained me an award for excellence.
This is my web space where I share helpful guides to help you earn money legitimately.
I register brands with CAC, create websites and offer Business Consultancy services. For business deals, contact me