This article contains a comprehensive list of 2023 Paypal card withdrawal countries and countries restricted from using PayPal.
Paypal is a method of payment that is accepted in over 200 countries and regions. You can use Paypal to pay or get paid and send or receive money worldwide.
However, not all countries are able to receive money into their Paypal account due to restrictions from Paypal. Some are allowed to only send payments, or use the money to make purchases online but restricted from receiving payments. While some are allowed to both send and receive payments.
Nonetheless, when it comes to the withdrawal of payments, there are options set by Paypal for different countries as indicated below:
Withdraw to your credit, debit or prepaid card

To your US bank account

To your visa card issued in your country

To your local bank account

Withdraw via a check
Now that you are aware of the various mode of withdrawal from Paypal accounts, it is now left for you to find out the country's withdrawal mode that best suits your needs and open a Paypal account. But this article is solely looking into the Paypal countries that support the withdrawal to the card (either credit, debit or prepaid card).
List of PayPal Card Withdrawal Supported Countries 2022

Now you do not need to waste endless time searching for PayPal card withdrawal countries via credit, debit or prepaid card because I have done the work for you. So sit tight and carefully scan through the list of PayPal card withdrawal countries below:
Note: You can't just create an account on any of the listed Card withdrawal countries and expect to get the withdraw to card option: You can only get that when you follow the guide stated here.
ALBANIA =================

TO YOUR VISA CARD ISSUED INALBANIA

ALGERIA ======================

TO YOUR VISA CARD ISSUED IN ALGERIA

ANTIGUA AND BARBUDA ======

TO YOUR VISA CARD ISSUED IN ANTIGUA & BARBUDA

BAHRAIN ===================

TO YOUR CREDIT, DEBIT, OR PREPAID CARD

BARBADOS ==================

TO YOUR VISA CARD ISSUED IN BARBADOS

lBELIZE =====================

TO YOUR VISA CARD ISSUED IN BELIZE

BOSNIA AND HERZEGOVINA ====

TO YOUR VISA CARD ISSUED IN BOSNIA & HERZEGOVINA

BOTSWANA =================

TO YOUR CREDIT, DEBIT, OR PREPAID CARD

BULGARIA ==================

TO YOUR CREDIT, DEBIT, OR PREPAID CARD

CHILE =====================

TO YOUR CREDIT, DEBIT, OR PREPAID CARD

CROATIA ===================

TO YOUR CREDIT, DEBIT, OR PREPAID CARD

ÂCYPRUS ===================

TO YOUR CREDIT, DEBIT, OR PREPAID CARD

DOMINICA =================

TO YOUR VISA CARD ISSUED IN DOMINICA

EGYPT ====================

TO YOUR VISA CARD ISSUED IN EGYPT

E

STONIA ==================

TO YOUR CREDIT, DEBIT, OR PREPAID CARD

FIJI ======================

TO YOUR VISA CARD ISSUED IN FIJI

FRENCH POLYNESIA

=========

TO YOUR VISA CARD ISSUED IN FRENCH POLYNESIA

GEORGIA

==================

TO YOUR CREDIT, DEBIT, OR PREPAID CARD

GIBRALTER

================

TO YOUR CREDIT, DEBIT, OR PREPAID CARD

GRENADA

=================

TO YOUR VISA CARD ISSUED IN GRENADA

HONDURAS

================

TO YOUR CREDIT, DEBIT, OR PREPAID CARD

ICELAND

==================

TO YOUR CREDIT, DEBIT, OR PREPAID CARD

INDONESIA

=================

TO YOUR CREDIT, DEBIT, OR PREPAID CARD

ISRAEL

====================

TO YOUR CREDIT, DEBIT, OR PREPAID CARD

lTALY

=====================

TO YOUR CREDIT, OR PREPAID CARD

JORDAN

===================

TO YOUR CREDIT, DEBIT, OR PREPAID CARD

KAZAKHSTAN

===============

TO YOUR CREDIT, DEBIT, OR PREPAID CARD

LATVIA

====================

TO YOUR CREDIT, DEBIT, OR PREPAID CARD

LESOTHO

==================

TO YOUR CREDIT, DEBIT, OR PREPAID CARD

LIECHTENSTEIN

=============

TO YOUR CREDIT, DEBIT, OR PREPAID CARD

LUXEMBOURG

==============

TO YOUR CREDIT, DEBIT, OR PREPAID CARD

MALAWI

===================

TO YOUR VISA CARD ISSUED IN MALAWI

MALAYSIA

==================

TO YOUR CREDIT, DEBIT, OR PREPAID CARD

lMALTA

=====================

TO YOUR CREDIT, DEBIT, OR PREPAID CARD

MAURITIUS

=================

TO YOUR CREDIT, DEBIT OR PREPAID CARD

MOLDOVA

==================

TO YOUR CREDIT, DEBIT, OR PREPAID CARD

MOROCCO

==================

TO YOUR CREDIT, DEBIT, OR PREPAID CARD

MOZAMBIQUE

===============

TO YOUR CREDIT, DEBIT, OR PREPAID CARD

NEW CALEDONIA

=============

TO YOUR VISA CARD ISSUED IN NEW CALEDONIA

OMAN

======================

TO YOUR CREDIT, DEBIT, OR PREPAID CARD

PALAU

======================

TO YOUR VISA CARD ISSUED IN PALAU

PHILIPPINES

=================

TO YOUR CREDIT, DEBIT, OR PREPAID CARD

ROMANIA

====================

TO YOUR CREDIT, DEBIT, OR PREPAID CARD

SAINT KITTS & NEVIS ANGUILLA

===

TO YOUR VISA CARD ISSUED IN SAINT KITTS & NEVIS

ANGUILLA

SAN MARINO

==================

TO YOUR CREDIT, DEBIT, OR PREPAID CARD

SAUDI ARABIA

=================

TO YOUR CREDIT, DEBIT, OR PREPAID CARD

SENEGAL

=====================

TO YOUR CREDIT, DEBIT, OR PREPAID CARD

SERBIA

======================

TO YOUR CREDIT, DEBIT, OR PREPAID CARD

SEYCHELLES

==================

TO YOUR VISA CARD ISSUED IN SEYCHELLES

SLOVAKIA

====================

TO YOUR CREDIT, DEBIT, OR PREPAID CARD

SLOVENIA

====================

TO YOUR CREDIT, DEBIT, OR PREPAID CARD

ST LUCIA

=====================

TO YOUR VISA CARD ISSUED IN ST LUCIA

TRINIDAD AND TOBAGO

========

TO YOUR VISA CARD ISSUED IN TRINIDAD & TOBAGO

TURKS AND CAICOS ISLANDS

===

TO YOUR VISA CARD ISSUED IN TURKS & CAICOS ISLANDS

UNITED ARAB EMIRATES

=========

TO YOUR CREDIT, DEBIT, OR PREPAID CARD

URUGUAY

==================

TO YOUR CREDIT, DEBIT, OR PREPAID CARD
PayPal Restricted Countries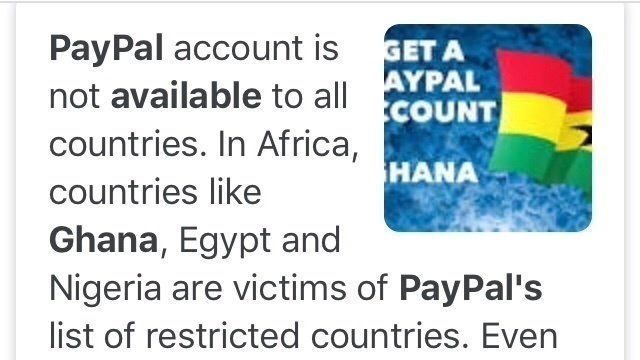 According to research conducted by United Nations, the following countries does not work with PayPal
Afghanistan
Bangladesh
Cameroon
The central African Republic
Cote D'Ivoire (Ivory Coast)
Democratic People's Republic of Korea (North Korea)
Equatorial Guinea
Gabon
Ghana
Haiti
Iran
Iraq
Lebanon
Liberia
Libya
Monaco
Moldova
Montenegro
Myanmar
Nigeria
Pakistan
Paraguay
Saint Lucia
South Sudan
Sudan
Syria
Timor-Leste
Uzbekistan
Zimbabwe
Finally, you have the full list of PayPal countries that support the withdrawal of payments to either a credit, debit or prepaid card. However, if you would like to open a United Arab Emirates (UAE) or USA PayPal account, don't hesitate to use the contact Button for our assistance