Okash Loan has been one of the few apps that give you access to small and large loans with little interest. If you wish to borrow money from Okash but don't know how the fintech app works, this post comprehensively reviews the Okash loan requirement and how to register.
There are many reasons you may need to borrow money, such as investing in a business, sending your kids to school, building a house, buying a new car, paying off credit card debt, helping the kids pay for university or making a major purchase.
These mobile loan apps have saved alot of people from financial issues that could have lingered them from achieving or doing something important.
So long as humanity still exists, there will be problems that will require money to be solved. These days, it is very difficult to borrow or lend money to someone considering how bad our world has been.
People are constantly needing money to clear up daily bills and barely have leftovers to give or lend out.
Due to this challenge, the inception of loan apps came intending to help Nigerians effectively take care of pressing bills that could arise.
Unfortunately, some people borrow money from these apps and are not able to pay it back. That is the reason why you see strange numbers of this loan company in your Whatsapp DM reporting that someone you know borrowed money and is unable to pay it back.
If you are intending to borrow money from this Okash loan app, this guide will work you through the process and requirements.
About OKash Loans
OKash is a micro-lending platform presented by Blue Ridge Microfinance Bank Limited. It gives its registered users access to quick collateral-free loans, as long as they meet the requirements.
It is interesting to know that OKash is a subsidiary of Opay which is the leading fintech company in Africa.
If you are looking for small or medium loans to invest in your business or at least start up a small business, then you should consider securing a loan from this company.
Okash loan is loved by many because of
Instant loan approval
24/7 support team
A dedicated team to serve you
Read Also: Impact of IRS on Business Score
How Okash Loan Works
OKash provides loans almost every day of the week and the whole process is completely online.
You can receive loan amounts ranging from ₦3,000 to ₦500,000. All you need to do is download the mobile app, meet the requirements and submit your details.
Once your OKash loan application has been approved, the amount you requested will be transferred into your bank account.
OKash allows a maximum period of 24 hours from the moment of a disbursement within which the loan can be cancelled.
If you have applied for the loan by mistake, please repay the principal within 24 hours, then contact their customer service at your earliest convenience to clear the loan.
Okash Loan Requirement
Before you can gain access to a loan from OKash, below are some must-have requirements to secure an OKash loan
1. An active phone number through which you will get your verification code.
2. National Identification Number (NIN) which can be used for your confirmation that you are a Nigeria
3. Bank Verification Number (BVN). This is to confirm your banking details and be sure that you don't run away with the loan. OKash doesn't give loans without BVN
4. An active Nigerian bank account
5. The eligibility age range is between the ages of 20 to 55
6. The loan applicant must have a business or reliable source of monthly income
Congratulations if you have all these requirements at your fingertips. If you don't, then you should consider getting them as soon as possible.
Next is to get the OKash app on your phone.
OKash Loan App Download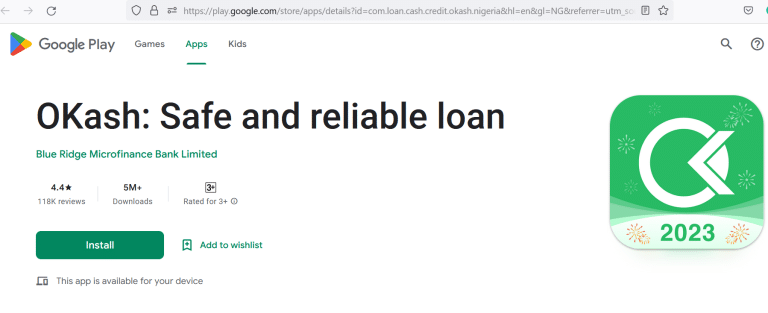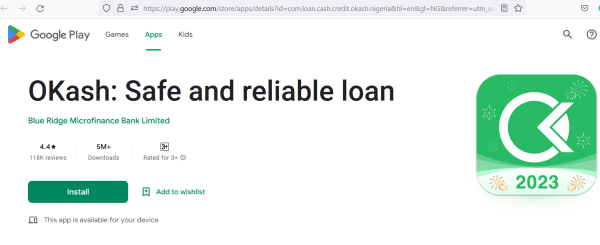 As an Android, iOS or Windows user, you can simply download the OKash mobile app from your device's Play Store
The app is designed to make you have a seamless loan application so you should try downloading it.
Download and install the OKash loan app directly from the Google Play Store (Android users). You can also download the app directly from OKash website
The loan app currently has about 5 million + downloads. It currently has a review rating of 4.4 from over 118,000 users.
After OKash loan app has been successfully installed, the next is to register
How To Register OKash Loan
Below is a step-by-step guide to registering for the Okash loan
1. Sign up with your active phone number. For Opay account users, there is no need to do another registration (since OKash is a subsidiary of Opay). Just sign in with your Opay account details.
2. Okash will send you a 6-digit verification code to your registered phone number as an SMS. Input the code to proceed.
3. The next step is to create a security code. That way, an intruder can't borrow loans behind your back. Create a four-digit PIN code and enter it the second time to confirm.
4. The OKash loan app will ask you to grant some permissions. This includes permission to access your contacts as well as your device location. To grant those permissions, press the allow button that shows up on your phone.
Once the above step is duly completed, you will be redirected to the OKash loan dashboard.
How To Apply For OKash Loan With Your Android Device
Below is a step guide you can follow to apply for a loan with your Android device
1. Access your Okash app
2. Under your dashboard, select the loan amount you would like to apply for.
3. Fill in your personal information and your bank details. After that, you shapplyation.
4. Once the submission is done, you may receive a call from OKash management. No worries, the call is just to verify a few details.
5. The result of your application will be displayed on the APP where you can see it from your dashboard. If the loan is approved, you will also be informed by SMS.
6. Confirm the loan agreement after the approval.
7. Once you confirm the loan, the approved loan amount will be sent to the bank account you provided during registration
Does OKash Loan Require Collateral?
OKash loan requires zero collateral to acquire. You can get a minimum loan of ₦3,000, and a maximum of ₦500,000 on the Mobile App.
How to Repay OKash Loan
All monies borrowed through loans are meant to be paid back. But how do you repay loans gotten from OKash?
OKash offers a flexible repayment plan. You can repay your loan within 3 months (91 days) to 12 months (365 days)
From your dashboard, you can navigate to the loan repayment page. Put in your account details and pay with your debit/credit card.
Late loan repayments automatically incur a rollover interest of 2% per day. It is therefore advised that one does not exceed the repayment period. Furthermore, this could reduce your future borrowing credit score.
How Much Is OKash Loan Interest Rate?
The OKash loan service charges an interest rate of 9.1% every 3 months. Below is a simplified breakdown of how the rating system works
If you borrow ₦6,000 on the OKash mobile app and you set your repayment term to be 3 months, the:
The interest rate will be 9.1%
The interest amount will be ₦273
The total amount to be repaid will be ₦6,237
OKash Contact
If you want to lay a complaint, below are mediums you can contact Okash
Phone number: 08097755512
WhatsApp:+2349019099999
Email: support@o-kash.com with your registered phone number in the subject.
The head office is located in Room 301, Japaul House, Plot 8 Dr Nurudeen Olowopopo Way, Central Business District, Ikeja, Lagos, Nigeria
Is OKash Safe?
OKash a subsidiary of Opay offers seamless loans for small business owners who need a financial upgrade for their business.
Considering OKash doesn't require collateral before issuing loans, it makes it a good company to secure loans once you meet all needed requirements
OKash is safe because you can acquire loans and repay them gradually with a low interest rate.
Read Also:
How to transfer money from GT Bank to Opay
How to withdraw from PayStack to Bank
Procedure to Become Jumia Agent
Conclusion: Okash Loan Requirement
OKash is one of the few companies offering loans without collateral. I hope this guide has given you an insight into must-have requirements to secure a loan from the OKash company.
Drop a comment and tell us your experience with OKash
SEO Content Writer with over 4 years of experience in On-Page SEO which gained me an award for excellence.
This is my web space where I share helpful guides to help you earn money legitimately.
I register brands with CAC, create websites and offer Business Consultancy services. For business deals, contact me