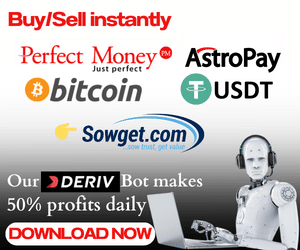 Welcome once again great followers and visitors of legacytips, today we are going to look at some common business failures as well as shocking reasons people don't succeed online on any business they get involved with
it's been quite a long time I update you guys here because I have been very occupied with school activities and you guys know it's not easy combining blogging with the school it's just not easy for me
Christmas is near again its no doubt that people looking for ways to earn online because of the increasing rate of poverty in the society
Earning money online is one of the quickest things to do because it does not require much to start like getting a shop for your business or even looking for a sales personnel
You just sit at the comfort of your home and earn either with your smartphone or with your PC without having to acquire a special shop or workplace.
So without wasting much time let us understand what it means when we say a business has failed
A Business Failure definition is simply a business that closes or ceases to operate, causing the creditors to lose money.
A business can fail when it is no longer able to turn a profit. If the principal owner leaves a business, whether due to death or retirement, but does not leave the business with any debts, this is not considered a business failure.
Having understood what is meant by a business failure by definition we will make progress by looking at some key shocking reasons people don't succeed online
Of course, we are not going to discuss business failure as a company but as in the case or manner of individual perspective
Reasons People don't Succeed Online
Its no doubt there are more and more business opportunities showcasing out every day, let me use Nigeria as an example, there are lots of business opportunities and many other platforms to make money online such as Giftalworld, Dropshipping, Blogging, and so many others..
The good thing is lots of people join these programs hoping to earn as much as possible on them, but the shocking news is only a few are able to succeed and why? then follow these shocking reasons I have explained
1. Being Too Afraid To Take Risk
It was Muhammed Ali who said "those who are not courageous to take risks will achieve nothing in life" a lot of people have missed business opportunities because of fear of taking risks. For example, Giftalworld is an affiliate program that has been paying very effectively with just a registration fee of 2,500
imagine someone will be scared to invest 2,500 in a business that will yield him passive income and will make him succeed online in any business but will lose 10k to bet9ja. Hoping to win millions overnight
These kinds of people are the ones who easily fall victims to Ponzi schemes because once they hear put 2k and get 16k automatically in few hours everybody will jump in, and on getting to the end of the tunnel they will realize they have been scammed
Many people are looking for ways on how to succeed in online classes, but the plain truth remains, there is no way you would succeed online if you don't invest to start a business or likewise learning skills and strategies
2. Not Having Adequate Knowledge Of The Business
"Understanding a question is the first step to getting the correct answer for it" This phrase has an enormous impact on any business you may find yourself doing
Understanding a business gives you a great chance to perform well on it because when it comes to getting people do your business you can easily convince people by providing convincing answers to their questions
This is a condition that every person who has an online business faces. You can't know how to or enjoy doing every role in your business. That's why you need help from other people who have the skills you don't.
When I joined Dropshipping back then I thought I would make it out but it was so unfortunate that I couldn't earn from the platform because I dint have adequate knowledge of how the stuff works
But I won't say I was scammed I just dint have the needed resources to run the business perfectly, but notwithstanding I was able to learn something different from the videos guides that were sent to me.
So before you get involved with any business online or offline try to acquire adequate knowledge on how the platform works otherwise it may become a scam to you even when others are making money from it
3. Starting A Business With A Wrong Reason
Another reason for business failure is often tied to the reason the owner started the business. Is your primary reason for starting your own business the desire to make a lot of money? Do you think that if you have your own business that you'd have more time with your family? Or maybe that you wouldn't have to answer to anyone else?
While those are benefits some successful entrepreneurs achieve after years of hard work, they are not reasons to start a business.
The right reasons for starting a business – reasons that lead to building a successful company include these:
You have a passion and love for what you'll be doing and strongly believe — based on educated study and investigation — that your product or service would fulfill a real need in the marketplace.
Having drive, determination, patience, and a positive attitude. When others throw in the towel, you are more determined than ever.
Failures don't defeat you. You learn from your mistakes, and use these lessons to succeed the next time around. Studies of successful business owners have shown they attributed much of their success to "building on earlier failures;" on using failures as a "learning process."
4. Broke Mentality
Having that broke mentality is the worst enemy to any successful business, its better you are broke and dont have money in your pocket or bank account currently to settle issues than having a completely broke mentality and thinking below your potentials
A person with a broke mentality always settles for less with no motivation to improve his/her business to the next level, they reason in a very Myopic way which is very unhealthy for the progress of any business
Below are underlining traits of people who are blindfolded with broke mentality..
They Complain Consistently
Such people Never like to learn
They are always afraid to invest
Learning from their mistakes is not part of them
5. They Don't Read Instructions
One of the challenges I have faced dealing with people online is they don't read instructions. it no doubt Nigerians don't like reading much online and hardly reads instructions
Many graduates have lost job opportunities because they always fail to read instructions, we always like doing things sharp skipping the necessary and most important steps we could have followed
When it comes to reading instructions, first ask yourself why you aren't doing it. Then think about your past experiences and what you might have missed from not reading directions.
Throw in the possible risks if you do/assemble something without following the instructions. If that's not enough to guilt you into it, make a pact with yourself to at least glance at the instructions.
Below are some common crazy reasons people don't like reading instructions
We think common sense is enough
They prefer making phone calls when everything is already explained in text
The lack of reading habit we have is really a big challange, we don't really take time going through something that will give us a better information
When it comes to reading instructions, first ask yourself why you aren't doing it. Then think about your past experiences and what you might have missed from not reading directions.
Throw in the possible risks if you do/assemble something without following the instructions. If that's not enough to guilt you into it, make a pact with yourself to at least glance at the instructions. Knowledge is power
6. They Think Everything Is Scam
It has become so obvious that Nigerians don't like investing in something that has to be done online, they so much believe in the status-quo that anything done online now is scam nobody whats to look for creative business ideas online
there is a common notion now that "school na scam" even students are not motivated to study further again
Yes people have been scammed so much online but that doesn't mean everything online is scam, in fact, there are business opportunities you could invest online that could generate passive income if you are determined and optimistic about what you are doing
In my opinion of business failure statistics, 80% of people scammed online are people who go out looking for getting rich quick opportunities, they fall victims to Ponzi schemes that promise millions overnight and they end up losing their hard end money to scammers
Like I said before, Nigerians don't read and follow instructions but they are very fast in calling everything scam, complaining unnecessarily, and end up getting frustrated when something doesn't work out as expected
In our Current Century, the world has gone Digital and technology is fast developing, In a country where thousands of graduates are being produced year in year out with few job opportunities for them
Even the ones working, their salaries can not sustain them, so change your mindset and get yourself engaged with something online
If you are not making money online sell your smartphone and buy radio from aboki. lol
Conclusions: Business Failure: Shocking Reasons People don't Succeed Online
Some people like to say that entrepreneurs are born, not made — that you either have the talent to start a billion-dollar company or you don't. But some of the most famous and successful entrepreneurs in the world struggled to find their way. I challenge you to think of business ideas to start today
SEO Content Writer with over 4 years of experience in On-Page SEO which gained me an award for excellence.
This is my web space where I share helpful guides to help you earn money legitimately.
I register brands with CAC, create websites and offer Business Consultancy services. For business deals, contact me