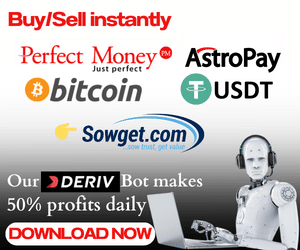 Launching your website can be stressful and overwhelming. It doesn't matter whether it's a personal blog or a business website, the issue is still the same: you need to start promoting your site so real, human visitors can find you and enjoy your content. Anything can go wrong while launching a website. Even for the experienced, it can prove to be a tough job.
This post will give you a game plan for what you need to do when you're ready (or almost ready) to launch your site so that you can avoid some of the problems I had
What Does It Mean To Launch A Website?
Launching your website simply means making your website/blog known to your friends as well as family members. there are many ways you can launch/promote your website e.g in Nigeria here you can promote your blog/websites on top sites like Nairaland, Lindaikejis, BellaNiger et..
10 Considerable Factors Before Launching Your Website
Below are important factors you should always ensure tohave in place before launching your blog/website
1. Setup A Pre-launch Page
Just because your site isn't ready for visitors doesn't mean you can't start promoting it. In fact, promoting your site with a pre-launch countdown can generate even more interest and enthusiasm than promoting it after it's launched.
2. Speed Is Important
In a recent study done by Google, slightly more than 70% of pages on Google took a load time of seven seconds. This means that if your site is speedy you are way ahead of others. The reason why speed is crucial is that it retains your visitors.  Bounces will destroy your SEO. 
If you're having trouble with SEO visit serpbook.com for detailed information. Research suggests that more than half of mobile users leave a page if goes past three seconds to fully load.  
To increase the speed of your site, lower the many elements that can increase the loading time. To test your site's speed use Google's test my site tool.
Read Also:
Understanding And Writing Evergreen Contents That Rank
Important Facts To Consider Before Buying Google Adsense Account
3. Mobile Friendly
Most users nowadays access the web through handsets more than ever before. With the integration of technology, many people own smartphones that can basically do anything.
More often, people around the world use mobile to browse the internet than they use computers. With this change, Google has also encouraged site owners to optimize the user experience for mobile users.
Sooner or later, Google will start to index and rate pages based on mobile user experiences. Ensure your website is designed responsively so as to cater for both computer and mobile users. Also, improve your overall design for the mobile by making it easier to navigate. This will give you higher conversion rates.
5. Create Amazing Contents
To gain attraction to your site, you'll entirely depend on content marketing. It is not easy to keep up with speed during your first few days after the launch as you'll be needed to produce and market content regularly.
If you prepare enough content beforehand, it can save you trouble. It is through content that you are able to target keywords effectively. And blogging provides the fastest and easiest way to do it.
Before you launch, write several (minimum 3, preferably 10) pieces of amazing content. If you can shoot for 1,200+ words per piece, you have the best chance of ranking in the search engines, and the best chance of getting links to your site.
6. Create A Way For Visitors To Sign-up For Email Notifications
An email list will give you a way to connect with your visitors, even if they never end up on your site again. Sign up with an email marketing service like MailChimp or AWeber, and then use one of their pre-designed templates to add an opt-in box to your site.
Remember to give visitors an incentive to join your list; for instance, a free ebook or guide that offers valuable information to your target audience
7. Upload XML Sitemap
An XML sitemap is a document that provides the search engines with a listing of pages and posts on your site. It allows Google to crawl your site more efficiently, meaning your content could be indexed more quickly.
If you have a WordPress site, you can download and install the Google XML Sitemaps plugin. If you use any other platform, you can create a sitemap using the XML Sitemaps generator, and then upload it to the root directory of your site (e.g., www.yoursite.com/sitemap.xml).
8. Learn About SEO
While you don't need to be an SEO expert to start ranking in the search engines, it is important to have a few basics in place. A few of the most important elements to have in place when you launch your site are:
Use your keywords (words and phrases you want to rank for) in strategic areas of your page: your navigation bar, your title tags, post titles, header tags, alt image tags, etc.
Consistently add original content.
Build links to your site
Make sure your URLs use words instead of numbers or symbols (this is referred to as your permalink structure).
Make sure your site is mobile-friendly.
If you have a WordPress site, start by downloading and installing a plugin like Yoast SEO. This will ensure that you at least have the basics covered.
9. Submit Your Site To Google Search Console And Install Google Analytics Plugin
The two will help you with analytics which is crucial to your SEO growth. This helps you understand how your content is performing. Then you will use this information to correct your mistakes or even optimize your site for some keywords. With these two tools, you can also track how users find and find use your page.
10. Manage And Learn On-Page SEO
For a new website, you don't have to wait until you run an audit on SEO to start optimizing on-page SEO. Start by picking keywords from each page. This will help you to drum your interest over time.
You can also write title tags best suited for search engines. Ensure each page has a unique title. Title tags are usually shorter, containing 50-60 characters. Beyond 60 characters the search engines slash the rest of the characters, hiding crucial keywords. Instead, use short and sweet URLs when you're building pages.

In addition, optimize for Google image search results by adding images to your pages, creating customized graphics and adding them to your blog posts. Stencil and Canva have proved to be great sites to customize your graphics.
When uploading your images, add texts that are rich in keywords. Making topics of your pages very clear reduces bounce rates. Ensure you use target keywords in the first 100 words of your content.
You can include external links too. When writing new articles, add at least two internal links to articles in your blog.
Read Also: 6 Differences Between Windows and macOS
Conclusion: 10 Considerable Factors To Check Before Launching Your Website
Hope you found this article amazing, if yes why not give it a thumbs up by sharing, don't forget to subscribe so as to get more informative content like this
SEO Content Writer with over 4 years of experience in On-Page SEO which gained me an award for excellence.
This is my web space where I share helpful guides to help you earn money legitimately.
I register brands with CAC, create websites and offer Business Consultancy services. For business deals, contact me