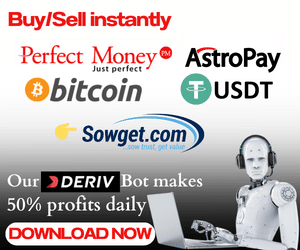 Welcome to my Firsage BUSD review, this article review will walk you through everything you need to know about the Forsage BUSD smart contract. If you are planning to join the platform soon kindly read till the end to find out if Forsage BUSD is legit or a scam before you proceed with the Registration.
We have already witnessed most of these smart contract schemes last year who had come and gone, the likes of Forsage Ethereum cryptocurrency, Lionshare smart contract, Fortron smart contract, Bank of Tron and the rest all came and gone because they lacked sustainability, and many invested and gained while others invested at ended up on the losing side.
It becomes imperative to understand the mechanism behind these smart contracts and how they operate as well as how members could make money from the platform. That is why I will do a simplified breakdown for those who may be joining this smart contract for the first time.
What is Smart Contract?
A smart contract is a contract existing between buyer and seller that is documented with codes, these codes exist as a decentralized blockchain network.
The major feature of a smart contract that makes it stand out from the rest is once it is deployed, it can not be hacked or neither can earnings be manipulated. It will interest you to know that the admin of any smart contract has no authority over members' earnings and can not manipulate the system and even when the platform crashes, your earnings remain safe in your wallet.
What is BUSD (Binance USD)
BUSD Binance is a dollar stable coin that is backed by Binance, one of the world's largest cryptocurrency exchanges.
It gives users the ability to transact with digital and blockchain-based assets while minimizing vitality risk.
The Binance USD was created as a way to improve the decentralized financial ecosystem by the use of a frictionless ecosystem global network which allows digital assets to increasingly add accessibility, flexibility, and speed to transactions.
About Forsage BUSD Smart Contract (Review)
Forsage BUSD is a platform built on a smart contract chain. That means the policy has been bonded by coding and can't be changed or altered. This simply means no one is in control of the money that flows in the system and there is no third party to manipulate funds.
All payments or bonuses are automatically issued out to members of the platform via new signups or level upgrades.
How Forsage BUSD Works
As I explained earlier, Forsage BUSD is a smart contract platform built on the Binance smart chain (BUSD) it uses a stable cryptocurrency called BUSC as its means of transaction. Meaning once you get registered via BUSD you will make money in BUSD.
The Structure of Forsgae
Forsage has  main sections which are X3 and X4
But before that, it is important to understand the following;
Levels: Levels are like stages, the next is always higher than the previous one and is sequentially arranged. So your earnings increase as you move from one stage to another
Slots: This is the number of times you can get earnings on each circle on a particular level
Forsage X3 Program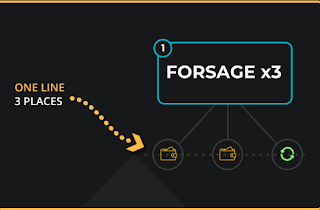 This department is generally centred on referral profits and it has 12 levels and 3 slots (positions) under each level.
Once you move on to a level you earn continuously till you reach the final level (12). The amount of BUSD you earn on a level is twice the amount you earn on the previous level. Impressive right?
Force X4 Program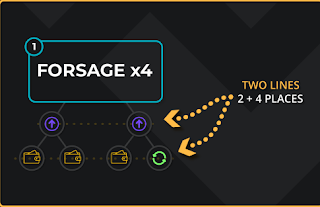 This is the department where the system works for you whether you refer or not. this is the part where you enjoy spillovers and overflow (without referrals), it has 12 levels and 6 slots positions on each level.
Conclusively, on X3 you can get 3 times earnings on each circle while on X4 you can get 6 times earnings on each circle.
the circles are endless on each level when it comes to Forsage, that is; after one circle ends you can earn again and again on one specific level up t 100 times.
How To Make Money On Forsage BUSD
Having explained what Forsage BUSD is all about, kindly follow the guide below you will understand in detail how to make money on Forsage BUSD smart contract.
On Forsage BUSD you earn in 3 major ways
1. Referrals
You can invite your friends to join the platform with your referral link and get paid instantly for each level they register and buy accordingly
2. Spillovers
Spillovers are bonuses distributed to members of the team when there are lots of recruit or new prospects joining the team, in order words a team that is not referring or bringing in new people cannot generate spillovers, that is why it is always advisable to join and work with active team stars
3. Overflows
Overflow are bonuses you will get when someone has earned a cycle on a level and refuse to upgrade to the next level, when this happens the person who refuses to upgrade misses his profit and it goes to the uplines above as overflow.
How To Increase Your Earnings Massively
To earn massively and grow like a team kindly ensure the following
Join through a hardworking community and team of friends
Work very hard and earn
Refer friends to join through your link and increase your network
Always remember the whole work doesn't fall on you, in the long run, there is massive profit for all the team members
Profits Associated with each BUSD Level
Now these are the profits that you earn on each level and also the amount of BUSD you will use to upgrade that level
Level 1 bonus is 5 BUSD
Level 2 bonus is 10 BUSD
Level 3 bonus is 20 BUSD
Level 4 bonus is 40 BUSD
Level 5 bonus is 80 BUSD
Level 6 bonus is 160 BUSD
Level 7 bonus is 320 BUSD
Level 8 bonus is 640 BUSD
Level 9 bonus is 1280 BUSD
Level 10 bonus is 2560 BUSD
Level 11 bonus is 6120 BUSD
Level 12 bonus is 12,240 BUSD
1 BUSD is 500 Naira
Forsage BUSD Registration
To register and become an active member on Forsage BUSD you will have to acquire the X3 and x4 slots which only cost 5 BUSD each making it 10 BUSD total.
Please note that the first X3 and X4 slots are always activated together and can not be purchased separately.
If you are convinced to join Forsage BUSD kindly WhatsApp Victoria on 0909630714
Where To Buy BUSD and BND For Forsage Registration
There are four simple ways to get BUSD and BND for your Forsage registration
TrustWallet
MetaMask
Binance Exchange
Token Pocket
Forsage BUSD Registration Fee
A total amount of N6,500 is required to join and become an active member
Forsage BUSD Review Website
You can access the Forsage BUSD Website here
Is Forsage BUSD Scam or Legit?
Forsage BUSD is a decentralized system and so nobody, not even the admin has power or control over your earnings, I have seen testimonies and evidence of people cashing out massively with this platform.
The platform is great and since there is no case of admin running away with people's earnings or money it is safe to join, Forsage BUSD is legit and not a scam, it is a good opportunity to create a team of hardworking members who can leverage the platform for massive profits.
However, Making money online is not for everybody. If it works for john it doesn't automatically means it will work for James so I always advise my fans. If you cant not refer or get a good team to work with you do not invest your money and time because, in the long run, you will still need referrals to earn.
Read Also;
How to buy and sell Cryptocurrency Asset with Grade. ng
Gateway.ng Review: Get Cheap Airtime and Data
Conclusion: Forsage BUSD Review & Registration: Are they Scam or Legit?
Conclusively, Forsage BUSD comes with lots of advantages, it provides a fixed value and cryptocurrency opportunities for you and me. I hope this Forsage BUSD review has been of help in walking you through the basics of how the platform operates.
If you are a member of Forsage BUSD kindly tell us about your experience in the comment box
SEO Content Writer with over 4 years of experience in On-Page SEO which gained me an award for excellence.
This is my web space where I share helpful guides to help you earn money legitimately.
I register brands with CAC, create websites and offer Business Consultancy services. For business deals, contact me