Creating or having a WhatApp TV is as easy as ABC but learning how to get more views on your WhatsApp TV is such a laborious task that many Whastapp TV owners fail to succeed.
In this guide, I will be providing you with some powerful Whatsapp TV strategies that work, and by the end of this article, you will be able to promote your Whstapp TV and increase your status view, So chill and let's ride in…
WhatsApp TV has become so popular these days and Nigeria is already leveraging on this trending money-making opportunity to make a decent income daily by entertaining people and making money.
I have mentored many Whatsapp TV owners who developed their TVs to have the highest Whastapp TV Views in Nigeria.
Most of my friends and business associates whom I have trained to Create a Whatsapp TV and monetize it are already making decent income from it. You too can be one of them if you have the deal and passion and willing spirit to learn how to increase your Whatsapp TV status views from a badass mentor like me.
I have a mixture of at least 2 Badass strategies to promote your Whatsapp TV to attain higher views, One fascinating thing about having high TV views is that it raises your chances of making more money from adverts.
How To Get More Views On A WhatsApp TV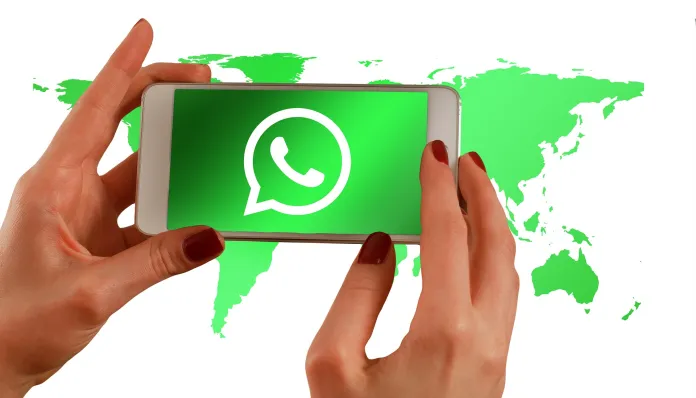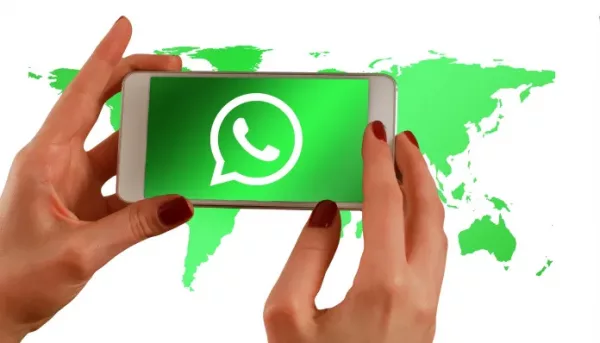 Success is a slow process, so, don't ever think these strategies will just give you quick results in a week. You have to show consistency and desire before things will work out for the best.
Below are my working tips to boost your Whatsapp TV views in Nigeria.
1. Get a Good TV Name, Logo & Watermark
You are addressed the way you are dressed, Before aiming to attract viewers on your Whatsapp TV, ensure to get a Good TV name, not too hard to pronounce, and always avoid tribal names, this is the first secret to channelling your TV for a larger audience.
Next is to hire a professional TV logo designer who will redefine your TV with a Classic logo, ensure to state a small description of your TV with respective phone numbers and social media handles if any.
Next is to get a classic watermark for your TV. The watermark polishes your TV and gives it a new look, this breeds professionalism and people viewing your status will perceive that you are a professional in what you do.
Although most TVs don't use a custom watermark, they prefer doing a name writeup on the Videos or pictures they post
If you are on a low budget, you can skip the custom TV watermark for now and just go with the TV name writeup on all your posts.
2. Join Other WhatsApp TVs in Your Niche 
It may sound off point, but joining other WhatsApp TVs, especially those bigger than yours also acquaints you with basic ideas on how to develop your TV to get more viewers.
Furthermore, Many WhatsApp TV owners get their memes from Twitter while others depend on other TVs to get means, all they do is save up and repost on their TV.
3. Post Engaging, Informative & Entertainment Contents
Never underestimate these 3 key phrases. Your TV should be a business you strive to grow every day so, always post informative and engaging content that will help your audience to spark action.
Your Whatsapp TV shouldn't be passive but rather consider it as a forum, and by posting engaging content, I mean content that will trigger your viewers to comment, reply or bring out their views, ideas, or suggestions in regards to a post that is made.
Another good technique is doing WCW and happy Sunday posts where you ask your viewers to drop their Sunday outfit pictures with names and respective locations while you collect them and repost, wishing them happy Sunday.
If you can do all these things well and have an engaging WhatsApp TV community, most people on your contact lists will refer your TV to friends and tell them how fascinating your TV could be and before you know your views will receive a massive boost.
This is a big advantage as it will save you the cost of running Adverts on other TVs.
4. Promote Your TV on Other TVs Bigger than Your Own
This is where investing money comes in, You can also promote your WhatsApp TV with other TVs in the industry that have already gained higher views with a larger audience.
Before you advertise on any TV, confirm from other TVs how big their audience is, and nevertheless, ensure to create a captivating Ad about your TV that will make people click on your link.
Nowadays Video-based Ads have a higher conversion rate so always ensure your Ad is video-based with a text description added to it
5. Do Referral Contest
This is the latest strategy to increase your WhatsApp TV views fast and since then, many TV owners have already taken fast action with this strategy.
To increase your status views, you can also organize a monthly referral challenge. All you have to do is notify members of it before the commencement day to raise their curiosity, don't forget to hire a professional designer who will give you the best design for your referral contest.
You can ask interested members to send their names so you can generate a personal referral link for them before the referral challenge keeps on.
Star prizes are meant to be motivating and captivating enough so always aim for bigger prizes such as 50k for 1st winner, 30k for the second winner, and 20k for 3rd winner.
Never run a TV referral contest and set the price only for 1 winner as it will discourage others from participating.
6. Channel Your TV To Cover Recent Happenings
Sometimes people want something more than just seeing your memes with Watermark every day and this is where you have to be creative enough.
Now let me give you a trick, Big Brother Naija (BB9ja) Season 6 has just started and we all know how Nigerians could to hungry to watch this TV show.
Some are even crazy to the extent of staying up late just to watch BB9ja housemates sleep at night. Now you get the point right!!
Almost everywhere in Nigeria now, BB9ja is the most talked-about show and people are buying fuel every day to power their Generators to stay updated with this show.
But what about those who don't have a Television set in their homes and can't have access to watch it on TV? That is where your Whatsapp TV comes in my friend.
You can hype your TV and channel it to cover all trending updates on Big Brother Naija, tell your viewers to bring their family and friends to your TV as you will be giving them live updates and direct.
All these minor things contribute to promoting your WhatsApp TV to get higher views and before you realize it you must have had a large audience over some time.
7. Do Confession Nights
Sometimes people want to get freaky and ease off the burden. offering confession nights on your TV may ease the burden and create a better engaging WhatsApp TV community.
Although this may not be acceptable for everybody, the choice is yours to make.
The above strategies work best if you wish to gain more organic status views on your TV. However, there are other strategies people adopt to increase Status views which we are going to look at now
How To Get More Followers On WhatsApp (2nd Strategy)
Below are some other strategies and tricks people use to gain more followers and views on WhatsApp TV.
These strategies involve using Apps and websites to gain followers and increase WhatsApp Views. However, I can not guarantee the reliability and credibility of these Apps and Websites
1. Genix Booster
Genix Booster is a project aimed at seamlessly allowing users to increase their WhatsApp status viewers or to increase the number of participants in a WhatsApp Group.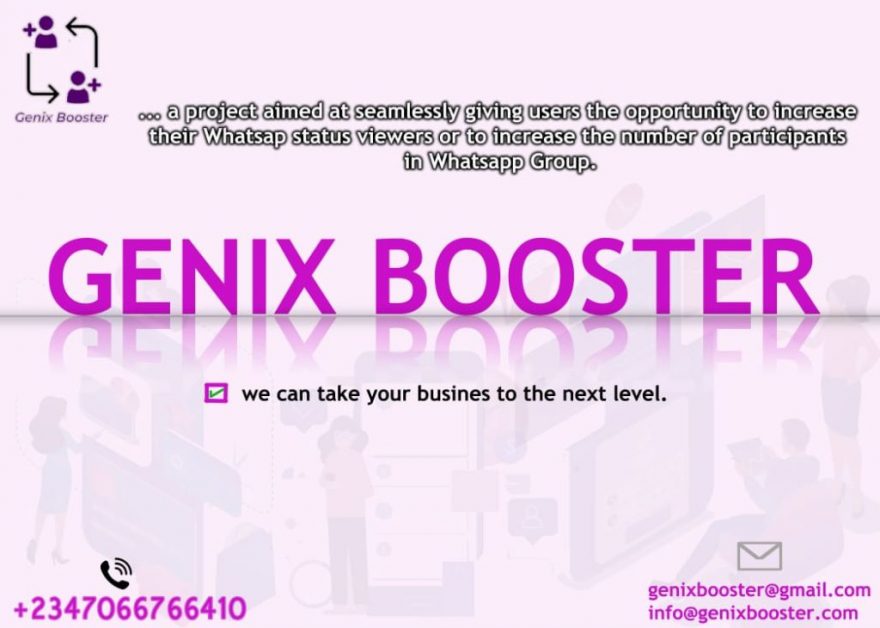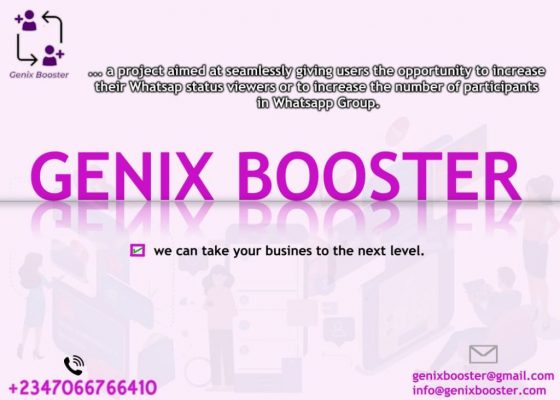 this website is a creative project built to help you build a large WhatsApp audience base or help market your WhatsApp group in an automated manner.
Recently, people have been saddled with the difficulty of getting larger audiences that will patronize their products or services.
To use Genix Booster you will have to visit the website, add your phone number and after that, click on it to display a list of all available persons ready for interaction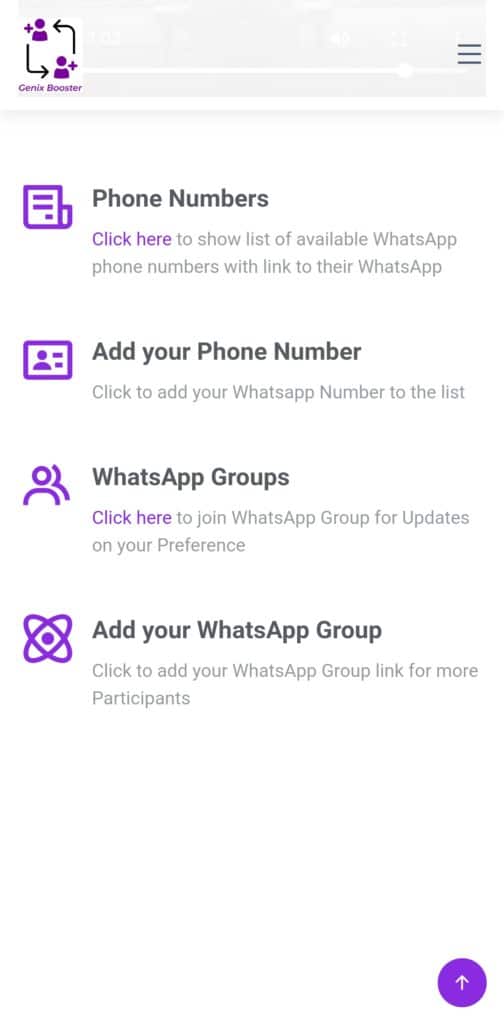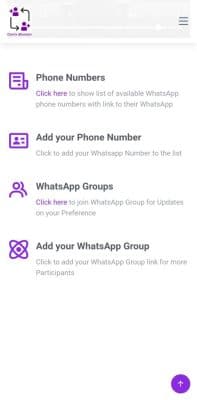 You click on any of the available persons. It takes you straight to their DMs. Alternatively, you can click on Add your phone number.
It displays a section where you can input your phone number and the name you want to be displayed.
Once submitted it automatically enters the list. It helps people locate you and connect with you easily every day.
2.WhatsAppStatusViews.com.ng
This is virtually one of the most used websites to increase WhatsApp status views. It's very simple to use. All you have to do is submit your phone number on the WhatsappStatusViews website and come back by 9:30 pm to download your assigned VCF file.
On the website, you will be asked to provide your phone number and other relevant information that relates to your TV, and then you will pay a fee and sit back while they do the promotion work.
3. Wassapviews.com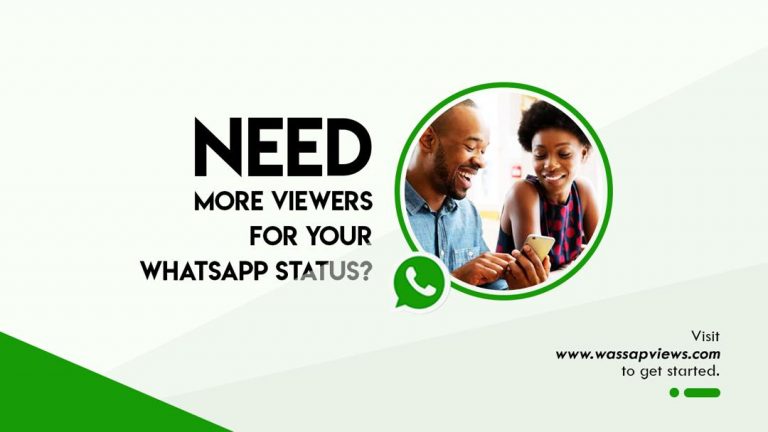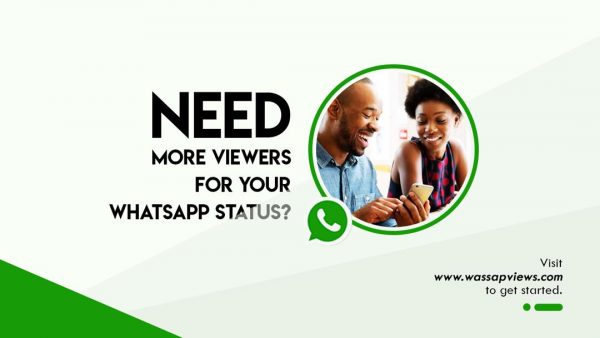 You can now grow your WhatsApp Audience and Views as You and other participants get to save each other's contact in just one click.
All you just have to do is visit the website and download the VCF file.
When you download the files, you have to install them and the contact assigned to the file will be saved automatically on your phone.
Some folks have claimed wassapviews.com worked for them so it is up to you
Lastly, Wassapviews also have a premium version that's only for N200 which is suitable for TV owners.
How To Create a Referral Link on WhatsApp
Whether you are a TV owner or a product seller, creating a unique WhatsApp referral link breeds professionalism and it is the first step towards making sales and building your audience as the case may be.
If you are looking for how to achieve a referral link to WhatsApp, you may want to generate the link
Wa.me Link Generator
Wa.me website or tool is one of the common and best link generators for different purposes, It could be a Whatsapp TV or a sales funnel where you are targeting your products.
The fascinating thing about the Wa.me link generator is that it automatically shortens link URLs for better results.
This functionality is called "click to chat" and as you don't have to save anyone's phone number to message them, it simplifies interaction.
Even so, creating WhatsApp links is not user-friendly and occasionally takes more time than expected. That's where Wa.link comes in, it provides a tool that you can use to generate shortened WhatsApp links, along the wa.me link domain. This will increase your chat conversions, and it's free!.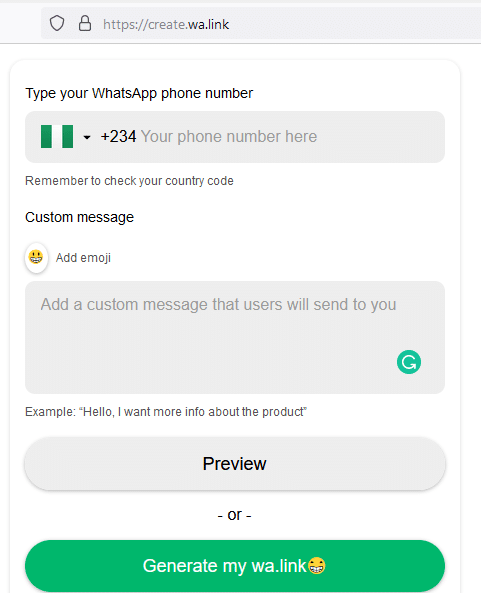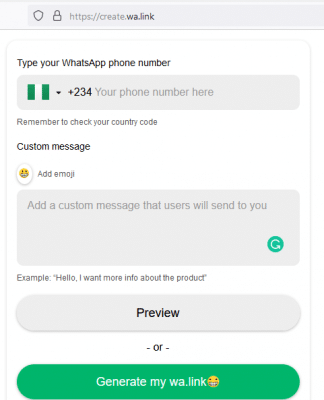 To use the Wa.me Link generator, kindly visit the website type your phone number with a description of your choice and click on generate my wa.me link
So Which Strategy Should You Go For?
I don't like people coming to My DM pleading with me to save up contacts, this looks like bot and spammy messages and I just ignore them.
To me and so if you ask me, the first strategies I gave above are the best and you are going to get real followers and viewers to your Whatsapp TV.
However, you can choose any strategy that works best for you
Mistakes Many WhatsApp TV Owners Make
Below are some common mistakes many Whatsapp TV owners make daily that kill the growth of their WhatsApp TV and you should ensure to avoid them.
Inconsistency
Lackadaisical Attitudes Towards Running Promotional Ads
Inability to post engaging content
Rude Manners to the audience
Must Read:
Whatsapp TV with the Highest Views in Nigeria
Become a Facebook Content Creator
Conclusion: How To Get More Views On WhatsApp TV
In conclusion, If you have a big WhatsApp TV, you should be able to make 10k to 15k daily from Ads or even more.
Was this guide helpful?, have you learnt how to increase WhatsApp Status views the right way? drop your comments below
SEO Content Writer with over 4 years of experience in On-Page SEO which gained me an award for excellence.
This is my web space where I share helpful guides to help you earn money legitimately.
I register brands with CAC, create websites and offer Business Consultancy services. For business deals, contact me