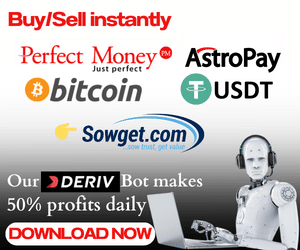 In this guide, you will discover everything about PayPal proof of address documents verification and why Paypal will ask you to verify your identity.
Paypal is drastically changing day by day with more innovation in technology. It is through these upgrades that the advent of document verification came about.
We all know that PayPal is banned in Nigeria. However, we have devised a means to create a verified PayPal account that can send and receive funds worldwide.
People have been using PayPal to make various transactions seamlessly for a while now but the integration of PayPal proof of address documents has brought nothing but anguish to all PayPal users.
PayPal Proof of Address Documents
PayPal released an update recently integrating the proof of address verification. Before now you can create UAE, Lesotho, South Africa PayPal account, verify it and link your bank card details. You can do all these without PayPal asking you to proof documents.
These days, PayPal has changed its policies by making address verification compulsory for all PayPal business accounts.
Showing proof of Address documents is compulsory for all PayPal users creating a business account with PayPal. Unless this document is provided, you can not proceed from that stage to another.
What is PayPal Documents Verification?
PayPal documents verification is verification that PayPal ask you to verify your account PayPal account by providing a document that proves the address of your business account.
You will have to provide any document that carries an address associated with the one on your PayPal account. In this situation, you can submit your NEPA bill, or any Bank financial statement or cell phone bill. with PayPal to verify your account.
However, you should ensure the address on your Bank statement or electricity bill matches with the address on your PayPal account otherwise, your application will be rejected.
Nevertheless, PayPal proof of address verification is only associated with business PayPal accounts. Individual PayPal accounts are excluded.
Even if your PayPal account is an old one, there are situations where Paypal could ask you to provide these documents for verification.
This may include documents to provide your identity, address, recent name change, or business documents.
If you are using Utility bills, ensure the document is not older than 3 months.
Why Does PayPal Need Documents To verify Address?
By default, on creating a new PayPal business account, you will be asked to provide documents for address verification.
Even if your PayPal account is old that is working perfectly well PayPal may still ask you to provide these documents for address verification.
Below are the strong reasons PayPal may want to verify your business address;
PayPal can ask you for document verification when you have done too many GnS transactions.
If there are suspicious activities in your account.
When you have too many chargebacks on your PayPal business account, you will be asked to provide address documents.
When your transaction exceeds your daily PayPal limit of transaction.
Conclusively, PayPal Proof of address document verification is not something you should panic or even run away from because I strongly believe almost everyone can afford to get a utility bill to very this address stuff.
Fake Documents For Paypal Verification
Unfortunately, not everybody can be able to get the aforementioned documents to submit to PayPal for verification. If you are in that situation, Obviously, you will be looking for fake documents for PayPal verification.
I am glad to inform you that alternatively, you can carry out a fake proof of address for Paypal and get verified without getting caught.
To get fake documents for PayPal verification:
Simply search for random documents on Google, and download them on your phone.
Ensure the pictures and words are clearly written
Edit those documents with Microsoft Word and Corel Draw so as to make the address correspond with one of your PayPal business accounts.
Proceed and submit the documents to PayPal and wait for their reply
Once you have done all these, wait for and after 2 to 3 days PayPal will send you a reply.
In Addition, you can use this fake document verification trick for all kings of verification with PayPal.
Read Also: How To Verify PayPal Without Bank
Conclusion: PayPal Proof of Address Documents Verification
In Conclusion, This PayPal address verification is very important, even if you have pending money in PayPal it will be impossible to withdraw it when you have not carried out a successful address verification.
Do you have issues verifying your PayPal address or was this PayPal proof of address documents verification guide helpful?
Let's read your comment below.
SEO Content Writer with over 4 years of experience in On-Page SEO which gained me an award for excellence.
This is my web space where I share helpful guides to help you earn money legitimately.
I register brands with CAC, create websites and offer Business Consultancy services. For business deals, contact me