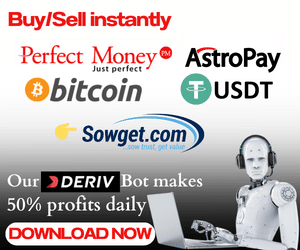 Welcome to my Dataway.ng Review, this article will walk you through everything you need to know about Dataway airtime and data platform, how it works, and the possible ways you can be making money from dataway.ng.
Nowadays, everyone needs data to come online daily to get access to trending stories, news, memes, and the rest. People are graduating migrating from buying newspapers to reading, watching news online and that places a big desire for data.
Nigerians are estimated to have the highest data usage rate compared to other African countries. The evolution of Whatsapp TV's alone has made many newspaper agencies have a massive drop in revenue.
A smartphone without data is considered useless as most people browse more than they make and receive calls in a day, that is why the rationale behind dataway came about so as to enable Nigerians to get affordable data offers that they can use to browse and enjoy their browsing.
Dataway at the same time provides an opportunity for members to also earn from the platform from the referral system while they also get double data on subscriptions.
About Dataway.ng (Review)
Dataway is a vending platform that offers virtual products such as mobile data/airtime, internet subscriptions, bill payment, electricity, Cable TV, and more. We also provide earning opportunities to our subscribers with extra cash of 50% referral commission + Free internet data and monthly rewards.
Dataway is a Godsent opportunity, it is not read news to get paid website or a Ponzi scheme that requires you to pay a certain amount of money and get back double within few hours.
How Dataway.ng Works (Review)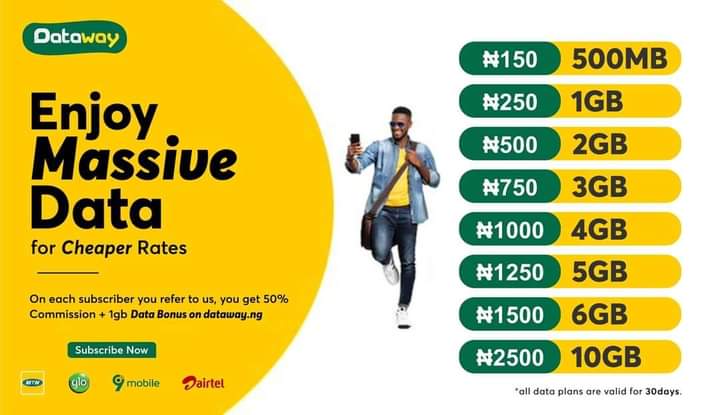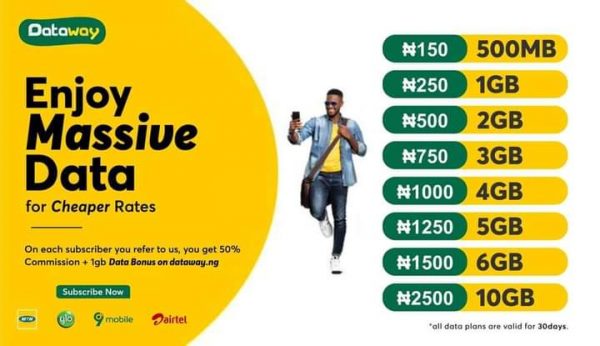 Why I focus more on dataway is because it offers a quick value, including what we can never do without (data), even if you are into cryptocurrency, you still need data to access the internet, and that is why I have chosen to focus more on dataways and hustle out.
Below is how dataway.ng works
First Month Subscription (2000MB cost ₦2,000)
On your first Month's subscription, Dataway offers you earning opportunities and valuable data of 2000 megabytes/2GB. At the same time, your referral gets a ₦1,000 referral cash bonus and a 1000 megabyte/1GB data bonus. If you also choose to promote us and refer more subscribers to us, you will also earn a ₦1,000 referral cash bonus and 1GB extra data per referral only on MTN service for now.
2nd Month Subscription (4000MB cost ₦2,000)
On your renewal for a second-month subscription, we offer you earning opportunities and valuable data of 4000 megabyte/4GB, while your referral gets a 1000 megabytes/1GB data bonus. If you also refer a subscriber to us who renews his or her subscription, you will also get 1GB extra data only on MTN service for now.
From 3rd Month Subscription (6000MB cost ₦2,000)
From your renewal of a third-month subscription and beyond*, we offer you earning opportunities and valuable data of 6000 megabyte/6GB, which is the actual value for your subscription fee of ₦2,000 monthly. This is more affordable than buying a 6GB data bundle directly from MTN, costing you ₦2,500 valid for 30 days.
However, you will get less value of the subscription fee in the first two months because we offer you earning opportunities and pay you referral commissions. While you enjoy our complete offer from the third month and beyond If you choose to promote us and continue referring subscribers to us, you will continue earning a ₦1,000 referral cash bonus and 1000 megabyte/1GB data bonus on each person you refer.
Summary and benefits of Dataway
You can become a member of dataway.ng with a subscription fee of ₦2,000 monthly.
As a subscriber, you will earn ₦1,000 referral commission + 1GB data bonus when they refer more subscriber to Dataway
Subscribers will get an additional 1GB data bonus for inviting each subscriber to participate.
Dataway offers a top referral monthly cash bonus between 10k to 100k
Dataway offers more juicy rewards for active monthly subscribers, including cash bonuses, gadgets and home appliances giveaways.
This is what telecom companies won't give you even when you have been active subscribing millions with them.
Dataway gives access to the cheap purchase of data/airtime and reselling, including other bill payment services. And lots more!
Dataway 1GB data bundle on MTN is sold at the rate of 300 Naira only, and all our data bundles are valid for 30 days. Including cheaper and more affordable data subscriptions on other networks and bill payment services.
Lets Do The Calculation
This trick will work the best for the referral gurus who can leverage this opportunity to get more subscribers to join the platform, even though referring is optional on dataway that is where the big share of the benefits comes from
If you are able to refer 10 people (subscribers) to dataway you will enjoy the following benefits
₦10,000 bonus/commission which you can withdraw as cash to your bank
10,000MB MTN data bonus + 200MB (MTN) bonus which will make a total of 1,200MB (12GB) valid for30 days
If you are able to buy 12GB MTN data, it will cost you over 4k but you will be able to get it with an extra 10k commission with just a 2,000 subscription fee after registering 10 subscribers.
Dataway also provides access to reseller options to resell and make more profit.
Checkout: Chinese Giftcard Vendors WhatsApp Number
Note!!
Dataway is not for MTN users only. If you don't use MTN, you can resell your allocated data to MTN users like me, because I am buying or start using MTN.
SO far, MTN still offers the best services and more value with affordable data subscription prices.
Dataway.ng Registration
To register and become a member on dataway.ng Kindly visit their official website Dataway.ng fill in your required information and click on subscribe then you are good to go.
Dataway Subscription Fee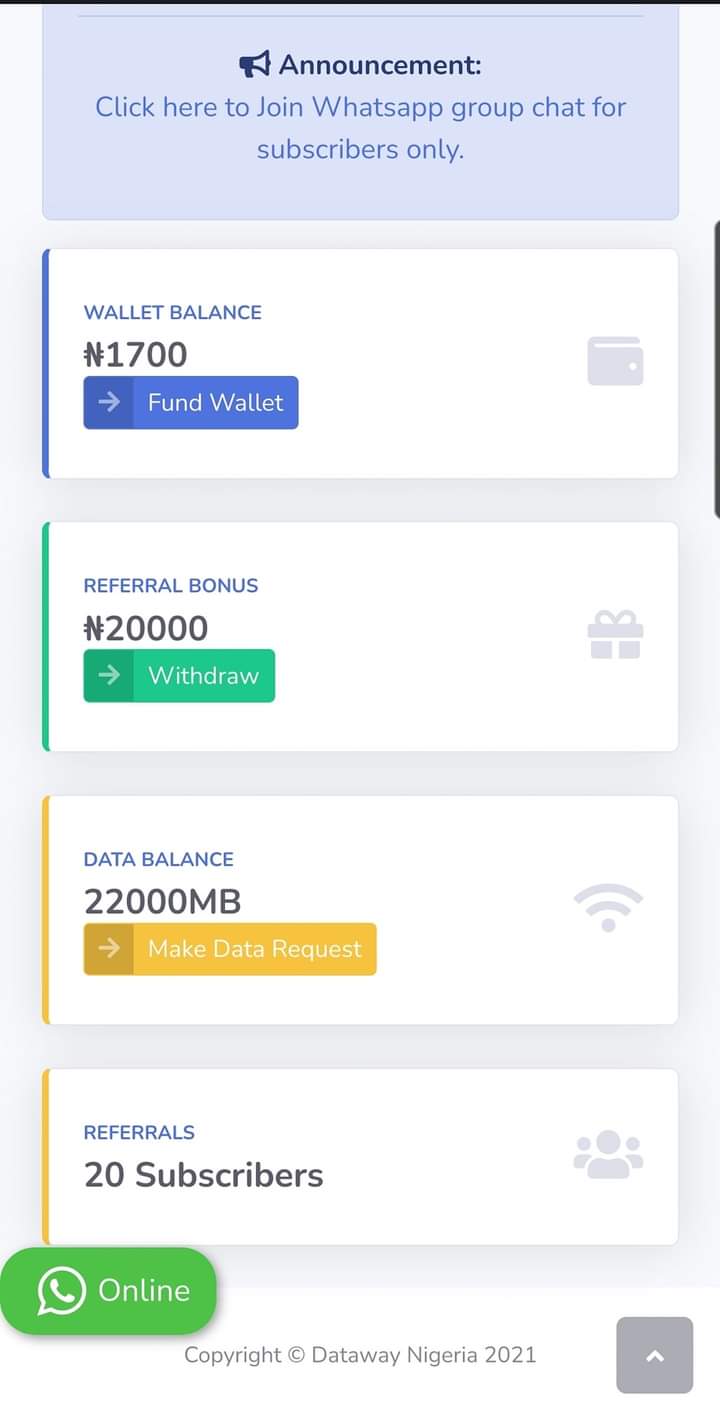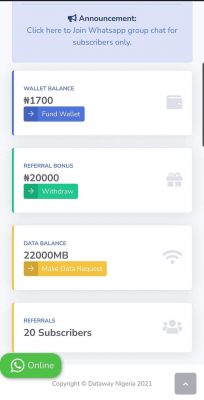 Dataway subscription fee is ₦2,000. You will have to subscribe with a subscription fee of just ₦2,000 and do note that this subscription only lasts for a month after which you will have to subscribe again if you wish to continue being a member.
Payments can be made online via Paystack
You can also register by the purchase of a subscription e-pin
Register On Dataway Now!!
Fill in your information and leave "Legacy" as your referral
You can select to pay with your card online or use information. (Your information is safe when you use your card.)
Dataway.ng Review: Scam or Legit
Dataway.ng is very legit and a trusted platform simply because it offers products (Airtime and data) that are indispensable to Nigerians. We make phone calls every day and browse the internet daily to connect with our loved ones, meet new people, and even for business purposes.
Over the years, these telecom companies (MTN, GLO, Airtel, Etisalat) have made so much money from us without us having to benefit as much as they do, Just like recharge and get paid, dataway provides an opportunity for every Nigerian to leverage in the telecom market, get double data and make money even as they make calls and browse the internet.
Datwaways (ng) FAQs
Below are some frequently asked questions on Dataway and respective answers
What if my subscription expires, can still buy airtime and data + other bill payments?
Yes. You can do other purchases and even refer other subscribers to us.
Are multiple accounts allowed?
Yes, anyone can register multiple accounts as they wish.
Can I register with a different network sim card?
Yes, that is not an issue at all.
How can I check my data balance?
You can check your data balance using *461*4#
How much is the minimum commission withdrawal?
You can withdraw your referral commission from ₦1,000 and above
How long will it take to get credited to bank account after withdrawal?
Payout process is almost instant. You will get credited within a few minutes to 24 hours depending on the transaction network.
Conclusion: Dataway.ng Review: How it Works
In conclusion, Dataway.ng Offers one of the best opportunities to leverage in the telecom market while making a profit at the same time. I hope this dataway review has given you an insight regards how dataway works and the subscription process
SEO Content Writer with over 4 years of experience in On-Page SEO which gained me an award for excellence.
This is my web space where I share helpful guides to help you earn money legitimately.
I register brands with CAC, create websites and offer Business Consultancy services. For business deals, contact me