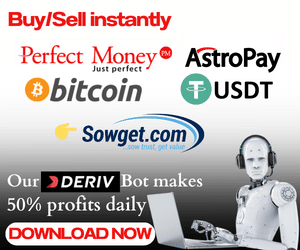 Flutterpay has emerged as one of the easiest places to make payment for all online activities, Flutterpay also enables you to receive money without having a bank account the system provides you with a dedicated account number once you register. In this flutterpay review you will learn how to use flutterpay for all online transactions.
Disclaimer!
Flutterpay operates different from Flutterwave and has no relation to each other, that is to say, both platforms are different although with both of them you can send and receive payments worldwide, and both are operated by different owners.
About FlutterPay
Flutterpay (which can be accessed with the website Flutterpay(dot)ng is an E-Payment platform created to help provide a fast and easy way to make a daily utility payment
In this Pandemic where people are restricted and forced to stay at home in other to save lives and help to reduce the COVID-19 epidemic.
Flutterpay offers you an amazing opportunity to pay for utilities just with one click at the comfort of your home it is indeed a leading e-payment platform, trustworthy and reliable and to be available in servicing customers at all times.
Online transactions with flutterpay are swiftly done without extra cost, payments across all vendors in this region are made easy and convenient for every user
One of the major priorities of flutterpay is to ensure that clients are at all times satisfied with flutterpay services and customer care is top-notch.
How To Use Flutterpay
If you are considering using flutterpay to make utility payments you may also wish to find out services offered by flutterpay
Below are services Top Services provided by Flutterpay
1. Bank Transfer
Bank transfer (or wire transfer) is a payment method that allows consumers to transfer money to a bank account around the world. The consumer is provided with a unique reference number and details of the bank account where they can make their payment.
With flutterpay, bank transfers are made very easy, it is no doubt that mobile bank transfer is one of the most used and essential services for making wire transfers in Nigeria.
Flutterpay provides a very flexible way for its users to make wire/bank payments effectively and conveniently.
2 Airtime And Data Top Up
When you connect a mobile phone to a network, you have to purchase credit that allows you to send texts, use data and make voice calls.
Flutterpay enables you to purchase airtime and mobile data at a very discount rate, airtime and data purchase are automatically done within 5 seconds which is one among the reasons you should consider using flutterpay.
3. Pay Bills
You can make cable TV subscriptions with Flutterwave ranging from DSTV, GOTV, STARTIMES.
People love to spend time at home and watch TV with their family but even though unfortunately many of them don't have the time for that because of the busy schedule at work
it becomes faster and easy to use flutterpay to subscribe for Cable TV, it saves you time and stress
You can also make electricity bills and other exam card pins such as WAEC, NECO & NABTEB scratch cards.
Since there is always a demand for scratch card pins from students writing that various SSCE examsyou can utilize and make the best use of flutterpay
4. Send Bulk SMS
Bulk Messaging is simply the process of sending messages to various clients whose phone numbers have been carefully collected and stored, this is done in other to pass urgent or vital information,
It is used by media companies, enterprises, banks and consumer brands for a variety of purposes including entertainment, enterprise and mobile marketing.
Flutterpay provides reliable bulk SMS services in Nigeria where you can get your message delivered to thousands of clients effectively
Is Flutterpay Safe? (Flutterpay Review)
Transactions on Flutterpay are 100% secure & safe, it provides one of the highest level of data encryption you could ever imagine.
So if you have not used flutterpay before, you should consider giving it a trial and see how amazing it will work out for you
Flutterpay Registration
Flutterpay registration is very simple and does not involve stress, all you have to do is visit their official site flutterpay after your account is created fund your wallet and start exploring all the good features.
Customer care support

In order to provide the best customer satisfaction to its members, below are flutter wave support contact information in case if anything should go wrong while using flutterpay.
Issues like failed transactions should be reported to them without hesitation.
Whatsapp Support
Whatsapp message only calls allowed
+2349066081599
Tech Support
Do you have a complaint or suggestion? Write to us @
hello@flutterpay.ng
Phone calls
Your transactions failed or having an issue with our product call us
09066081599
Conclusion: Flutterpay Review
Flutterpay is one of the easiest and most reliable ways to make utility payments. If you haven't used flutterpay before I think you should consider giving it a trial. flutterpay is the future for utility payment, however as of the time of writing this flutterpay review we are not certain if flutterpay has an app.
SEO Content Writer with over 4 years of experience in On-Page SEO which gained me an award for excellence.
This is my web space where I share helpful guides to help you earn money legitimately.
I register brands with CAC, create websites and offer Business Consultancy services. For business deals, contact me