Are You in the music blogging niche?, did you host files on your site but don't want to upload them directly to your host because your site is running on limited Space? You can use some third-party free music file-sharing sites to upload songs without registration.
There are many websites to upload files without registering online but in this post, we shall be listing the most popular and most needed sites to upload anonymously
With this method, You can also create a download site on Blogspot and your files will be secured with you.
The online platform is the fastest, most efficient way to share files and other documents with friends. This platform, however, faces a perennial problem of tracking and hacking into systems and accessing personal data. This is often done by government agencies or some other bad guys who mean harm.
Best Free File Sharing Sites To Upload Song Without Registration 2023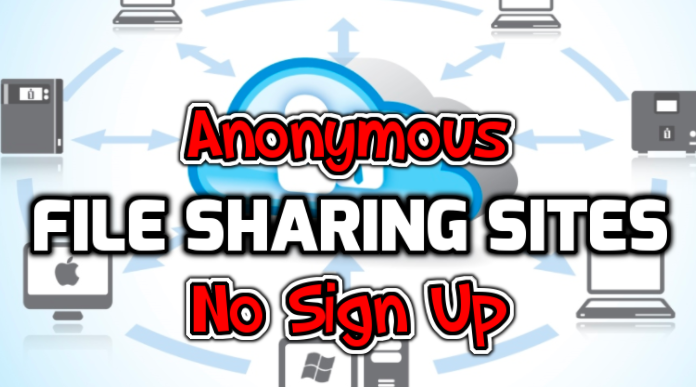 Thankfully, there are new and better ways to share documents with friends online with your identity and activity concealed. Here are some of the best anonymous file-sharing sites without registration. Share files via these platforms and be sure to stay ahead of the bad guys all the time.
1. Uploadfiles.io
According to UPLOADFILES.IO: We believe sharing your holiday snaps with your family shouldn't be a chore. So we fixed it. Upload unlimited files for free, without registration, and get a short sharable URL in return, instantly.
Free users can upload files up to 5GB and set them to expire between 1 hour and 30 days. Pro users can upload files up to 50GB and store them forever.
Every month, more than 5 million people use Uploadfiles.io to quickly and securely store, organize and share all their personal and professional data in the cloud.
This anonymous free file-sharing site without registration supports the drag & drop file upload option. It guarantees super-fast upload and download speeds.
That aside, all files and download links on this platform are password-protected, giving your content an additional layer of security. This website is so versatile and even supports file uploads via mobile handsets, tablets, etc.
Read Also:
How to Delete A Wayup Account
10 Considerable Factors To Ensure Before Launching Your Website
2. Send.firefox.com
You can Upload Files up to 1Gb and send them to your friends for easy download.
One bad news about this anonymous file uploader is that your links will expire in 24hrs after which Firefox will Eradicate it from their servers.
After this period of link availability, when users click on the link, Your links will be unaccessible as files have been terminated by Firefox.
This method is good for Sharing quick and instant files online. I am sure it also helps to upload files without registering.
All uploads are stored on local storage. The Firefox Send generates no cookies and does not store file logs. If you no longer want the shared files to be available for download, you have the option of deleting the encrypted link. The home page also shows you the time duration remaining to the expiration of the file uploads
3. Openload.co
the website was made to give any user the opportunity to share any file completely free! Sharing files with friends is made as simple as you ever imagined before.
Sharing files without any costs for our users.
Only display a limited number of advertising
Direct stream/access for most file types/codecs
Openload.co – Simplicity is our goal – just upload and share without any limitations! Reminder: There arent any paid features – Just use us!
4. Zippyshare.com
This is also another drag-and-drop anonymous file-uploading site where you can easily host and upload files without registering online.
This anonymous file uploaded is 100% free and there's no download limit to the files uploaded.
this free file and music uploading site without registration website can help you upload any type of file and you are only allowed to upload 500MB maximum file size.
With Zippy Share, file upload is done via the HTML uploader. You can also opt for the private upload option which makes the files accessible to select individuals.
It also gives you the option of drag & drop or even the selection option for uploads. All successful uploads generate download links that you can share with friends you want to share the content with.
4. SendSpace
The SendSpace is one of the best anonymous file-sharing sites with no registration. Unlike other file-sharing platforms, this one is very rich in futures and options.
You can share, send, receive and track your files with ease and convenience. It has a simple user interface that supports the drag & drops file upload technique.
It has no limits on the number of file uploads. You can upload as many files as you possibly can. It supports a maximum file size of 300MB, large enough to accommodate most of your common uploads.
You can even upload all files at once and separate download links will be generated for each. The links are generated for forums and embedding-HTML, depending on who you want to access the file. There is also a separate link that is used for file deletion.
5. ExpireBox
This one comes with very cool features making it one of the best anonymous file-sharing platforms. The Expirebox supports files up to 150MB in size and allows unlimited uploads. You have the option to share files via email or even send them to friends on different social media platforms.
All uploaded files generate download links that you can share with friends and colleagues who you want to access the files. For the safety and security of your files, the Expirebox automatically deletes any file after 48 hours.
The procedure for file upload is very simple and direct. You only need to choose a file and click on the upload button. You can also make use of the drag-and-drop option which is much easier and more convenient.
All uploads generate a pair of links, one for file download and the other for deletion. In order to further protect your files from unwarranted access, all the download links have the option of password protection
6. File Dropper
The File Dropper comes with super-fast upload speeds thus ensuring your files reach the intended recipients in a flash. It is compatible with all modern browsers and supports the drag-and-drop file upload option.
All file uploads generate download links which you can then share with friends and colleagues you want to share the files with.
Something I like about the File Dropper is that uploads can stay on their servers for an unlimited time. As a security measure, however, you can set time limits for the download links, so that after the specified duration, the links expire.
You can upgrade to the premium plan and enjoy even better benefits like large upload sizes and more security features.
It is very easy to upload your files onto the File Dropper platform. Just select the particular file and click the upload button. You can also use the convenient drag & drop option.
Read Also:
Writing Evergreen Contents That Rank
Requirements For Recharge Card Selling Business
Conclusion: File Sharing (S

ites To Upload Music For Free

)
Whenever you want to share files and remain unknown, I suggest you do so via an anonymous free file-sharing site to upload music with no registration. These platforms are custom-designed with features that deter tracking.
They do not support sign-ups, except for premium plans, thus ensuring you can share files and still retain your anonymity status.
We have sampled some of the best anonymous free file sharing sites without registration. Compare the different package features they offer so as to get the very option that suits you best.
SEO Content Writer with over 4 years of experience in On-Page SEO which gained me an award for excellence.
This is my web space where I share helpful guides to help you earn money legitimately.
I register brands with CAC, create websites and offer Business Consultancy services. For business deals, contact me