Opay has been one of Nigeria's largest fintech. An average Nigerian now owns an account with Opay just to diversify the basic need of making transactions. Just recently, Opay announced it will be giving out ATM debit cards to users. In this guide, you will discover how to get and also activate your Opay debit ATM card from anywhere around Nigeria

In any innovation made, Opay agents are always at the forefront taking the largest share of these benefits. If you are yet, you should try and become one so you can enjoy the amazing benefits that come when you use a debit card too
Without further ado, let me show you how you can apply and get a working Opay debit card in Nigeria
How To Get OPay Debit ATM Card
Having access to an Opay debit card gives you the freedom to make quick and easy payments both online and offline, earn money, and save more.
Furthermore, you can be able to make seamless withdrawals at any ATM point at the lowest charge rate (but for now free on all Zenith Bank ATM points nationwide).
Before you can get access to an Opay debit card, you must be registered as one of their agents.
To register
Visit the Opay website
Or download the app and signup with your details. The Opay app is available for both Android and iOS devices
Once you have set up a working Opay account, you can now apply for your debit card.
How to Apply for the OPay ATM Debit Visa Card
Below is how you can get your ATM card from opay
Access your Opay App from your mobile phone
Click on "Me".
Click on "Request for OPay Debit card".
Under the referral column, put 9L4WJW8
Select where you want to get your card
Fill in the necessary details required.
Once done, make a payment of ₦700 which is the ATM Card Fee.
Add 3OULO1N under the referral column and Confirm.
How Long Does do it Take to Get an OPay Debit Card?
Upon request, it takes about 24 hours to get your Opay debit card
How to Activate OPay Debit Card
By default, Opay will send you a Visa debit Card. Once you have gotten your Opay card, the next thing is to get it activated, the next thing to do is;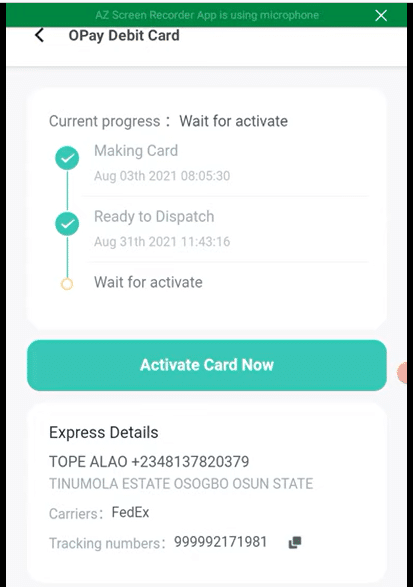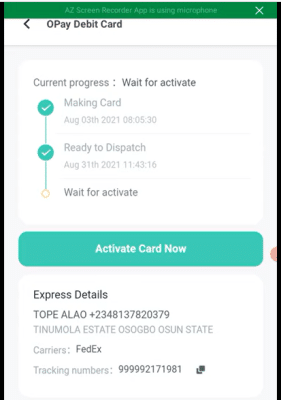 1. Opay your Opay App
2. Navigate to Me
3. After requesting a card, you will see an option to activate it
4. Click on Activate Card
5. Input the card number on the card and confirm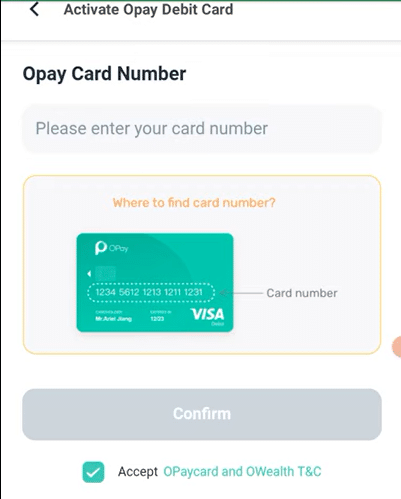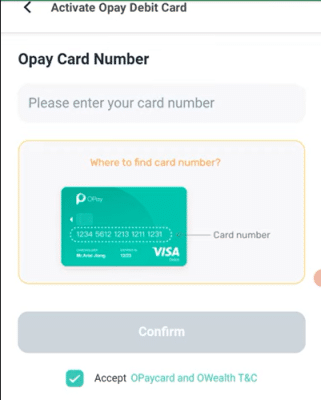 6. Opay will send you a default PIN which can be changed anytime
7. Make sure you screenshot your default PIN and memorize it because Opay won't save it for you.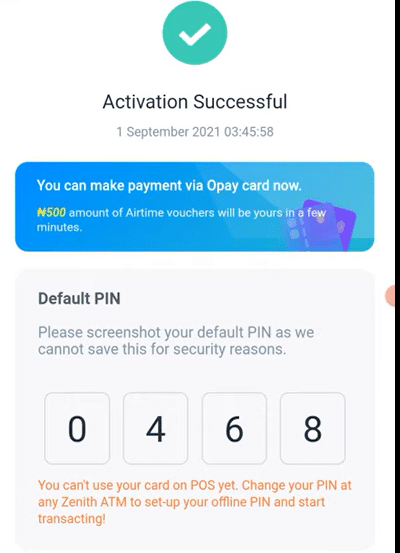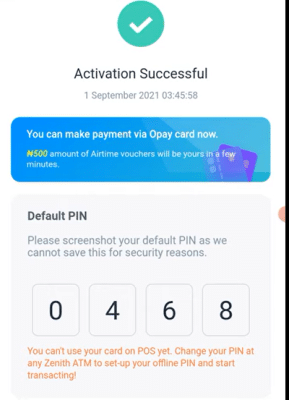 My default PIN as shown above is 0468.
8. Once you have completed every step, Opay will reward you with N500 airtime
Congratulations. Now you can make both local and international payments online with your card
Activate Opay Debit Card at Zenith Bank
For offline transactions, Opay demands that you activate your card at only Zenith Bank ATM slot.
To do this
Visit any Zenith Bank ATM slot

Insert your debit card into the ATM

Enter the debit card number and the card pin default pin

You will then be prompted to create a new ATM pin.

On the machine enter your new offline

ATM card PIN and your card will be activated
Is OPay Debit Card Free?
Opay charges ₦700 for ATM card and ₦300 for delivery fee

OPay ATM Debit Visa Card Charge Rate
If you inquire to know how much Opay charges per transaction, below are charges
| Services | Charges |
| --- | --- |
| Apply For OPay ATM Debit Visa Card application | ₦700 |
| Withdrawing from any Zenith Bank ATM | Free |
| Maintenance Fee | Free for Ever |
| Fund transfer fee | Free transfer (90 times monthly) |
Benefits of Opay Debit Visa Card
No card maintenance fee.
Acceptable everywhere in Nigeria.
Cashback yearly.
Greater than 15% Owealth curiosity.