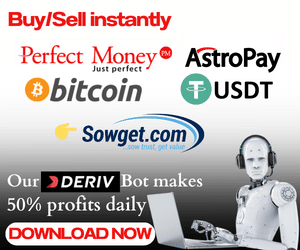 Hawkit is another money-making platform promising members to make money while they spend time on the website doing certain activities. In this Hawkit review, we will explore how the website works, if hawkit.ng is a scam or legit and the registration process.
We have reviewed so many other platforms that are currently paying in 2022 which you may wish to checkout, they include the likes of Kemovest, Platiniumxpwallet, Ravetok, Adsminer, Bismart and of cause, Videomine.
It is evident that most of these platforms pay for a while before their websites go down, leaving their members stunned; especially the ones who often find it difficult to make money from them.
Considering the economic hardship of Nigeria, people are going through difficult moments. Prices of things are going higher every day, and if you are a salary, it is difficult to cope and feed considering how little Nigerian salaries could be.
But man must survive anyways, and that's the reason why most people take a bold self on the journey of financial freedom to look for ways to make money online from home.
For those who have made it online, (those who have a legit source of making money online) congratulations to you all.
On the other hand, those who are just newbies to the system. I charge you to pay optimum attention to this hawkit review because here, you will get answers to a lot of questions regarding its credibility.
About Hawkit.ng (Review)
Hawkit is an earn money by reading news site that allows members to make money online by commenting, liking, following, sharing, and lots more.
Active members are opportune to make up to 5,000 Naira daily by completing tasks on the platform by using your smartphone and at the comfort of your home.
Interestingly, there is no limitation as to who should obtain membership on this platform. Workers, students, housewives as well as employees can leverage this platform and make money.
Hawkit International Limited (RC 1677464) company was founded on the 1st June, 2020 and incorporated on the 22nd June 2020
How Howkit Works

That's one good question to ask. Obviously, you are reading this hawkit review because you want to have a basic understanding of how howkit works and everything associated with the platform.
As stated earlier, hawkit.ng is a task performing platform that pays you to perform simple social media tasks and make money doing what you love doing even without gett paid.
Hawkit has been described as a platform that pays you for performing social media tasks, it takes a task from people that needs a particular service, gives its a member the task and pays you part of the money collected from the advertisers. It's as simple as that.
In summary, Hawkit collects money from entrepreneurs who wish to gain more followers on Instagram and then makes this a task for members to like, share and comment on posts of those entrepreneurs.
In that way, they help people develop more followers on Instagram while members on hawkit are paid in return for performing those activities.
How To Make Money on Hawkit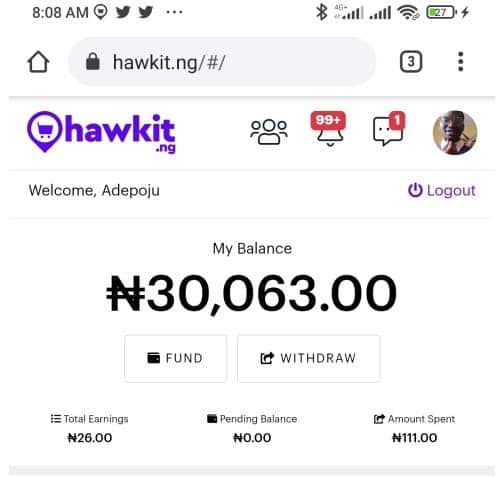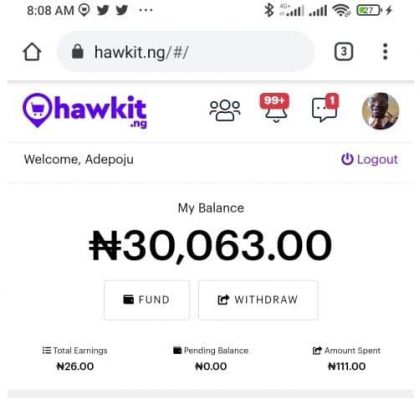 There are lots of ways members of Hawkit can make money on the website. Below is how to earn money on hawkit
1. Performing Task
This is the basic and primary way to make money on the platform as it reflects all over the platform and hawkit itself describes itself as a platform that allows you to make money by performing social media tasks.
Some of these activities include the following;
Liking social media posts
Retweeting
Following accounts
Commenting
2. Apple Store Review
Apple store review is the highest-paid activity on hawkit. It allows active members to earn ₦60 per Review.
All you have to do is to download and review selected apps on the Apple Store and earn ₦60 per Review.
The more you review, the more you earn Platforms.
3.

Google Play App Review
Google Play app review is the second highest paying task on hawkit.ng and allows you to earn ₦30 per Review.
It is very similar to that of the Apple store review, just that the apple store app review pays ₦60 per review, while the Google play store app review pays ₦30 per review.
All you have to do is to download and review selected apps on Google Play Store and earn ₦30 per Review. The more you review, the more you earn.
4.

Subscription to YouTube channel
Hawkit will pay you N30 to subscribe to a YouTube channel, once this type of task is available, you will be provided with a link and once you click on the link, you will be taken to YouTube.
All you have to do to complete the subscription task is to subscribe to selected Youtube Channels and earn N30 per subscription. The more channels you subscribe to, the more you earn.
5.

WhatsApp Status
WhatsApp status task is a task on hawkit.ng platform that allows you to post on your Whatsapp Status and get paid for doing that. This task will earn you N20 per Status Post.
Nowadays, business owners are constantly looking for a large audience to promote and advertise their products and services. As a hawkit member, you can ost adverts of businesses and people on your Whatsapp Status and earn N20 per post.
The more you post, the more you earn
6.

Commenting
This task allows you to comment on Facebook, Instagram, Twitter TickTock and YouTube Posts and earn N15 per Comment Comment on posts from selected social media accounts, these are things you do for free on a normal day, but with hawkit, you will get N15 per comment.
The more posts you comment on, the more you earn.
7.

Twitter retweet
You will get paid when you retweet pots on Twitter to reach a larger audience. This activity allows you to earn N10 per retweet post on Twitter to your followers.
Again, the more posts you retweet, the more you earn
Facebook Post Share
When you Share Posts on Facebook via hawkit.ng you will earn ₦10 per Share, all you have to do is to Share posts from selected social media accounts to your friends. on Facebook and earn ₦10 per Share. The more posts you share, the more you earn.
9.

Follow and like
This is the lowest paying task on the platform and with this task, you will get paid for liking a selected page or following the page. You get paid ₦3 for liking and ₦3 for following respectively.
The website will give you the task of following people and pages on selected social media accounts and earn N3 per following.
Conclusively, the more people you follow, the more you, the selected platforms include Facebook Instagram, Twitter, YouTube and Ticktock.
10. Hawkit Referral
For those who are highly skilled in referring, you can make good use of the Hawkit referral system and make money faster on the website.
Hawkit will pay you N500 for every successful referral you get on the platform. Note that your referral must register, pay and activate his/her account before you can earn the commission.
Furthermore, you will also earn a Social Boost Referral Commission of 20% of any amount paid when you refer someone to Buy Likes, Followers, Comments, Shares, Whatsapp Post Views etc.
Lets say, if you are able to get 50 users to buy 2000 likes or followers which is about N10,000, Hawkit will reward you with ₦2,000 per user and a whooping ₦100,000 instantly.
How To Get Hawkit Referral Link
The first thing to do is by activating your account. It will cost you just ₦1,000 to get your account activated on Hawkit.
After that is successfully done, log in to your account dashboard and scroll down a little, you will see refer and earn big, click on it and you will see a button to Copy your referral link, it's as simple as that.
11. Hawkit VTU
Hawkit has a VTU integrated into the website that allows users to make money by selling airtime and data.
You will be able to get 1GB of data for ₦250 on the platform and may decide to sell 1GB of data for ₦300 to another person. That's ₦50 profit per Gig or even more depending on how much you resell.
How To Withdraw on Hawkit
Here comes the big issue with most of these paying websites. Earning money from them seems possible but the problem comes when members want to withdraw what they have earned after putting in the hard work.
Read below to find out how members can cash out their earnings on Hawkit.
The withdrawal threshold on Hawkit is very low, once you have up to ₦1,000 in your account you can proceed and place a withdrawal.
All that is required of you is to log in to your account and click on withdraw button.
Ensure to always link your bank account before placing a withdrawal.
Hawkit Registration
Hawkit signup is very simple and straightforward, simply visit the registration page on the website, type in your username and password and click on signup.
However, your account must be activated after signup
Click Here To Register
If you need assistance in setting up your account, WhatsApp Gabby!


How To Activate Your Account After Signup
To activate your hawkit account, simply check the become a member button at the top of your dashboard. The website will redirect you to a page showing you how to make money on the platform and some breakdowns, simply scroll down and click on the button that says click here to make payment now.
Use your ATM Card to make a payment. If the Card Option does not work for you, then switch to USSD and proceed with your payment and once that is done your account will be active.
Hawkit will charge you ₦1,000 to activate your account.
Hawkit App
You can either use the website or the App. Download Hawkit App
Hawkit Review: scam or Legit?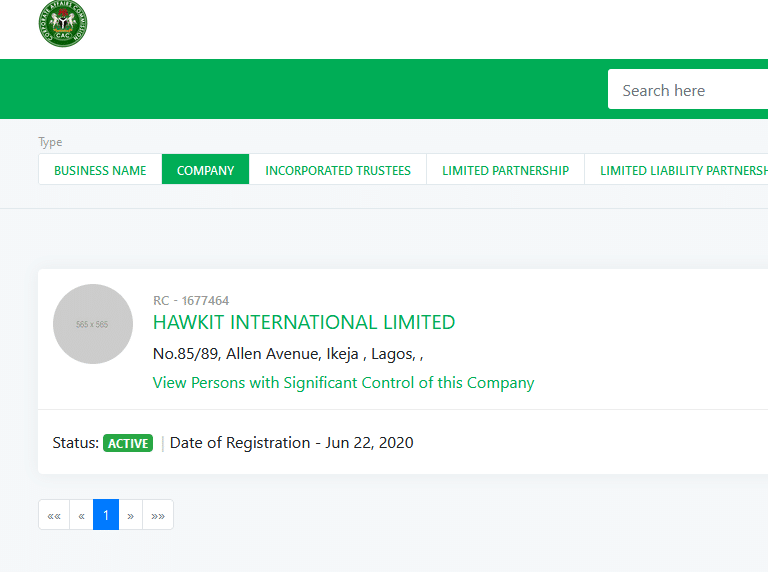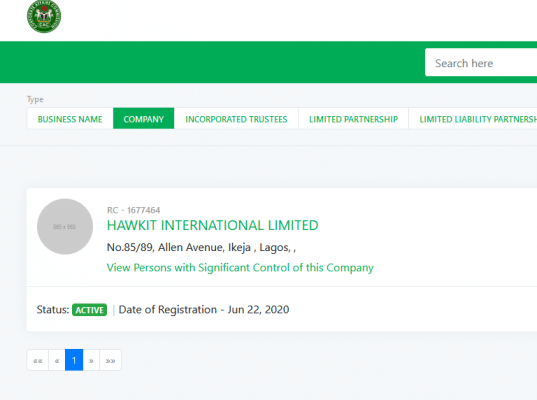 Hawkit is a newly launched site and is one of the top paying sites in 2022, The website is duly registered with the Corporate Affairs Commision with RC Number 1677464.
For Now, Hawkit is paying and I have seen enough payment evidence online, but the big question lies in its sustainability. How long is the website going to stay before it crashes?
Conclusion: Hawkit Review: How it Works, Scam or Legit?, Registration
In Conclusion, Hawkit is a website that pays members for performing daily activities on the website such as liking posts on social media accounts, retweeting, commenting, following influencers and referring.
If you are a member of hawkit what do you make of this hawkit review? please drop your comments below.
SEO Content Writer with over 4 years of experience in On-Page SEO which gained me an award for excellence.
This is my web space where I share helpful guides to help you earn money legitimately.
I register brands with CAC, create websites and offer Business Consultancy services. For business deals, contact me