Forsage MetaForce is one of the newest smart contracts launched in July of 2022. In this Forsage MetaForce review, you will discover how it works, whether it's another scam scheme aiming to defraud you and the process to register.
Obviously, this will not be the first time you read about smart contracts or even Forsage itself. Forsage BUSD was the major talk of the year in 2020 but things went sour later
Before we go further into this Forsage Metaforce review, It's important to understand the fundamentals so Indomie generations could catch up.
How Smart Contract Works
Smart contracts are simply programs, commands or codes stored on a blockchain that run when predetermined conditions are met. They typically are used to automate the execution of an agreement so that all participants can be immediately certain of the outcome, without an intermediary's involvement or time loss.
Since we are dealing with blockchain technology, there is a need to also understand what Trust Wallet is all about
How Trust Wallet Works
Trust Wallet is a tool that acts as a bridge that connects to individual blockchains via their nodes. Every blockchain has its own set of public addresses. These addresses are where the Crypto is encrypted and stored. Trust Wallet does not hold or control any Crypto, it just gives the user access to it.
About Forsage MetaForce (Review)
Forsage MetaForce is an advanced version of Forsage BUSD which is integrated on Polygon. Polygon itself is a layer two or sidechain scaling solution that runs alongside the Ethereum blockchain — allowing for speedy transactions and low fees. MATIC is the network's native cryptocurrency, which is used for fees, staking, and more. You can buy or sell MATIC via exchanges like Coinbase.
Now back to Forsage Metaforce. Most of us did Forsage when it was launched in February, 2020 and it raised over $2 billion spread to over 1 million participants. Now FORCE, by the same creator, Lado is far more advanced and profitable.
If you are broke and looking for a means to earn money online, then you should consider leveraging this Forsage Metaforce.
A Review of Forsage MetaForce Features
Since the world has been in serious anticipation of the launching of this MetaForce version of Forsage, Below are amazing features that are available on the Forsage MetaForce
Metaverse & Web. 3.0
50% Discount in Pre-Launching for all slots
Classic + Boost program
Force coin – New token
Traders club
Staking
NFT-platform
Academy
Marketing tools
Awards & Rewards
Royalty
When Was Forsage MetaForce Lauched?
After so many months of anticipation and preparations, Forsage MetaForce was officially launched on June 29th 2022.
Forsage MetaForce is currently available in the following countries.
India
Pakistan
Bangladesh
China
Nigeria
South Africa
Brunie
USA
Ghana
Dubai
Iran
Indonesia
Argentina
Australia
Belgium
Bhutan
Bolivia
Brazil
Canada
Egypt
If your country is here, congratulations.
How Forsage MetaForce Works
The MetaForce version of Forsage works according through the following means;
1. Metaforce 12-level MLM Structure
This plan is also called the MetaForce compensation plan. This is how it works;
A member can activate as many levels as he wishes simultaneously.
It means you can activate from level 1 to level 5, or even higher, all at once.
As a matter of fact, new members are encouraged to activate up to level 5 at once to earn more money.
However, the higher the level, the higher the activation price.
Again, the price for each level differs depending on whether you activated them during the (classic or boost period), as shown in the image above.
2. S6 and S3

This is the matrix cycler used in Metaforce.
If you recall, Forsage BUSD uses two separate Matrices X3 and X4. These two are different programs with different MLM levels.
On the other hand, Metaforce is an upgraded version which uses S3 and S6 matrices but merges them into the 12-MLM levels discussed above.
So obviously under the S6 matrice, we have different levels such as Levels 1, 2, 4, 5, 7, 8, 10, and 11.
Under the S6
As a user, before you can complete each S6 matrix, you have to bring in about six people, two in the first line and four in the second line.
It is possible to recruit just two people in your first line and encourage them to recruit two more people, who will be placed in your second line.
I will explain how to earn from this matrix in a later section
Conclusively, levels 1, 2, 4, 5, 7 and 8 are all under S6 matrix
Under the S3
This is a simple matrix for beginners. The S3 matrix has three open slots and it is integrated into Levels 3, 6, 9, and 12.
You only need to recruit three people in these levels to complete the matrix.
How To Make Money From Forsage MetaForce
If you are joining Forsage for the first time or even if you at least Joined the previous version, It is important to understand the ways you can make alot of money from this scheme
Below are some of the ways to earn make money on Forsage Metaforce both as a beginner and an expert
Spillovers
Re-activations
Referrals
Auto-upgrade
1. Spill Overs
Spillovers are earnings or bonuses that come from an upline or downline that has gotten more than enough bonus for that level. The system automatically rewards others on that level from his/her upline excess bonuses.
This is usually one of the smartest ways to earn money fast on Forsage Metaforce. So it is always advisable to have a team of people who are active and working.
2. Re-activation
Re-activation is the payment made to renew the level of the last referral in a team. In other words, it is the last cycle where you get to open the next, higher cycle.
This is usually common on Forsage as the platform revolves around a matrix system that allows users to activate each matrix system through the re-activation payment
One big Integration that members of Forsage MetaForce would love is the auto-reactivation feature that is enabled by default.
However, you can disable the auto-reactivation feature if you prefer. When you do so, you will be charged a 25% fee.
The 25% fee goes to the product fund, while the rest goes to you.
According to Lado, the product fund is a pool of Metaforce's development funds held by smart contracts.
So, instead of only receiving $40, as I explained in the last example, your earning possibility becomes $20 + $20 + $15 = $55.
The remaining $5 which is 25% of $20 is deducted and sent to the product fund.
3. Referrals
The case of referring is one thing people shy and run away from. If you really want to chill with the big boys, you must understand and apply the strategies to referral marketing. Only by doing this, you can be able to earn decent money from any platform you join online
Referring involves a matrix revolution that revolves around the S3 and S6 matrices at their respective levels.
You may wish to ask "how is this done?"
Under S6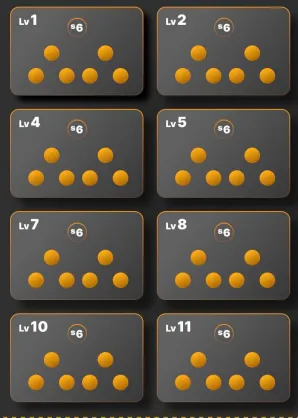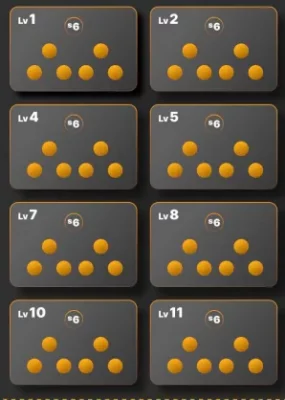 Under the S6 matrix, all payments from referrals in the first two lines are transferred to your upline's wallet.
Furthermore, you receive 100% of the payments from the three referrals in the second line.
The payment from the fourth referral is used to reactivate the already completed level.
Now, it is possible to receive part of the payment from the fourth referral if you turn off the reactivation button.
Under S3


In contrast, at the S3 matrix level, you earn 100% payments from the two referrals occupying the first and second slots.
Let's assume you have activated level 3 and filled the slots with three people at the pre-launch stage.
If you recall, Level 3 at the prelaunch stage cost $20.
This means you will earn $20 + $20 = $40 from your first two referrals.
On the other hand, you can receive part of the payment for the third referral if it is not used for reactivation
4. Auto Upgrade
Each subsequent level costs 2x as much as the previous one.
Impressively, that is what you stand to earn when your downlines upgrade their levels.
But there is a catch. You earn 100% of their payments only if you have enabled the auto-upgrade.
Alternatively, a 25% fee is charged automatically and sent to the product fund if you disable auto-upgrade, just as it is with reactivation.
The rest of the funds are sent to your trust wallet.
Forsage MetaForce Registration
If you are a beginner, to signup and become an active member of Forsage Meta force, below are some considerable requirements you must have
Trust Wallet or Metamask
DAI
MATIC tokens
Active upline link
Downlines
A Smartphone with Internet Connection
Go to Google PlayStore and download either Trust Wallet (preferable) or Metamask. This Apps supports Polygon
Proceed and fund your wallet with Polygon-based USDT and some MATIC tokens for network fees.
Once you have completed this step, proceed and register with your upline's active link. Your upline is the person that referred you to MetaForce.
MetaForce Registration & Subscription Price List
Below are important prices to consider
Note: DAI is the name of the coin to be used
Slot 1
5 DAI + $2 Polygon for gas fee = ₦4,500
Slot 2 Activation
10 DAI + $1.5 Polygon = ₦7,072
Registration + Activation of Slots to Level 2 = ₦11,400
Slot 3 Activation
20 DAI + $1.5 Polygon for gas fee = ₦13,300
Registration and activation of slots to Level 3 = ₦24,700
Slot 4 Activation
40 DAI + $2 Polygon for gas fee = ₦25,830
Registration + activation of slots to level 4 cost ₦50,530
Slot 5 Activation
80 DAI + $2 Polygon for gas fee = 50,430
Registration and activation of slots to level 5 cost ₦100,960
Slot 6 Activation
160 DAI + $2 Polygon for gas fee = 199,630
Total registration and activation of Slot 1+2+3+4+5+6 = ₦200,590
Lastly, be reminded that it only costs ₦4,500 to get started with Level 1
Now you have understood the basics, why don't you give it a trial?
For a seamless registration, contact Supreme Media Below


You can also join MetaForce Telegram channel for quick daily updates
Is Forsage MetaForce Scam or Legit? (Review)

This review of Forsage MetaForce will be inconclusive if I fail to give my honest review based on the credibility of this platform.
From my assessment, Forsage MetaForce is integrated on Polygon blockchain which is one of the safest blockchains in the crypto market.
Also, the Integration of MetaForce on Polygon makes transactions effortless. Polygon is also highly decentralized, this means there is no manipulation or central authority.
It will also interest you to know that Polygon has been a solution to Ethereum's scaling problems. It has all the advantages of Ethereum.
At the end of the day, Forsage Metaforce still revolves around referring. It's a refer and earn investment scheme and only those who can refer will actually be able to earn something decent from it.
Also, the money that revolves around the system is the money gotten from signups. So you would ask? What will happen when members stop joining the platform.
There is a popular saying that when the going gets tough, the tough get going.
Even though there are good benefits why you should Join the platform, On the legitimacy of the platform I would say Forsage MetaForce is legit but its sustainability is questionable. How long can the platform stay before it crashes like the others?
If you have planning to Join this scheme, remember to always carry your head along.
Who is The Founder of Forsage MetaForce?
One question everybody would ask to help ascertain the legitimacy of any of these online schemes is the founder.
In this case, The Forsage MetaForce is owned by a Russian named Lado Okhotnikov
MetaForce FAQS
What is the difference between Force and Pol USDT?
Force is a platform you are investing in while Pol USD is the cryptocurrency you are investing in.
Does Forsage Metaforce Pay Without Referral?
Yes, but this is not always true. So I would advise you to refer
How Many Referrals Do I Need To Withdraw?
You can earn money without referring to spillovers once you have an active team. However, withdrawing without a referral is a mirage. At some point, you will have to withdraw
What Are Wallets Acceptable? Can I Use Other Wallets?
Trust Wallet, Token Pocket and Metamask are the only wallets you can use for MetaForce. Apps like Luno are not acceptable
Will Forsage Metaforce Crash?
Life itself is transient. Nothing last forever so utilize it to the fullest.
Does Metaforce Have Official App?
There is no official App anywhere. Beware of scammers and disregard any apps on PlayStore claiming to be official. Always make use of the website
What is Forsage Metaforce Website For Login?
You can access the official website through Meta-Force.Space
Benefits of Joining
Small start-up capital that gives you the potential to earn millions if you leverage well
MetaForce is transparent
It might not crash very soon
You can also earn and invest in NFT
Well-developed success strategy
Polygon is taking over Ethereum
Read Also: Is Bisamart Still Paying?
Conclusion: Forsage Metaforce Review
Was this review helpful? do you think MetaForce will crash soon?
Let's get your thoughts in the comment section
SEO Content Writer with over 4 years of experience in On-Page SEO which gained me an award for excellence.
This is my web space where I share helpful guides to help you earn money legitimately.
I register brands with CAC, create websites and offer Business Consultancy services. For business deals, contact me