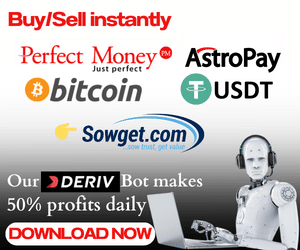 FinXpire is another newly launched digital marketplace in Nigeria. If you inquire to know more about this marketing network, this Finxpire affiliate program review will work you through.
Just recently, I was able to teach you how I make 300k+ monthly via sellpass. However, this guide is another kind of them and I will be teaching you everything you should know about Finxpire.
Without further ado, let's jump right into the details of this review.
About FinXpire Affiliate Program (Review)
FinXpire is an innovative digital marketing campaign that drives explicit growth for digital products and connects creators to potential customers.
Just like other affiliate networks in Nigeria, FinXpire is a digital marketplace connecting sellers, promoters and buyers through a means called; vendor, affiliate and product
Just like Megawave technology, the mission of FinXpire is to help creators and vendors succeed by providing them with the tools, resources, and support they need to grow their businesses. Whether they are just starting out or not.
As one of the leading Digital Marketing Companies in Africa, FinXpire's mission is to help young creators across the continent make money more easily by allowing them leverage on their platform to promote and sell their products without barriers
How To Make Money On FinXpire
You can make money on FinXpire in two basic ways
As a vendor or course owner
As an affiliate
Make Money As A vendor
As a vendor or course creator, you can make money on FinXpire when affiliates promote your high-value digital courses.
Being a vendor is an indication that you let your brain work for you. We can also say getting people to work for you while you relax and earn cool money in your bank.
The most important thing is to get your creativity to work by creating a solution (in form of a course) that could solve people's problems, get it listed on the platform and relax while you get paid daily.
If you are a digital creator, this is an opportunity for you to get your course listed on the FinXpire marketplace for a wider audience.
All products must be heavily scrutinized before granting approval to be listed on the platform.
FinXpire Vendor Commision
As a vendor, FinXpire will collect all the payments on your behalf, pay the affiliate and deliver the product to the buyer.
FinXpire charges 10% of the product cost. So, if your product is $50, FinXpire charges $5.
There is a 30-day refund policy on all products.
Make Money As An Affiliate on FinXpire
You can make money as an affiliate on the FinXpire affiliate program in simple steps.
All you have to do is;
Signup on to the website
purchase the AMM course
Update your account
Start promoting these high-value products
Get paid when a customer buys through your affiliate link
About The FinXpire AMM Course
The FinXpire Affiliate Money Mastery Program (AMM) course is a fully advanced program that will teach you everything about selling online.
And also, show you the step-by-step guide to using a AMM course to start making legitimate money online
FinXpire Affiliate Money Mastery (AMM) Course Features
1. ✅ What super affiliates know that other people don't about increasing clickthrough rates from free traffic (and how to implement this secret right away even if you're a complete newbie)
2. ✅ The number one worst error in affiliate marketing. (If you make this mistake, even if you nail everything else, you won't make any money.)
2. ✅ A method that has been scientifically tested to help you find the products that will make you the most money. (Most people simply don't see it, even if it's right in front of their faces.)
3. ✅ The latest insider method for developing affiliate promotions that get attention, raving fans, and sales. (Even if you don't have a list)
4. ✅ The amazing affiliate marketing trick (originally used by cavemen) that turns even the most sceptical and cold-hearted potential customers into molten hot buyers
5. ✅ Why discussing the product in your promotions is affiliate suicide (There's a secret reason this will kill your commissions, and what to do instead)
Money-Making Secrets
1. ✅ A powerful "cookie jar" marketing technique that you may use to quadruple your commissions on a single promotion.
2. ✅Is there a best way to make commissions from Facebook without spending any money? (Someone asked this great question. Yes there is and here's my answer.)
3. ✅11 creative strategies to get customers to buy through your link (used by some of the wealthiest super affiliates on the planet) (Some of these are a little strange but they all work like gangbusters.)
5. ✅ How to earn a ton of commissions quickly and easily without a list or money for advertising (here's a tried-and-true method)
6. ✅ A stealthy way to win Leaderboards and affiliate contests (Outsiders think this is lots of work but to the secret is – it's an absolute cakewalk.)
7. ✅ The shocking truth about why people choose to buy from one affiliate and not another. (Learn this secret and you can double your sales overnight – many have.)
8. ✅ 7 ways to create promos that sell (do this right and you'll never waste your time creating "dead turkey" affiliate campaigns ever again)

9. ✅ The #1 EASIEST way to make hands-free commissions ever invented. (This is worth ten times the "entry fee" on its own.)
10. ✅ Play-by-play, the exact sequence you need to follow to become a 6-figure month super affiliate (I literally spilt every last money-making bean for you on this one)
AMM Course Bonus Features
1. ✅ You will get a 1-year FinXpire affiliate account (worth ₦5,000)
2. ✅ Access to cloud-based WhatsApp automation tool (worth ₦30,000)
3. ✅Access to email marketing app (worth ₦15,000)
4. ✅ Full-stack digital marketing course (worth ₦150,000)
5. ✅ Plugins and templates for building a sales page (worth ₦225,000)
6. ✅ Access to 247 support community
Total Value = ₦545,000
FinXpire Affiliate Program Registration
Below is a step guide to signup and becoming an affiliate on FinXpire
Affiliate registration is ₦15,000 which is equivalent to $25
One will ask, how much is the AMM course?
The Price for the AMM course is ₦15,000
If you need me to guide you through and show you my strategies to earning over ₦200,000 weekly
WhatsApp Me Now!!


How To Withdraw on FinXpire

After you have earned money either as a vendor or affiliate, your next line of action obviously should be to withdraw your funds.
To withdraw on the FinXpire affiliate marketplace ensure to have all your bank information updated on your account.
Both vendors and affiliates are paid every Monday

Who Should Join FinXpire Affiliate Program?
As sweet as FinXpire may appear with all its amazing products and offers, the platform is not for everybody.
On this note, it raises the question as regards who should join this digital marketplace.
FinXpire is for you if;
1. ✅ If you want to start affiliate marketing as a stone-cold newbie
2. ✅ A  fresh graduate who cannot secure a Job in the labour market
3. ✅ Any student who wishes to get a paying side hustle
4. ✅ If you are a sit-at-home mum or dad looking for a legit means to make money
5. ✅ You are a 30k salary earner looking for a side hustle. (you can't survive with 30k in the Nigerian economy)
6. ✅ Anybody who has an abundant mindset and believes in real possibilities.
FinXpire Affiliate Program Review: Scam or Legit?
The FinXpire affiliate program is a newly promoted network offering high-value digital products and also helping digital creators to sell their products on their marketplace.
The platform was launched in the early days of Feb 2023 and is already dominating the digital marketplace.
On the virtual of its goal, the platform was created to help eradicate poverty in Nigeria through its products and features.
FinXpire is a legit affiliate program that offers members the opportunity to learn high-income digital and marketable skills and get paid to promote digital courses.
Since certificates are now becoming less valuable in Nigeria, it is pertinent to get a high-income skill that could set you earning more than a professor with your smartphone.
The most pivotal thing is you can utilize this knowledge and skills outside the platform and still make money. Until death, your high-income skills remain with you.
The AMM Program course will expose you to so many digital skills you can learn. These include copywriting, landing page mastery, organic and paid traffic mastery and many more.
FinXpire Payment Evidence
Below is evidence of payments from those who have leveraged this platform and have withdrawn.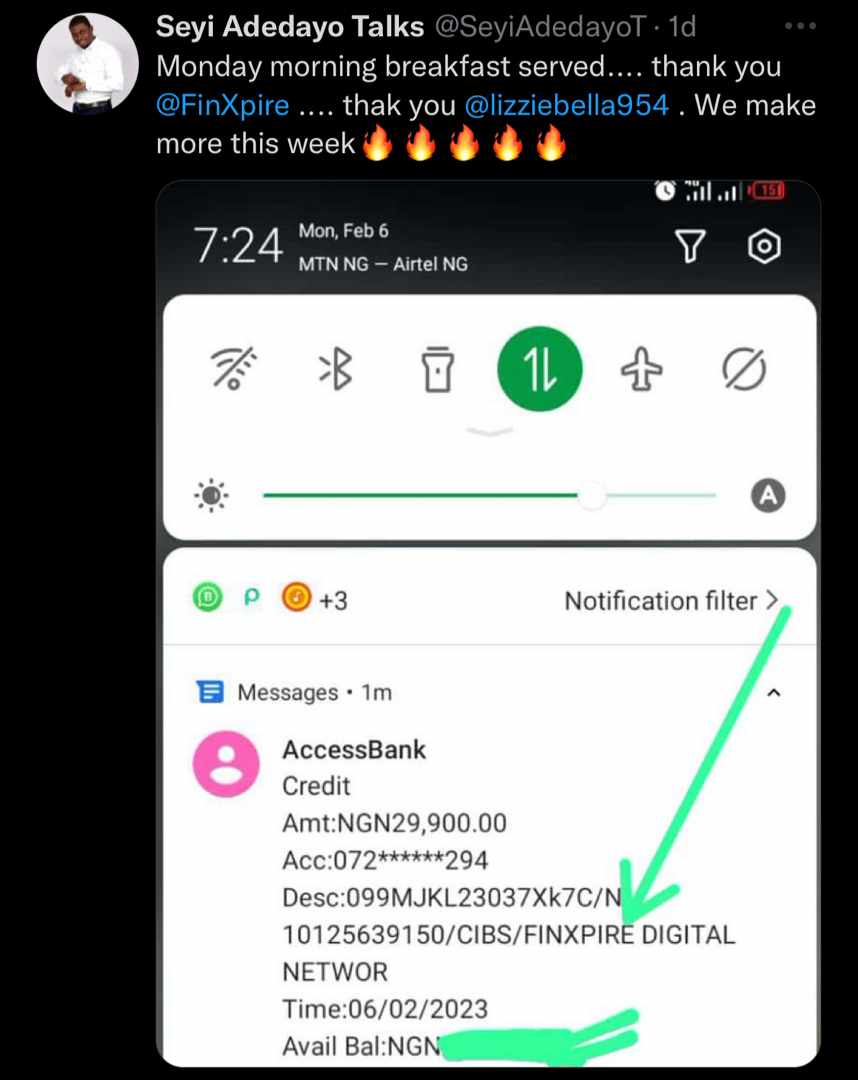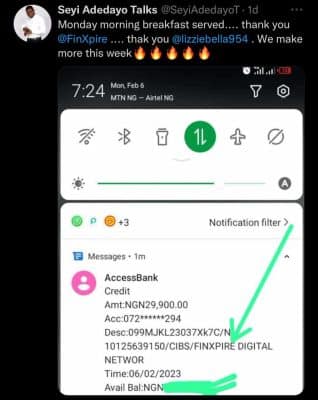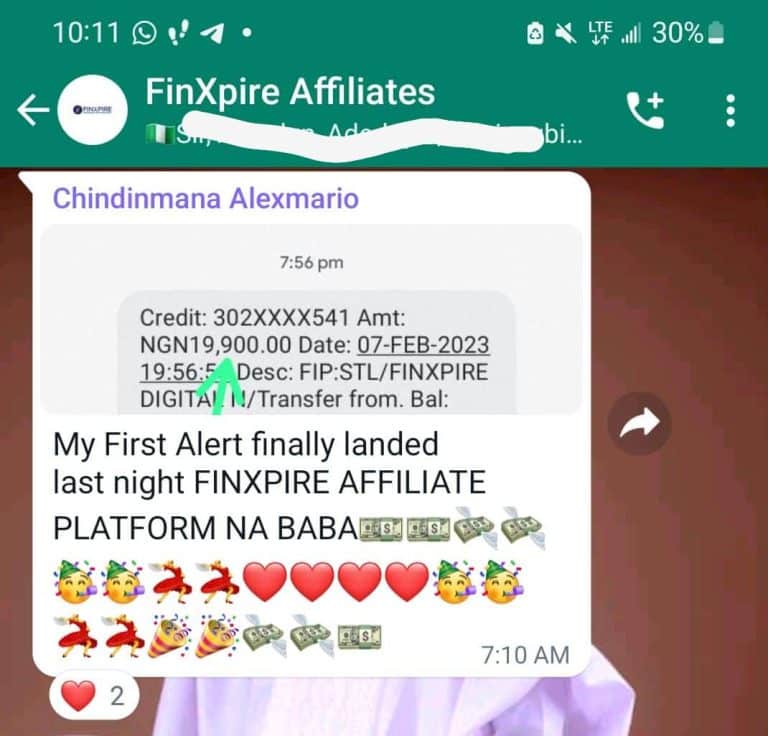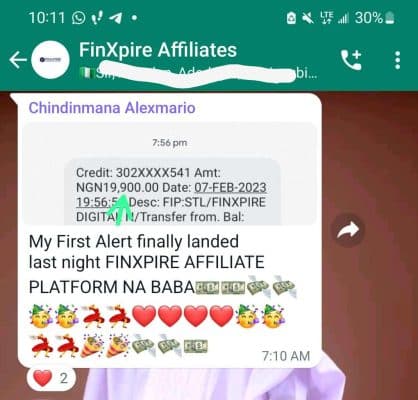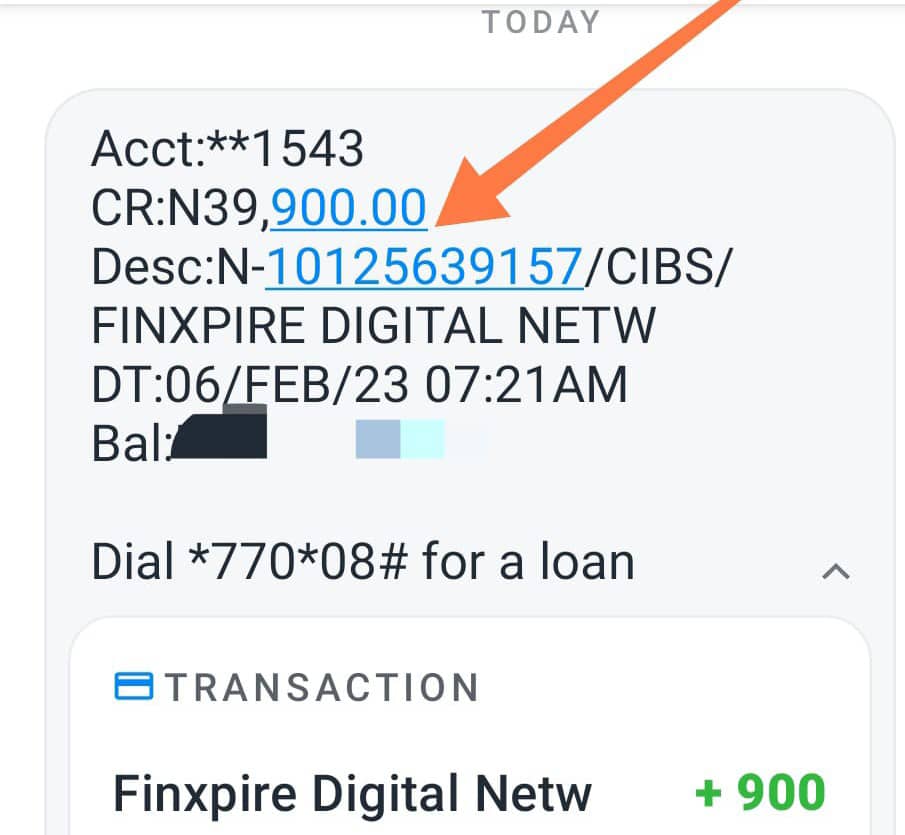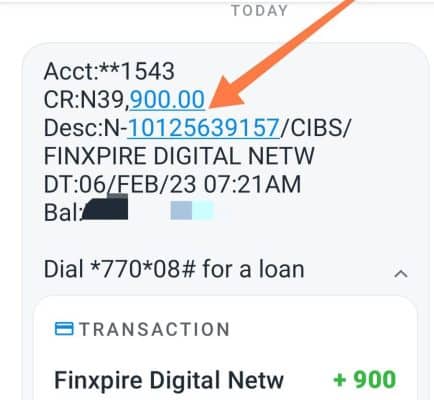 Founders of FinXpire
FinXpire affiliate network is founded by a group of creative minds
Samson Olaleye (Founder)
Abiodun Ayobami (Co-Founder)
Franca Okpala (Customer Care Manager)
Virtuous George (Social Media Manager)
Joseph Tochi (Creative Designer)
FinXpire Website
You can access the website via Finxpire.com
Contact them via
Support@finxpire.com
Read Also:
Conclusion: FinXpire Affiliate Program Review
If you have any further contributions to make to this affiliate program, kindly leave a comment below
SEO Content Writer with over 4 years of experience in On-Page SEO which gained me an award for excellence.
This is my web space where I share helpful guides to help you earn money legitimately.
I register brands with CAC, create websites and offer Business Consultancy services. For business deals, contact me