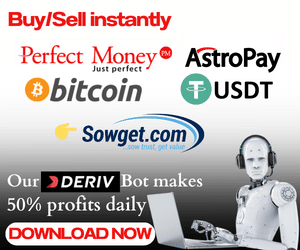 This post is aimed at teaching you how to get more followers on Instagram cheat. You are also going to discover how to gain more followers on Instagram in just a short period of time.
Instagram has over the years become the BlackRock of many brands' social presence, driving profitable traffic to landing pages, growing conversions, and building an engaged audience.
If your Instagram presence isn't quite as large as you're hoping, this is the best time you have to learn how to get more Instagram followers.
I have some working cheat to gain more Instagram followers and all you need to do is apply them and wait for results.
The larger your Instagram audience grows, the more opportunities you have to engage with users and create unique experiences for them.
I have seen many people buy Instagram followers in Nigeria and other stuff like that. But the real question is; those this buying of followers on Instagram really work? is it worth it?.
How To Get More Followers On Instagram Cheat
I have some mixed badass working strategies that can help you push your Instagram followers from 0 to 100k within a couple of months if you are willing to apply these strategies the right way.
1. Optimize Your Account & Profile
First and foremost, a business Instagram account will be preferred over the normal Instagram. Secondly, One of the vital aspects of growing your Instagram page is your profile bio, your profile is what explains to people who are just coming to your page for the first time. Your profile does not only speak about you but also gives your audience an insight into what your page is all about and what they should be expecting from you.
When you don't have a bio, image captions, a proper username, or profile image, how will people know the account belongs to your brand? It might seem obvious, but on Instagram, your bio and image help form the foundations of your brand identity.
Furthermore, The link in your bio is your one spot to drive Instagram traffic to your site, so optimizing your account is essential to gaining more Instagram followers fast.
Below is an example of a perfect Instagram Profile (Neil Patel)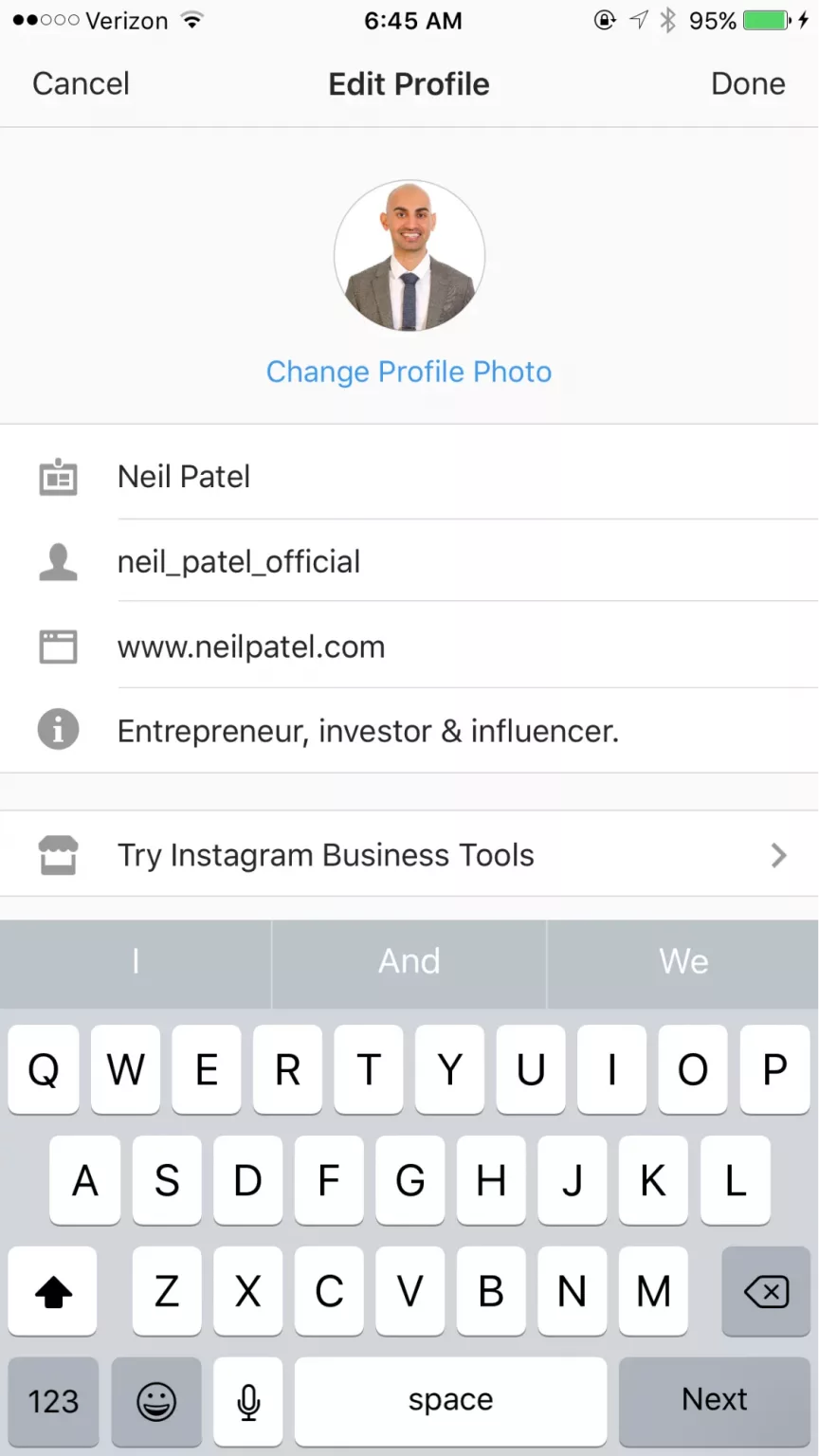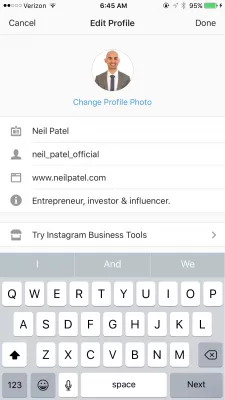 Additionally, ensure your username as search-friendly as possible, which usually means sticking close to your actual brand name. This should be done so that people won't find it hard searching and reaching you on Instagram.
2. Discover Your Niche
This tip is basically for those who may just be starting Instagram for the first time and so looking forward to developing a large audience.
Your Niche is simply what you want your Instagram page to be all about, it could be a fitness page, Nugget/wisdom quotes page (Just like reno Omokri), latest fashion trends, dance and so many other things you could think of.
3. Text-Based Content, Video-Based Content or Both
In most cases Video-based contents convert better than text-based content, this is so because people are generally tired of always reading and reading every time. Your niche will determine the type of content that works better. You can also combine both video and text-based content
4. Develop A Consistent Content Calendar
People often talk about hard work but consistency is usually underrated. Consistency simply means doing something continuously even if you is not getting results.
One step forward to attracting more followers on Instagram is being consistent with what you do, let your followers know the times you post, and never disappointing them.
You can schedule posts ahead of time and always make your posts as short and concise as possible. Generally, people don't like reading much, and also ensure your posts are free from ambiguity.
Think about the reasons why you want more Instagram followers. What do you really hope to accomplish? Maybe you want to:
Increase brand awareness
Boost product sales
Drive traffic to your website.
Staying focused on these business-oriented goals will help keep your Instagram account consistent. It will help you tell a compelling brand story that appeals to new profile visitors and helps build (and keep) a loyal following.
Read Also: How to get more Views on WhatsApp TV
5.
Hashtags are very crucial elements of developing your Instagram audience. It is one of the fastest ways to make your content reach out to new people who may not be your followers yet.
Including relevant hashtags can help people find your content after a search, or after clicking on a hashtag from another relevant post. Instagram users can also follow hashtags, so your hashtagged content may appear in the feeds of people who do not yet follow your account.
You can include up to 30 hashtags # in a single Instagram post, but hashtags are often more effective based on quality rather than quantity. Do some experimenting to learn how many hashtags work best for your particular account.
6. Create Engaging Contents
Engaging contents are contents that will carry people along or even make them take action, whether it a product or service you are rendering, always put the interest of your audience at heart.
While you're thinking about content that might help illustrate your own blog posts, think about content that other people might like to share, too.
People love to share a good infographic, so that could be a good option. If someone embeds your Instagram posts in their blog, you're exposed to a whole new audience of potential followers.
Also, think about creating content that people will want to re-share in their Instagram Stories. Anyone can reshare your main feed posts in a Story. Again, this is clickable, so anyone who wants to know more can click through to your original post. It's another easy way to expand your reach to new audiences and potential new followers.
7. Use Watermark On Your Contents
Using a watermark on your posts or videos helps to propagate your page to reach more people. When someone posts your content on any other social network such as WhatsApp or Facebook If that content is informative and engaging people would want to search for you and follow your page on Instagram.
8. Follow And Work With Influencers in Your Niche
One other success in getting more Instagram followers over time is following and collaborating with influencers in your niche. You can also spy on them and develop strategies and ideas that will help develop your own Instagram page.
You should only tag people in an Instagram post when the content is directly relevant to them. But you can follow anyone you like. And when you follow a user on Instagram, there's a good chance they will check out your feed.
If your Instagram feed is full of compelling content that's relevant to their interests, they're likely to return the favour.
Social listening is a great way to find conversations relevant to your brand. And from there you can easily identify influential users (a.k.a. influencers) to follow. It's a great idea to follow those top users' followers, too.
The Instagram Suggested For You section is also a great resource for finding relevant accounts to follow. This appears in your feed between posts, or on the right side of the screen on a computer.
You can also access Instagram's suggestions by going to your profile, then clicking the three bars in the top right, and clicking Discover People. Here you'll also find a list of popular Instagram accounts selected for you based on the algorithm.
But keep in mind that you shouldn't follow too many other accounts too fast. Your follower ratio is important for credibility. Your follower ratio is the number of people who follow you compared to the number of people you follow.
And don't play the game where you follow people just to get their attention, then unfollow after they follow you back. This is not good for your Instagram reputation, as it's really a jerk move.
9. Promote Your Instagram Page On Other Platforms
Nothing works better than brand promotions on other social media channels. One other Instagram followers strategy that works is promoting your Instagram page on other social media handles like Facebook, WhatsApp, and even Instagram followers.
You can get up to 20k followers in a day if the right promotion strategy is used. The use of hashtags in this scenario is very crucial because, for platforms like WhatsApp TV, people can easily search you up on Instagram to follow your page if they love to see more of your content.
10. Utilize Instagram Live Videos
Going live on Instagram is a great way to connect with people in your niche. The Instagram Live chat makes you connect with people visually and orally and this is a massive boost to your page.
You can get people to ask you questions and other related questions in your niche that they have been craving to ask while you give them warm responses at the end.
To get your Live video in front of a whole new audience, use the "Go live with a friend" option to co-host a live video with someone else in your industry. Ask the other person to host a live video, then invite you as a guest. The two of you will appear on a split-screen, introducing you to all of their followers.
In the era of COVID-19, Instagrammers have been using this feature creatively to host mini-talkshows. For example, Design Emergency hosts a weekly Instagram Live in which they use Go live with a friend to interview key figures in the design world, and Wine Spectator is hosting a series featuring winemakers.
Conclusion: How To Get More Followers On Instagram Cheat
Conclusively, gaining more Instagram followers is very crucial for your brand and business and I hope this guide has walked you through how to get more Instagram followers.
SEO Content Writer with over 4 years of experience in On-Page SEO which gained me an award for excellence.
This is my web space where I share helpful guides to help you earn money legitimately.
I register brands with CAC, create websites and offer Business Consultancy services. For business deals, contact me