We have talked about WhatsApp TVs in Nigeria but haven't really discussed which one of them is the best when it comes to entertainment. This article will provide you with the Most entertaining Whatsapp TV of all time in Nigeria.
WhatsApp TV is becoming more and more popular these days, I would say it's one of the quickest and most effective ways to earn a decent income online as a student, graduate or even a worker.
When I look back now I tell myself Legacy you never utilized this opportunity of having a WhatsApp TV on campus during my University days, but now I have graduated and then maybe I will still have a Whatsapp and maybe not.
Goodnews For Students
If you are a student reading this article I will suggest you Open a WhatsApp TV while on campus, you can give the TV a name that goes together with your School name. e.g LASU TV, UNILAG TV or you can as well use your nickname as the branded WhatsApp TV name.
Once that is done, you will look for strategies to promote the TV as much as possible, and get contacts of students and then focus on creating contents that revolve around your school premises and at large.
You can be making passive income from this, in fact, 6 figures when you engage in selling University past questions, and other relevant educational books.
I am saying this out of the experience because a friend of mine who owns BABAFAROS TV did the same during his 100L, selling Past questions and stuffs like that. He became a big boy on campus and that also made him popular till day.
If I tell you how much this guide made from selling past questions you won't believe me, Oh yes he made his first million, selling past questions on his TV. hats not bad for a student right? and yet this guy still had the time to attend lectures.
Now you have gotten some crazy good ideas to make money on campus from me, but you just learnt it for free without paying anything. That should tell you I have the interest of my audience by heart so keep supporting and promoting LegacyTips.
However, let us not deviate from the usual l topic of this article.
Most Entertaining WhatsApp TV in Nigeria
There are so many Whatsapp TV's in Nigeria but even with that, None of them is comparable among those on the list of Most Entertaining Whatsapp Tv of all time in Nigeria. I call this one the legend Whatapp TV in Nigeria.
LXG TV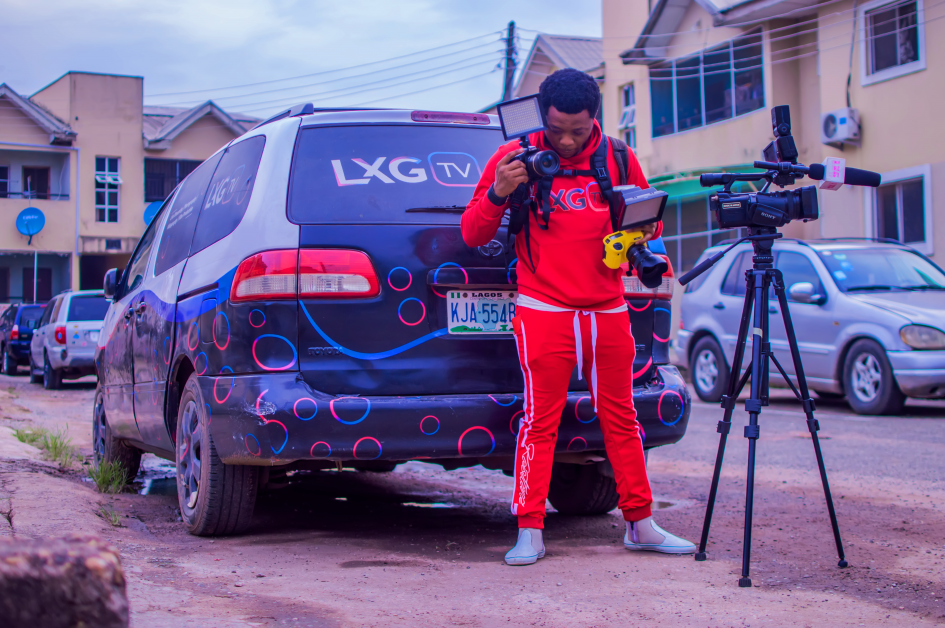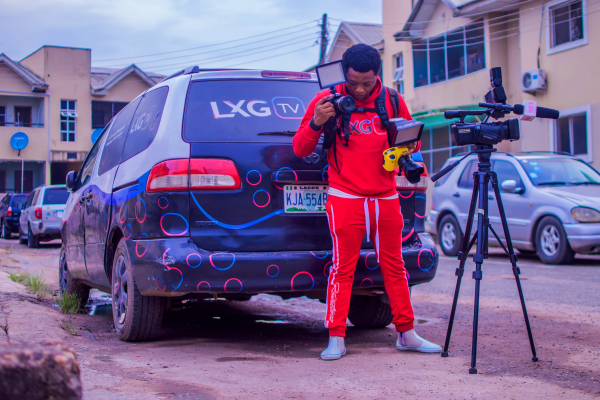 LXG TV acronym L = League of X = Extraordinary G = Gurus TV is a WhatsApp TV owned & Managed by a good friend of mine whose name is Mr Victor Udochukwu, a Graduate of Economics, bagged his Master Degree in Information Technology from the prestigious University of Lagos [ UNILAG ].
He is also a Certified Cisco Network Associate, a Proven Media & Technology Beliscony, Oracle Certified, an all-round Guru hence the evolution of his brand called "LXG" meaning "League Of Xtraordinary Gurus" as the name implies it is a consortium of GURUS, I mean a League of Gurus.
When you think of Justice League [ superman, batman, flash, iron man e.t.c ] You think of LXG – League of XtraOrdinary Gurus in various fields of life. Guyz and Girls who are proven to be Skilled in all aspect of life and have acquired great heights in Academia. Like a "League of Xtraordinaire" After his Master's Degree, he decided to register LXG with CAC – Corporate affairs commission to kick start the brand operations officially.
LXG is not just a WhatsApp TV but a group of companies comprising of;
Online & On-Air
Beach Camp
Tech
Motor
Store (Online & Offline)
LXG WhatsApp TV
Over the years LXG Whatsapp TV has recorded up to  9,000 views daily. In addition, The company also has about 300,000 Facebook followers, Youtube & Instagram TV.


LXG TV is made of young and promising Nigerian youths that have the desire to create value as an exchange of money. We have grown over the years and gradually implanting her name in the class of top brands as far as the industry of media and entertainment is concerned, through steady hard work and unrelenting dedication and expertise from every member of the crew.
LXG TV is a very entertaining platform where you get all the breaking news, rumours, gists around the entertainment industry and business/politics world. It is evident that LXG TV is the number one most entertaining Whatsapp TV of all time in Nigeria.
LXG TV WhatsApp Number 08060279624
We also carry out the business of film production, media services, video editing, vox pop, interviews.
Over the years, LXG has survived the entertainment industry and have managed to compete and excel amongst her competitors and have worked for several clients (individual and corporate bodies) across the geopolitical regions of the country.
LXG Studios
LXG studio specializes in Event & Documentary, Photography & Cinematography.
Our Passion for Media is driven by the ability to Freeze time to Document Adventures of Memory. We render Services to Esteemed Customers in a distinct pattern to meet needs that will create memories lasting forever.
in Addition, We specialize in Event Documentary, Studio Portraits, Bridal Shower/ Registry, Baby Shoots/ Naming Ceremony, Pregnancy / Birthday Shoot. We emphasize Value and render Quality Services at reasonable prices
LXG Studio is located in Berger Lagos Nigeria.
You can also contact us for your Wedding Coverage, Church Program etc. The studio also offers professional services like
Photography
Videography
Live Streaming
We have worked for Top Gospel Artists in the industry namely
Eben, Mercy Chinwo, Chinyere Udoma, Joe Praize, Favour Anointing, Moses Bassey, Okopi Peterson, Prudence, Elijah Praise just to mention but a few
LXG TV Features
LXG TV has featured Top celebrities in Nigeria such as
KennyBlaq
Josh2funny
African China
Owen Gee
Charles Inojie ( The Johnsons, Na dem dey rush us )
Koffi tha Guru
Bellokreb
Romeo
Efe Warri boy
Mclively
Broda shaggy
Elder O.
LXG Social Media Handles
kindly follow LXG on any of these social media handles
Instagram
LXG Beach Camp
In mid 2015, the brand (LXG) thought it wise to set apart a day in the year where the crew and her followers can gather under the umbrella of entertainment and have decent fun considering that All work and no play makes LXG a dull brand. Hence, the LXG Beach Camp was birthed as an annual event to hold every 26th of December.
The LXG Beach Camp has become an annual canopy for family and friends, mentors, and followers of the crew to gather and relax after a year well spent and the core value for the event has always been and would continue to be Positive Entertainment.
LXG Beach Camp is foreseen to be the largest and most anticipated annual entertainment and educative event that the country at large will love to be a part of. Regular comedy shows and red carpets have been observed to be the major avenue for entertainment especially towards the end of the year, but the LXG beach party is giving it a twist, making the event a special one for individuals, small brands and top brands like this to get involved with.
The vision is to bring in another dimension to the entertainment world, introducing a platform for upcoming entertainers to meet with their mentors on a very light mode, thrashing out issues in the entertainment industry, spiced with the regular games, comedy, food and drinks; bringing all of these at the barest minimum possible price tag.
LXG Beach Camp has consistently been held every year December 26th for 6years running, 2015, 2016, 2017, 2018, 2019, 2020 then It moved from being a 1-day Event to being a 2 days Event in 2019 (accommodation, feeding, transportation all in place for the campers) till date.
LXG Sponsors
Over the years, LXG Beach camp has been sponsored by Top companies like
Aimtoget.com
IrokoTV
Silverbird TV
Wap TV
Mayolad Technologies
Libhosting
Enne Notch
Aaresther Divine Schools
Celebrities Who Have Attended LXG Beach Camp
Below is a list of Top Celebrities that graced LXG Beach Camp so far at different editions held in Lagos
Tina Mba (Nollywood Actress)
Owen Gee (Top Comedian & Nollywood Veteran)
Eazy Kalu WAP TV (Media partner)
Rykardo Agbor (Nollywood Actor)
Woli Agba (Femi Ajewole) IPM Worldwide)
Koffi Tha Guru (Actor, Director, Comedian)
WittySally (S*x & Relationship Therapist)
Khrisyarn (On-Air Personality 98.9 Kiss FM Lagos)
Arokpokpo (Comedian)
Japhet Dewe (Statistical Analyst)
Paul word (Poet of the Year at the Nigerian Writers Award)
Babs Michael (CEO Impact Africa)
Jleo Uche (Award Winning Actor, Stunt Director) Jleo Films E.T.C
Charles Inojie (Nollywood Film Actor) The Johnsons
Mark Angel (Emmanuela and Denilson Igwe)
Lastly, LXG Tech, Motors and Store (Online and Offline) are still under construction as of the time of writing this article.
Must Read: Top 15 WhatsApp TV with the Highest Views in Nigeria
Conclusion: Most Entertaining WhatsApp TV
LXG TV is a renowned and most entertaining Whatsapp TV you would ever wish for in Nigeria. LXG is not just a Whatsapp TV but a TV station that provides you and me with trending, informative and valuable information about happenings in Nigeria and across the world.
Photography and Videography services offered by LXG Media are Top-notch, so you should also consider booking them for your wedding, birthday shoots, coverage and lots more.
If there is any WhatsApp TV in Nigeria that is extraordinary. Its LXG TV!!!